CHICAGO — For a Northwest Side man on the cusp of turning 100, the secret to longevity is simple: milk, cake and pie.
That is what Jefferson Park resident Hillard Dominowski told his daughter he needed when she returned from being out of town a couple years ago. For his daughter, Joan Rush, Dominowski's simple request perfectly summed up his philosophy.
"When people ask me what is my dad's secret to old age, I just show them my dad's shopping list. To me, it encapsulates my dad," Rush said, laughing.
Dominowski will celebrate his 100th birthday Thursday with family and friends from all over the country.
Dominowski said, as a child, he didn't know when his birthday was — the family was always too busy working. Dominowski was one of 12 children and his parents died in the '30s, when he was young.
After graduating from Jonathan Burr Elementary School in Wicker Park, he said he had enough of school — and his brother told him then he had to work, too.
Dominowski worked with the Civilian Conservation Corps in suburban Des Plaines and made his way to Wisconsin, where he planted trees along the nearby Kickapoo River.
"I got paid $30 a month. Twenty-five went home to my sister and I got $5 to live on for a month, but it was the best time of my life," Dominowski said.
Dominowski soon decided he could never work an office job. He loved to roam, often hopping freight trains to other cities.
The railroad cops "nailed us in Trenton, Missouri, and the next day I went to court. The judge said, 'Twenty days,' and I exclaimed 'Twenty Days!' back at him, and he said, 'Thirty days,'" Dominowski said. "That was how I learned to keep my mouth shut."
Dominowski, true to his trait of never sitting still, later worked in Seattle shipyards and found his way to San Diego, where his brother was living and working. Dominowski worked with his brother until he was drafted.
During World War II, Dominowski was captured and interrogated by a Nazi soldier — and found once more he couldn't be quiet.
"When they were interrogating me, a German said, 'Dominowski, you're Polish. Why are you fighting us?' I said, 'I'm not Polish. I'm an American,'" he said.
Rush said it's not always so easy for him to relive that memory.
"When my dad tells that story, if he puts himself back on that day, he cannot tell that story. To hear it now, it sounds like he just said, 'I'm an American,' but he was being interrogated by Nazis. That was a very brave thing to say," Rush said.
'I'll Survive This Sucker'
In the Army, Dominowski was sent to Camp Shelby, Mississippi, to go through boot camp. It was there he saw the ugliness of racism firsthand, something he said he'll never forget.
"I've never understood those people in Mississippi. I saw bus drivers yelling at Black people, forcing them to the back. And once, I was in a restaurant, eating, and all of a sudden the guy behind the counter started yelling because a Black guy wanted to come in. For the life of me, I'll never understand that," Dominowski said.
After boot camp, Dominowski was sent to Boston, where he boarded a ship to head to France and enter the war.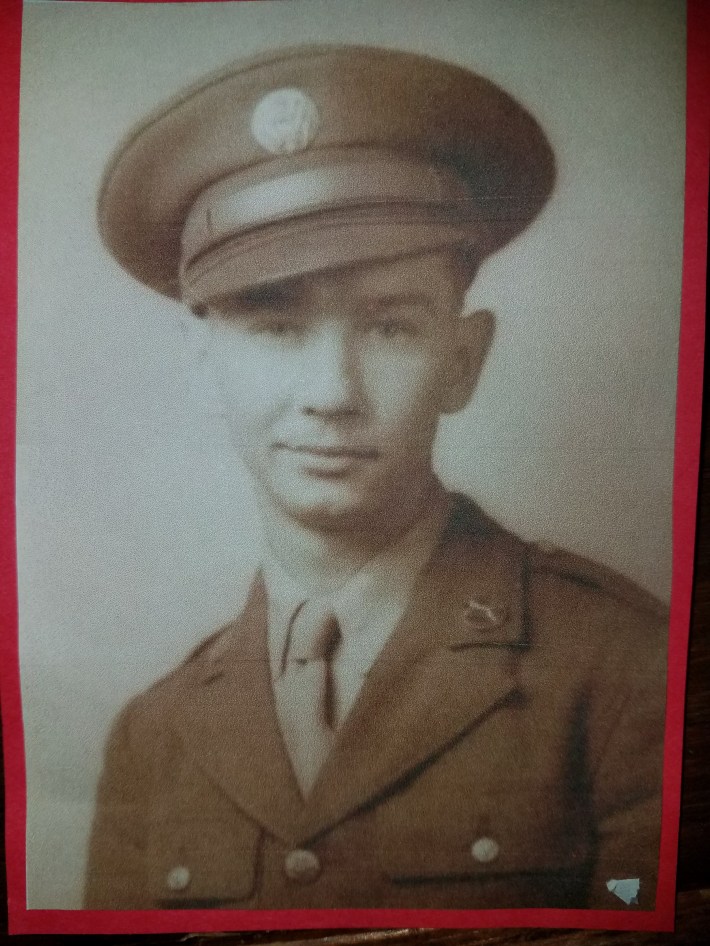 "I went on a couple attacks, and then one time we pushed too far and got cut off. I couldn't tell you where we were, we were pushing and pushing," Dominowski said, recalling the day he was captured by the Nazis.
"They captured us and walked us and walked us. I ended up in a couple stalags." 
Dominowski said the German forces moved him and other prisoners from one prison to another in a hot train boxcar, killing many men. Despite that, he was convinced he'd make it home, he said.
"I never thought I'd get killed. I thought, 'I'll survive this sucker. I'm going to beat it,'" Dominowski said. "When they let us out [of the boxcar], I was so mad and so thirsty. They gave us water, but it wasn't water. I think they peed in it and, as thirsty as I was, I spit it out."
Dominowski was later liberated by Allied soldiers. By the time he was taken to the French port of Le Havre, he said he had enough of the war.
He later came to terms with the war and said being part of an Honor Flight to the National World War II Memorial in Washington, D.C., in 2014 was "among the best things I ever did."
Once free of the camp, Dominowski got a hot shower and new clothes and was put on a ship home.
"They gave us all this syrupy food, canned plums and peaches. They wanted to fatten us up," Dominowski said.
Dominowski made it home and was awarded a Silver Star and three Bronze Stars. But perhaps his biggest reward was resuming his relationship with a neighborhood girl in Wicker Park: Eleanor Jendras.
A Great Love
Dominowksi and Jendras knew each other before the war. At one point, she'd asked him to go to a party — but he had to refuse her because he didn't have nice enough clothes.
"When we were younger, we used to go roller skating at Riverview, and we'd walk home all the way to North and Ashland," he said. "I never thought she would be my wife."
Once Dominowski returned from the war, they really began dating, he said.
"My brother let me take his car and we went for a ride. We ended up in Lincoln Park, smooching," he said with a smile.
Dominowski said Jendras and her family took a liking to him and celebrated his birthday for the first time in his life.
"I started going to church with them, and that's when I had my first birthday," he said. "They had a birthday for me and I couldn't believe it. I cried."
They married June 7, 1947, had four children — Joan, Michael, Hillard Jr. and Jane — and lived in Jefferson Park. Eleanor Dominowski died in 2013 at 87. They were married 64 years.
Eleanor worked for the Park District as one of its first female lifeguards; once married, she encouraged Dominowski to take the test for employment. He did and was hired, working as an attendant in the maintenance garage. Eventually, he was offered a job at Park District headquarters, but he turned it down because he didn't want to be cooped up inside an office.
In 1985, he retired — and after 35 years, he's sometimes teased about it.
"I go play bingo at Hiawatha Park and the attendant says to me, 'You're eating up all our pension money,'" Dominowski said.
Dominowski said the amount of change he's seen over the century is "unbelievable."
Dominowski saw Prohibition come and go, the Great Depression, Jackie Robinson breaking the color line in Major League Baseball, the Civil Rights Act of 1965, major wars, the emergence of the Computer Age and much more.
"So much has changed — not for the good, though," he said. "Sometimes I sit in my room and I cry because our country is going down the tubes. People have to wake up pretty soon or we're going to lose it.
"We're going to lose this country because this is not the United States, this is the 'United Hates.' That's what it is. Everybody hates everything."
The Secret To His Longevity
Along with milk, cake and pie, Dominowski said if he has any "secret" to living a long life, it's staying active. He paints, does crossword puzzles, builds models ships and reads.
"He loves Agatha Christie and is on his third e-reader since burning out the first two," Rush said.
And every morning, Dominowski makes coffee coffee for his daughter Rush — then puts out a sign that says "coffee is ready" for when she comes down.
"I come down on my bare feet and it's cold, but the coffee smells so good," Rush said. "And later, when I come for my second cup, my dad is reading at his desk. That's how he likes to start his day, and then he has a plethora of activities to choose from."
Displaying the sign that says "coffee is ready," Rush said, "Am I the luckiest girl in the world? I think I am."
Subscribe to Block Club Chicago, an independent, 501(c)(3), journalist-run newsroom. Every dime we make funds reporting from Chicago's neighborhoods.
Already subscribe? Click here to support Block Club with a tax-deductible donation.
Listen to "It's All Good: A Block Club Chicago Podcast" here: