UPTOWN — For the last 12 years of his three-decade prison sentence, Brian Nelson spent 23 hours a day in solitary confinement.
For more than a decade after he was released, Nelson became an advocate for incarcerated people and sought to reform Illinois' criminal justice system. The job included reading and answering thousands of letters from prisoners and recounting the horror of his stay in solitary for legislators, including before the Senate.
Nelson, one of the most prominent faces of the solitary confinement reform movement, died last week. He was 56.
"He used his struggle to make the prison system better," said Rep. La Shawn Ford (D-Chicago). "There's no doubt he left his mark and made the state of Illinois better because of his work."
Nelson grew up in Uptown and was convicted of armed robbery and murder at 17. He spent 28 years in prison, with his final 12 years in solitary confinement at the now-closed Tamms Supermax Prison in southern Illinois.
Nelson was paroled in 2010, moving from a tiny concrete cell to freedom without any state assistance to acclimate him to civilian life. After about six months, he was offered a job as a paralegal at the Uptown People's Law Center, which had represented Nelson in efforts to free him from solitary confinement.
Before he was brought to solitary confinement, the law center helped Nelson sue to gain prison library access, said Alan Mills, executive director of the Uptown People's Law Center.
"We knew him as a great jailhouse lawyer," Mills said. "We offered him a job, and the rest was history."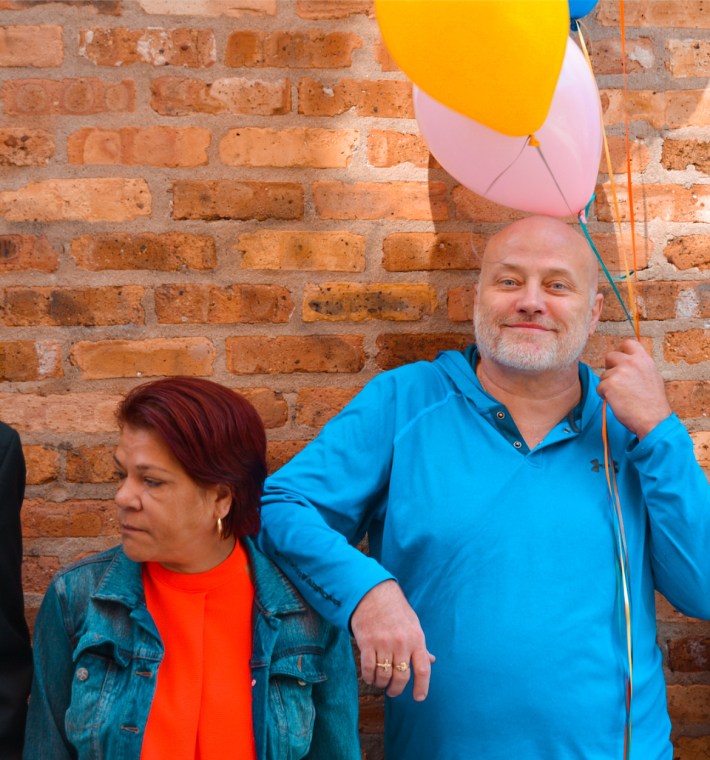 Nelson's job involved reading dozens of letters a day sent by prisoners seeking help from the Uptown People's Law Center. He would forward letters to the relevant attorney if they were subject to an existing case or could become a legal effort by the center, Mills said. Often he would write back personally to prisoners, letting him know he understood their pain and someone was listening to their stories.
Reading the letters was "therapy" to Nelson "because I have survivor's guilt," he told NPR in 2015.
The work, and reacclimating to regular life, was not easy.
After 12 years in solitary, Nelson found it difficult to be in public and around other people. At the Uptown law center, he had an office of his own removed from the rest of the staff, Mills said. He would frequently work overnight because he couldn't sleep or because the streets and office were empty at that time. Some days, Nelson couldn't come in to work, and his colleagues understood, Mills said.
"Brian is a very kind, wonderful person, and he's very smart," Mills said. "He was also severely damaged by the time he spent in solitary. Nobody undergoes that and doesn't come out severely traumatized."
Despite that, Nelson didn't shy away from detailing his experiences to journalists and at legislative hearings.
In a 2012 Senate hearing, Nelson talked about his astonishment at being transferred to a supermax prison and the cruel treatment he suffered in his "gray box," a tiny concrete cell with a slit in the door as the only look to the outside world.
Nelson described pacing for 15 hours a day. When the rest of his prison wing was vacated, his screams for help went unheard.
"As the time went by and I remained in the gray box, I denigrated even worse," he said at the hearing. "I lost the will to live. I lost hope, even though I was to be released in a couple years."
Last month, Nelson testified at an Illinois House of Representatives committee hearing for Ford's newest solitary confinement reform bill. That bill would limit prisoners to a maximum 10 days in solitary over a six-month period. During the beginning of the pandemic, Nelson partnered with Ford to deliver personal protective equipment to people in lock-up, Ford said.
"He brought a lot to the table so that we could understand what solitary confinement does to a human being," Ford said.
Nelson was found dead April 19 in the Uptown People's Law Center offices in Uptown. An autopsy has not yet revealed the cause of Nelson's death. The Police Department said it does not suspect foul play.
Nelson died while reading letters from prisoners, Mills said. A private ceremony has been held for family, and a more public one may still be scheduled, he said.
"I blame solitary," Mills said. "Coming out and having the ability to be a spokesperson was awe-inspiring. It took a lot out of him."
Mills and Ford said Nelson's life and untimely death have strengthened their resolve to end the use of solitary confinement. And there has been movement on the issue. In 2016, then-President Barack Obama ended the use of solitary in juvenile prisons. Ford's solitary reform bill passed out of its Illinois House committee last month.
"All I can say is: May he rest in peace, because he didn't have peace in his life," Ford said.
Subscribe to Block Club Chicago, an independent, 501(c)(3), journalist-run newsroom. Every dime we make funds reporting from Chicago's neighborhoods.
Already subscribe? Click here to support Block Club with a tax-deductible donation.