PORTAGE PARK — After the release of another video showing police killing a young Chicagoan, frustrated city leaders say it's time the Police Department and Mayor Lori Lightfoot stop promising police reform and start delivering solutions.
Anthony Alvarez, 22, was shot and killed March 31 during a foot chase blocks from his home in Portage Park. Alvarez was killed just days after police fatally shot 13-year-old Adam Toledo during a chase in Little Village.
The Civilian Office of Police Accountability, which investigates uses of force, released footage of Officer Evan Solano shooting Alvarez on Wednesday.
The videos show Alvarez was carrying a gun, but he didn't point it at anyone in the footage. He was shot as he ran away from two officers. Officials have refused to answer questions about why Alvarez was being stopped or if he was legally allowed to carry the gun.
Video released April 15 of police shooting Toledo shows he was raising his hands, which appear to be empty, when an officer fatally shot the 13-year-old. Toledo appears to have dropped a gun behind a fence before being shot.
The shootings and videos have infuriated aldermen who say Lightfoot is slowing down or actively blocking efforts to overhaul the Police Department.
"I think she's deflecting responsibility," said Ald. Rossana Rodriguez Sanchez (33rd). "It's enraging to me mostly because Lori Lightfoot was elected mayor as a reformer. Particularly reforming the police. Right now she's standing in the way of reform."
After Toledo was killed, the mayor said the department policy on foot chases needs to be changed, an issue already flagged in a federal consent decree put in place in 2019. But the mayor has not offered specifics as to what the new rules could be, only saying Wednesday the public would be able to comment on the policy "sometime in May."
Lightfoot also has rejected demands to reduce funding to the Police Department and rebuffed an attempt to digitize and make public police misconduct records. She has not backed an effort to create civilian oversight of the Police Department, saying she will craft her own proposal — but, again, she has not said when.
RELATED: Good Government Experts Who Advised Lightfoot's Transition Team Say Mayor Is Failing To 'Bring The Light' When It Comes To Police Misconduct
Meanwhile, aldermen and a city watchdog have excoriated police leaders for failing to meet deadlines outlined by the consent decree, continuing to use a "seriously flawed" gang database and not enacting several other policy changes.
Ald. George Cardenas, whose ward includes the area of Little Village where Toledo was killed, said the killings of Toledo and Alvarez within the same week, both resulting from foot chases, show why overhauling the police must be prioritized. 
Police Supt. David Brown refused to say whether Alvarez was legally carrying the gun he had when he was shot. Because Illinois allows residents to concealed carry firearms, simply carrying a gun shouldn't warrant the use of deadly force, Cardenas said. 
"If someone has committed a crime, a carjacking or there's a warrant out for an arrest … that to me is where police should be chasing individuals, because lives are in danger," Cardenas said. "But this, to me, didn't seem to be one of those cases." 
While police won't say why Alvarez was being pursued, Lightfoot said at a Wednesday news conference his death started with a traffic stop.
In a joint statement with Alds. Ariel Reboyras (30th) and Felix Cardona Jr. (31st) after the footage of Alvarez's death was released, Lightfoot said the city is still working on "meaningful and comprehensive measures" to reform and "rebuild[ing] public trust" in the Police Department. 
"We all also agree that the CPD must present a revised foot pursuit as quickly as possible. A minor and inconsequential incident should never, and can never again, result in someone's death," Lightfoot said in the joint statement. 
Reboyras represents the ward where Alvarez was killed. The alderman did not respond to a separate request for comment.
RELATED: Family Of Portage Park Father Killed By Police Asks Witnesses To Come Forward: His 'Story Is Not Being Shared Enough'
'This Is Costing People Lives'
Before Lightfoot became mayor, she served as president of the Chicago Police Board and chair of the Police Accountability Task Force, which was created after Officer Jason Van Dyke killed teenager Laquan McDonald in 2014. 
The task force recommended the creation of a civilian oversight commission, and Lightfoot championed the issue as a candidate. She said it would be a top goal of her administration.
But Lightfoot's critics say she hasn't made significant changes to the Police Department. In some cases, she has appeared to back off her campaign promises.
Rodriguez Sanchez said the leaders of two formerly rival proposals for civilian-led oversight of police — the Civilian Police Accountability Council and the Grassroots Alliance for Police Accountability — are working together on a compromise "people's ordinance."
The proposal would remove the mayor's power to hire and fire the police superintendent, set the department budget and negotiate contracts with police unions. That power would instead go to civilian commissioners.
Lightfoot does not support the proposal and is expected to introduce a rival blueprint after delaying a vote on the joint plan.
"She's actively blocking a hearing on that," Rodriguez Sanchez said. 
The alderman also noted a recent report from Inspector General Joe Ferguson's office saying the Police Department is still using a gang database riddled with mistakes despite promising an overhaul two years ago.
"The inspector general keeps putting out report after report about this database, and we don't see any changes from the mayor. This is costing people lives," Rodriguez Sanchez said.  
Police need more explicit "rules of engagement" for someone holding a gun, Cardenas said.
Someone carrying a gun shouldn't be subject to deadly force if they don't point it at anyone and comply with police orders to drop the weapon, get on their knees and put their hands behind their head, Cardenas said.
The videos of Alvarez's and Toledo's shootings show police commanded them to drop their guns — but fired shots at the man and boy immediately after. Toledo appeared to drop a gun and be raising his empty hands to comply when police shot him.
"You have to give people time to react to police commands. And I'm not talking seconds," Cardenas said. "You need to give the person's brain time to react. To hear the command and do it. Not just saying 'drop the gun, drop the gun,' and then pop, pop, the gun goes off. That's not giving someone a second to do what he's supposed to do. We need to do things differently."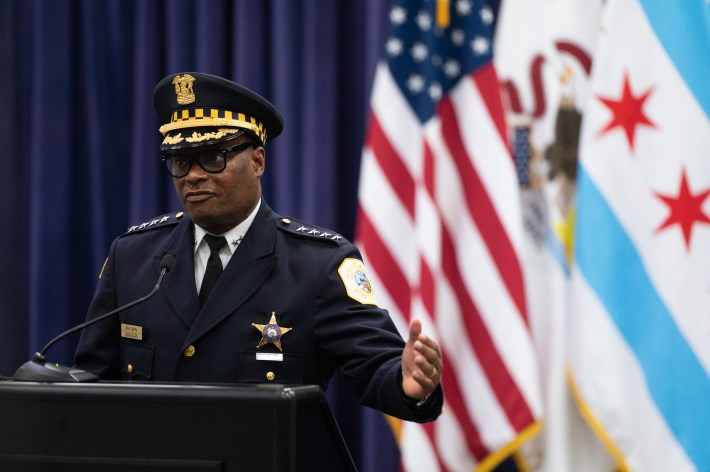 Ald. Matt Martin (47th) helped draft the federal consent decree before being elected to represent his North Side ward. Foot chases, in particular, were identified by the Department of Justice as an "incredible problem" when it comes to unconstitutional uses of force by the Police Department, he said.
"One of the reasons why foot chases are problematic at a high level is that they oftentimes can escalate the situation, escalate tensions," Martin said. 
The Department of Justice made a strong recommendation a foot pursuit policy be created, Martin said. But the Police Department only published a May 2018 training bulletin to officers without developing a more robust policy regarding foot chases.
"There were folks all across the criminal reform and public safety stratum that understood or believed that it would be important to have a foot pursuit policy in place, and not merely a bulletin," Martin said. "And we've had almost two years now of a new City Council, a new mayor, to get that in place. It's a real missed opportunity that we're still waiting on."
For weeks, Alvarez's family pressed officials for answers about why he was shot. As more details became clear, community organizations and elected leaders condemned the shooting.
"Police encounters shouldn't end in killing, period. Yet two police encounters in fewer than 48 hours ended that way — first Adam Toledo and then Anthony Alvarez," U.S. Rep. Jesus "Chuy" Garcia said in a statement.
Garcia also pointed to the similarities in how police officials initially said both shootings occurred after a "confrontation" with police, but the footage shows "neither was acting violently toward police when shot."
"Like in Adam's case, that was a lie," Garcia said. 
Subscribe to Block Club Chicago, an independent, 501(c)(3), journalist-run newsroom. Every dime we make funds reporting from Chicago's neighborhoods.
Already subscribe? Click here to support Block Club with a tax-deductible donation.