NORTH CENTER — Cloud Kitchens in North Center is defying a city rule put in place to help resolve persistent parking and traffic problems for residents and nearby businesses, neighbors say.
Neighbors and Ald. Matt Martin (47th) have battled with operators of the 4131 N. Rockwell St. ghost kitchen for months. The city's Department of Business Affairs and Consumer Protection has hosted months of meetings to brainstorm how to reduce the number delivery trucks and drivers coming to the area and cutting through side streets.
One new rule bans walk-up orders from customers, only allowing food from the dozen restaurants on site to be picked up by delivery drivers. But neighbors said this week Cloud Kitchens is still allowing people to pick up their own orders — and representatives for the business are pushing back against city officials trying to make them stop.
It's not clear what the city will do in response. Asked about that, business department spokesman Isaac Reichman said the department will continue to meet with Cloud Kitchens, neighbors and Martin to resolve the issues with a long-term solution to the traffic, parking, fumes and litter generated by the operation.
"While progress has been made on some issues, such as deliveries, others remain, including [the department's] request for the business to not allow walk-up service as a reasonable step to address the nuisance concerns," Reichman said.
Meanwhile, other neighbors are turning to the city's transportation department with a plan they say will force Cloud Kitchens' vehicles off their side streets.
"Regardless of how the [business department] process moves forward, we're going to continue to have conversations with the community about traffic calming and traffic mitigation," Martin said.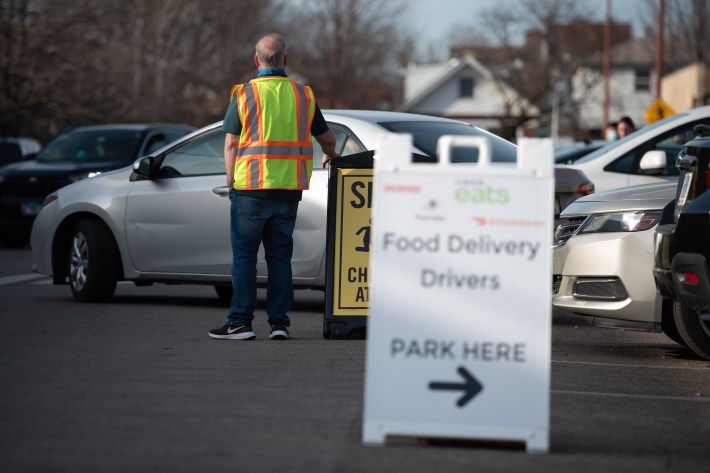 'They're On The Wrong Street'
Cloud Kitchens specializes in providing commercial "ghost kitchens" for restaurants doing takeout or delivery, avoiding typical overhead, licensing and hiring requirements. The North Center location is home to about a dozen restaurants, the largest of which is Chick-fil-A. It also has been the site of Monti's Cheesesteaks while its owner rebuilds after a fire.
The most recent meeting on the issue was hosted by the business department Monday. The city department once again blocked reporters from attending, but neighbors and Martin told Block Club afterward there has been little improvement in the situation.
In previous meetings, the business department told Cloud Kitchens it should not allow people to directly pick up Chick-fil-A orders from the Rockwell location to cut down on customers double parking. Only third-party delivery drivers are supposed to be allowed to pick up food. 
During Monday's meeting city officials said the initial business plan Cloud Kitchens submitted to the city also called for food to be exclusively picked up by third-party delivery drivers, according to Martin.
But during Monday's meeting, neighbors complained walk-up orders are being allowed and even promoted by Cloud Kitchens even after the city told the ghost kitchen to stop the practice. One neighbor provided screenshots showing multiple restaurants offering pickup orders at the Rockwell location as recently as this week.
Tamara Starks, deputy commissioner of the business department, told Cloud Kitchens on Monday the walk-up sales need to stop immediately. But a representative from the ghost kitchen argued it should be allowed to continue the practice, according to neighbors.  
"We don't believe that allowing people to pick up their own meals, as every restaurant does, makes our restaurants a nuisance. It also saves our operators some money," Deidra Suber, Cloud Kitchens' general manager, said in an emailed statement.
Neighbors also asked if Cloud Kitchens would consider postponing offering any space to another national fast food brand at the Rockwell location until the issues caused by its Chick-fil-A tenant are resolved.
Cloud Kitchens refused to entertain the suggestion, neighbors said. 
"We can't commit to refusing national restaurant groups from operating at this location because there is no reason to believe that these restaurants would create problems. These restaurants operate all over Chicago without complaints," Suber said.
Cloud Kitchens had 11 tenants based out of its Rockwell location as of Feb. 1, according to emails Block Club obtained via a FOIA request. Besides Chick-fil-A, which occupies three kitchens, the other tenants are:
Monti's Cheesesteaks
Salted
By Damao 
Cocinando con Medinah 
Rattanasuwan 
Dickey's BBQ 
Dai Yee's Asian Kitchen (two kitchens) 
Torino Ramen (was expected to go live soon as of February)
Side Chick (was expected to go live soon as of February)
Curry Theory (was expected to go live soon as of February)
BBQ King Smokehouse (was expected to go live soon as of February)
In total, Cloud Kitchens has 20 kitchens within its the Rockwell location and a "shared kitchen operator" business license set to expire July 15, 2022, according to emails Block Club reviewed. 
Brian Holdampf, another neighbor who attended Monday's meeting, said the amount of time and money Cloud Kitchens is spending to address complaints at the Rockwell location is "crazy" since there are other areas of the city that could easily handle the business model without the parking and traffic issues.
"Chick-fil-A is the problem tenant and represents about 80 percent of the traffic we see. And Cloud Kitchens has no intention of stopping the expansion at this location," Holdampf said. "If they add another problem tenant, it'll double the problems we're seeing. They're on the wrong street."
Another business department meeting is scheduled for 10 a.m. May 19. 
"We're in a holding pattern. We've seen some areas where there's been modest improvement, but in other areas there's a step back," Martin said. "We're in the same place that we were a month ago, which is incredibly frustrating."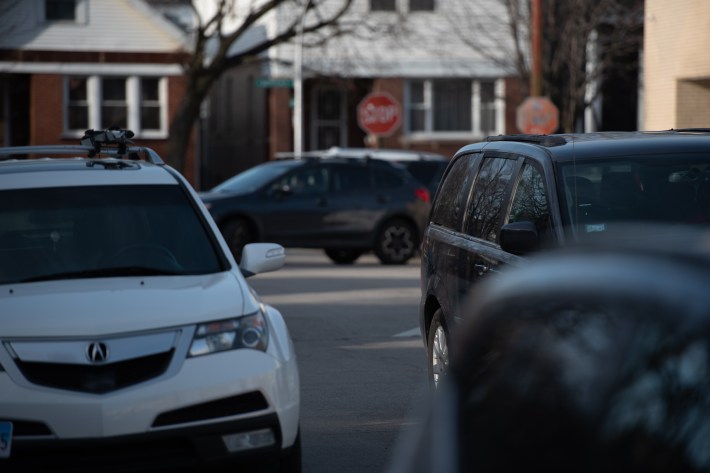 Reichman previously told Block Club the issues surrounding Cloud Kitchens are complex and can't be fixed overnight. But neighbors say the business department's hours-long monthly meetings are toxic, tedious, redundant and appear to result in more meetings instead of action.
"After the [business department] meeting last month, I was totally disgusted with the process," said neighbor Katie McAvoy. 
McAvoy is part of a group of residents appealing to the Department of Transportation to add speed bumps on two side streets near the ghost kitchen, repaint cross walks and ban turns from a nearby arterial street, all of which they say could stop trucks and third-party delivery drivers from using neighborhood streets.
Those street improvements would have to be approved by Martin and CDOT.
Neighbors met with Martin on April 9 about the street changes, which mostly focus on preventing cut-throughs on Berteau and Maplewood avenues, one-way streets to the north and east of the Cloud Kitchens site.
Some ideas neighbors had, like adding a "no turn on red sign" from Western Avenue onto Berteau, were submitted to CDOT a year ago by Martin's office looking to prevent drivers from using that one-way stretch as a shortcut between Western and Irving Park Road.
It's not clear where those proposals stand.
"CDOT is working with the alderman and neighborhood residents to determine the best solutions to the traffic problems," said CDOT spokesperson Susan Hofer.
RELATED COVERGAGE:
North Center Neighbors, Fed Up With Cloud Kitchens Problems, Want More Action — And Fewer Meetings — From City
Cloud Kitchens' Plan To Resolve Traffic, Parking Problems In North Center Is Too Little, Too Late, Neighbors Say
Cloud Kitchens Promises To Fix Traffic 'Clusterf–k', But North Center Neighbors Skeptical Plan Will Work
North Center Neighbors, Alderman Say Cloud Kitchens Has Created Traffic, Parking And Garbage Nightmare On Rockwell
Cloud Kitchens Will Open In North Center Despite Objections From Neighbors And Alderman
Cloud Kitchens Plan To Open In North Center Will Be Opposed By Local Alderman
City Blocks Startup Cloud Kitchens' Plan To Open In North Center Over Parking
Subscribe to Block Club Chicago, an independent, 501(c)(3), journalist-run newsroom. Every dime we make funds reporting from Chicago's neighborhoods.
Already subscribe? Click here to support Block Club with a tax-deductible donation.