NORTH CENTER — After listening to resident concerns, Ald. Matt Martin (47th) has decided to oppose Cloud Kitchens' plan to open up in his ward. 
Cloud Kitchens is a startup that rents commercial kitchen space to delivery-only restaurants. Former Uber CEO Travis Kalanick has a controlling stake in the company.
A building at 4131 N. Rockwell St. is one of the properties Cloud Kitchens is considering buying to build a 9,000-square-foot commercial kitchen. The startup also is pursuing a packaged goods liquor license and transit-oriented development, or TOD, designation from the city for the building.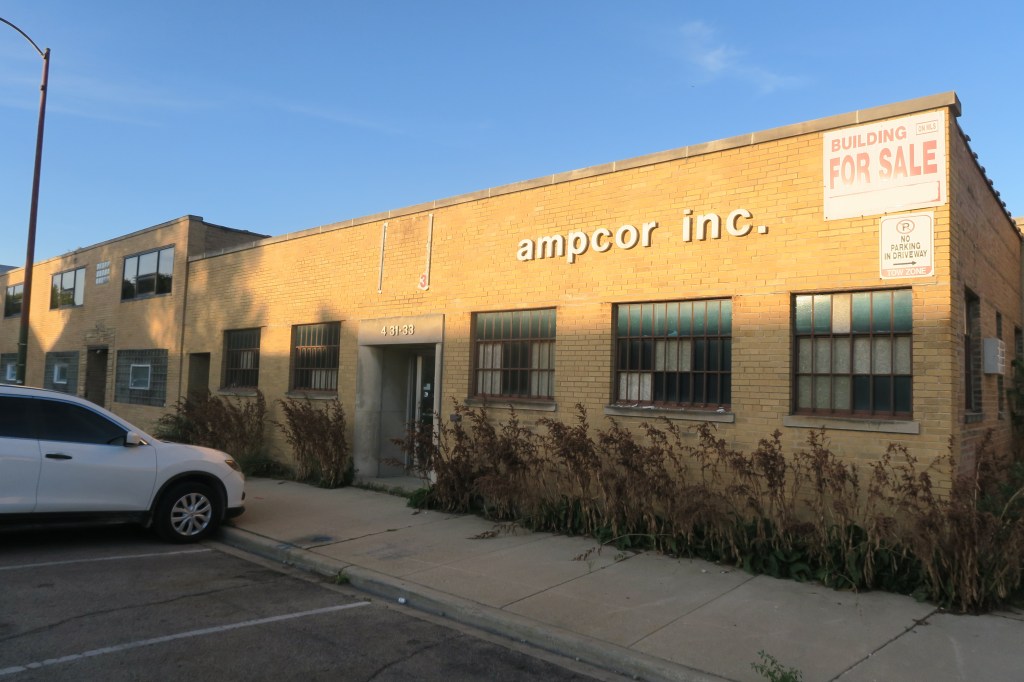 "This is a community that's very residential, and Cloud Kitchens has done a traffic study," Martin said. "And during daytime cooking hours, traffic would increase by 19 percent. And during evening hours, it would increase by 75 percent."
Because of that, he thinks the business shouldn't be granted a TOD designation, which exempt them from adding three parking spaces the city would otherwise require.
"They're seeking a TOD designation because then they would not need to provide any on-site parking, which is the case right now," Martin said. "That building doesn't have any parking spots, and it would be very challenging and costly for them to create three new parking spaces for the property."
Martin's said Cloud Kitchen's business model requires delivery drivers to pick up food from their kitchens.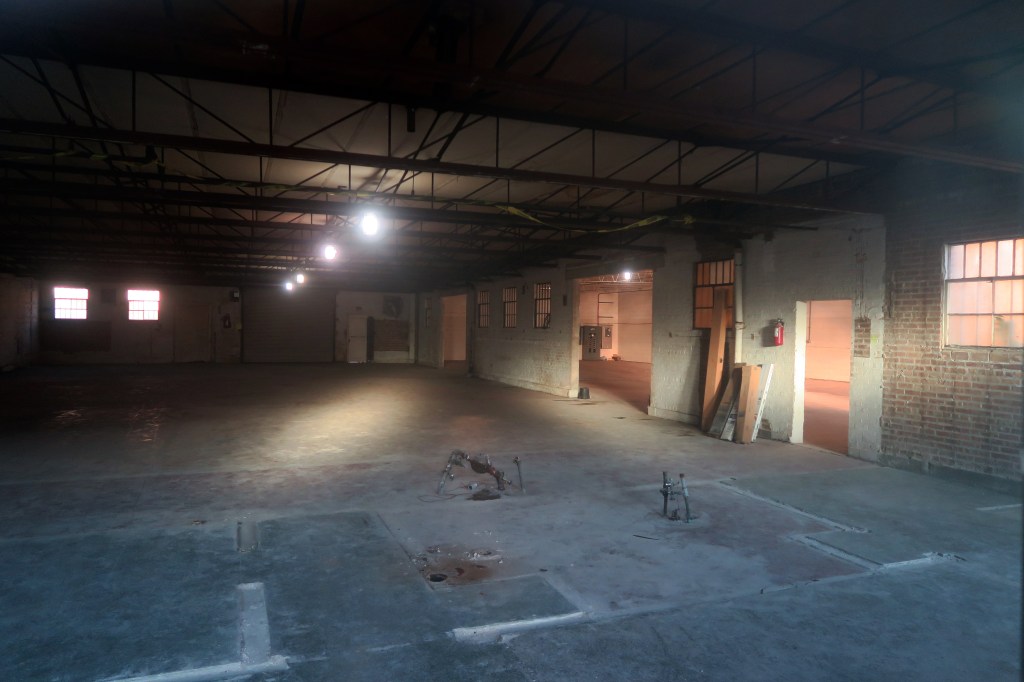 "The TOD designation is based on this idea that when we build close to public transit, not everyone who works there will bring a car to that location," Martin said. "Here, it's the exact opposite. While the address is eligible because the building is close to Western Avenue, they'd actually be bringing in lots of cars. That's the antithesis of what TOD is supposed to do."
Martin announced his opposition to the project at a Wednesday night meeting at the Revere Park field house, 2509 W. Irving Park Rd. 
It was the second meeting on the project. The first was held on June 30 at which representatives from the startup presented plans to neighbors and answer their questions, according to Joshua Mark, director of development and infrastructure for Martin's office.
Cloud Kitchens did not have a representative at Wednesday's meeting. But Martin's office reached out to them ahead of it to let them know the alderman's position, Mark said.
In addition to concerns regarding an increase in traffic, neighbors also worried food waste at the site could attract rats. 
"With at least 20 kitchens operating out of that building, that's a tremendous amount of food waste to have to get rid of every single day," Amanda Riley said. She lives directly across the alley from the property Cloud Kitchens is considering. "Chicago alleys already have a rat problem."
In addition to the increase in garbage, Riley and other neighbors were concerned with delivery drivers using their residential streets as shortcuts to get to and from the kitchen while trying to make their deliveries. A few parents were especially concerned since children are often playing in the neighborhood. 
Neighbors were also concerned about Kalanick's ownership stake in the startup. Both Martin and neighbors said they learned of his involvement with Cloud Kitchens by reading Block Club's previous coverage of the startup.
Kalanick helped found Uber in 2009, but resigned amid a cloud of crises that rocked the ride-sharing company, including allegations of sexual harassment and discrimination. Forbes estimates his net worth at $4.8 billion.
Block Club reached out to Cloud Kitchen and Kalanick via his venture fund 10100fund.com. Neither returned a request for comment. 
"The fact that the first thing they're doing is looking for loopholes with parking show that they can't be trusted," Riley said.
Martin also posted a letter online further explaining his opposition to the project and saying he has reached out to the zoning administrator regarding the matter.  
Patrick Murphey, zoning administrator with the Department of Planning and Development, could not immediately be reached for comment. 
In 2018, the startup's owners considered opening a Cloud Kitchens location at a former carpet warehouse at 2041-2059 W. Race St. in West Town. It's unclear what happened to those previous plans.
Martin says in addition to the North Center location, Cloud Kitchens appears to be looking at three other locations in the city as possible locations for their business. 
In April, Kitchen United, a similar style startup to Cloud Kitchens, announced it would be opening a 10,000-square-foot kitchen at 201 N. Elizabeth St. in Fulton Market. Kitchen United already runs a Chicago kitchen center in River North at 825 N. Sedgwick St., according to Eater.
Below is the letter Ald. Martin sent to neighbors on Thursday.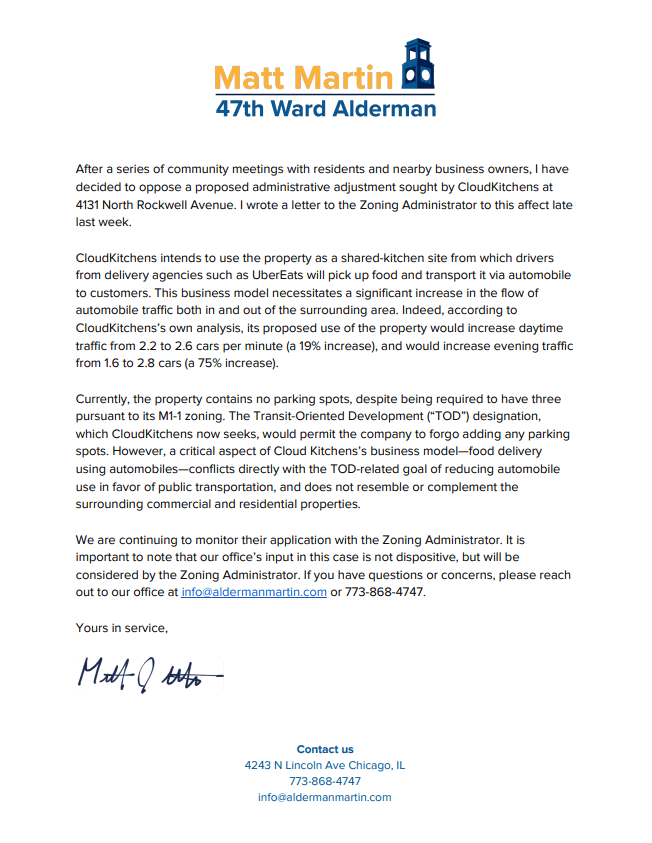 Do stories like this matter to you? Subscribe to Block Club Chicago. Every dime we make funds reporting from Chicago's neighborhoods.