RAVENSWOOD — Two years ago, Omotola Akinbiyi decided she was going to open an online shop highlighting women artists. 
Akinbiyi had gone to school for art but, up to that point, she had been blogging about fashion. While interviewing people for the blog, she realized she had the most fun speaking to women artists.
"The more I worked with these artists, the more I realized that there was a definite difference in how the art world treated female artists versus male artists," Akinbiyi said. "I wanted to do something about that and help female artists get their name out there."
With that goal in mind, Akinbiyi started brainstorming ideas for a business that sold designs, accessories, art and home decor made exclusively by women. That idea would eventually become Bon Femmes, which now is transitioning from an online shop to a brick-and-mortar store in Ravenswood at 4917 N. Damen Ave.
"When I have an idea, I go forward with it immediately," Akinbiyi said. "Once I started thinking about what I should call this, about a week later I bought the domain for Bon Femmes. That's how fast that transition was."
Akinbiyi describes herself as a Francophile and chose the French phrase for "good women" as the inspiration when launching her business. Grammatically, the phrase would be "bonnes femmes," but Akinbiyi shortened it to Bon Femmes because she liked how it looked as she designed her brand. 
Because Akinbiyi still has has a 9 a.m. to 5 p.m. job, Bon Femmes' hours for now will only be 10 a.m.-5 p.m. Saturdays. Customers will still be able to shop online when the store isn't open. The grand opening is Saturday at 10 a.m.
"There may be some Sundays sprinkled in there, for sure," Akinbiyi said. "But being open once a week gives me freedom of what I can have in the store. I'm very into visual merchandizing, so things will look different in the store week to week."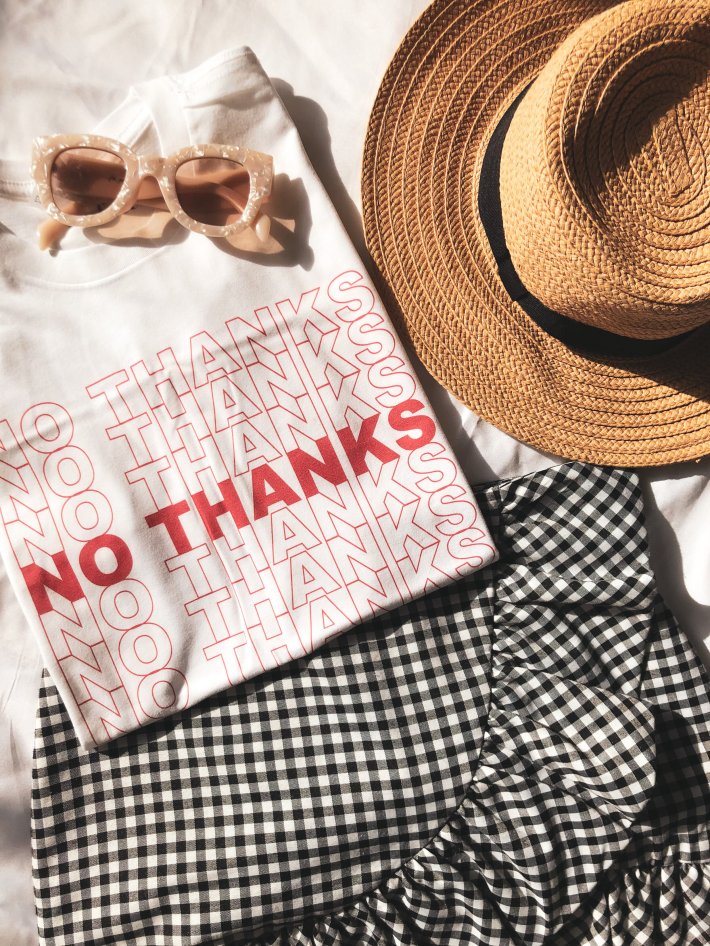 Bon Femmes features art prints that cost $18-$35 as well as $14 body oils, $8 nail polishes and nail art stickers and candles that cost $9-$17.
"The top two items I've noticed people like are the 'No Thanks' shirt, which is a play on the 'thank you' bag you see at the grocery store. Women have issues with saying 'no' because we were raised not to say it. But this shirt says 'no,' so a lot of women are drawn to that shirt," she said.
The other item customers always ask Akinbiyi about is the Hannah Candle, which is handmade by Bonam Kim and costs $80, the store owner said.
"It's basically a candle of the female bust and it's so beautiful and perfect that I think everyone wants it until they see the price tag," she said. "But every once in a while, someone is like, 'I'm going to spend a ridiculous amount on this candle' and they buy it."
Akinbiyi is still blogging, but now she's writing short histories on artists such as Emma Amos on Bon Femmes' website. She also loves music and is curating an all-woman Spotify playlist for her store. It include songs from Dolly Parton and Solange.
"One of my latest blog posts focuses on amazing women and artists of the past. Because I think that when people think of 'the Greats,' most of them can only think of male artists," Akinbiyi said. "But, no, there are a shit-ton of female artists out there as well that we just aren't taught about in school." 
For more information about Bon Femmes, visit its website or follow its Instagram.
Subscribe to Block Club Chicago. Every dime we make funds reporting from Chicago's neighborhoods.
Already subscribe? Click here to support Block Club with a tax-deductible donation.