WOODLAWN — Activists and aldermen in the communities surrounding the planned Obama Presidential Center in Jackson Park are still working to prevent displacement ahead of the center's arrival.
With groundbreaking on the $500 million campus set for late summer and related construction work starting soon, the Obama Center's arrival appears imminent — though a years-long legal challenge to its construction In Jackson Park continues.
Residents touted the Woodlawn affordable housing ordinance passed last September as "one of the most significant and aggressive affordable housing policies won in Chicago's recent memory" — while vowing to continue organizing for Woodlawn, South Shore and Washington Park.
They've made good on that promise, as they've continued gathering resident feedback and working with city officials to secure more benefits for the neighborhoods affected by the Obama Center's plans.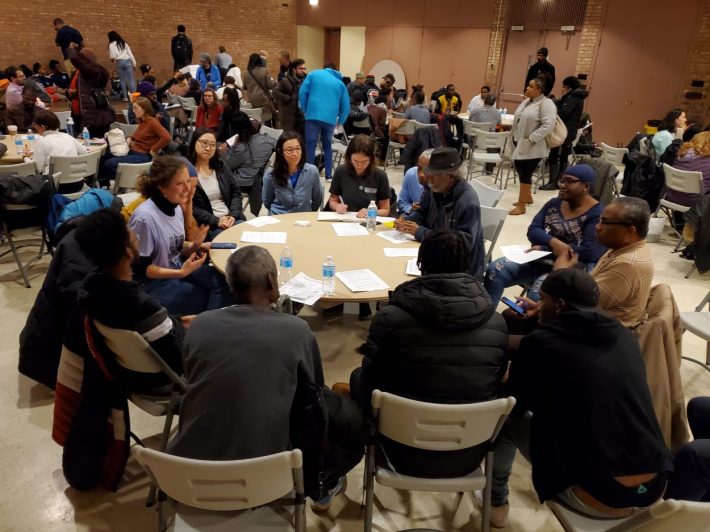 Organizers Continue Hammering Away At Housing Protections
The Woodlawn Housing Preservation Ordinance passed last fall, following years of community organizing and pushback on weakened city proposals, includes:
A requirement to reserve 30 percent of apartments built on 52 vacant, city-owned lots for "very low-income households."
A one-time payment of $1.52 million to a loan fund for acquiring and rehabilitating vacant buildings, followed by annual payments of $100,000.
A $1.5 million commitment to a program for building owners to refinance their property.
A $1 million commitment to the a program offering grants of up to $20,000 to Woodlawn residents who have owned and lived in their home for more than five years.
A $500,000 commitment to the Renew Woodlawn program, which helps low- and middle-income earners buy homes in the neighborhood.
A provision to allow renters first dibs on buying their building if their landlord decides to sell.
With that victory secured, the coalition held a March 24 Woodlawn housing town hall to shape the future housing demands they'll make of city officials.
Attendees said the neighborhood's outstanding needs include a variety of affordable housing options for renters and owners, a community land trust and more accessible housing for people with disabilities.
The protections in the ordinance are a starting point for South Shore, said Dixon Romeo, a Parkside Elementary local school council member and organizer with the Obama CBA Coalition. A South Shore town hall is scheduled for April 29.
Many parents and community members at Parkside were displaced with the decline of public housing and the rise of gentrification in Bronzeville, and they're resisting a similar fate in South Shore, Romeo said.
"Although our neighborhood is different because we have density, it doesn't take away the fact that the protections Woodlawn got could have and should be applied to South Shore," Romeo said. "… The city's known the center was coming for years, and outside of Woodlawn having an ordinance, no other areas around it have any concrete protections that have been laid out."
Beyond the push for more housing protections at the city level, organizers like David Zegeye want the University of Chicago to do its part to keep longtime residents in their homes. He's a member of UChicago Against Displacement, a student group working to prevent the harmful effects of gentrification on the South Side.
From covertly supporting "restrictive covenants" on the South Side — where residents agreed not to sell to Black people or other minorities — to urban renewal projects that cleared businesses and nightlife in the name of removing blight, "there's a laundry list of harm the university has caused" to residents, Zegeye said.
Incoming university President Paul Alivisatos, who will succeed Robert Zimmer Sept. 1, has an opportunity to address these harms by ensuring existing residents can benefit from the Obama Center, Zegeye said.
"Having a new president, we want to push for the university to address its long history of disinvestment and direct harm to Black South Siders," he said. "As a form of reparations — to give back for the amount of trauma and harm you've caused in the community — you need to help fund affordable housing initiatives in Woodlawn, Hyde Park and South Shore."
Beyond Housing
South Siders continue to call for employment, sustainability, education and transportation agreements — all of which were given as the community's next steps at the July 2019 introduction of a wide-ranging community benefits agreement ordinance. That ordinance stalled in City Council.
Though President Barack Obama and his foundation have rejected calls to sign a binding community benefits agreement, they have made promises on their own accord.
Among them are reserving 35 percent of construction jobs for South and West siders, awarding half of the construction contracts to minority-owned, women-owned and other "diverse firms," and publicizing their progress toward goals.
After the passage of the Woodlawn housing ordinance, Ald. Jeanette Taylor (20th) said she's focused on ensuring her constituents obtain those construction jobs. The Obama Center should also actively spur employment along the ward's business corridors, she said.
"From job training opportunities to apprenticeship opportunities, we're having a conversation around how do we support folks," Taylor said. "Sometimes it's as simple as someone not being able to pass a drug test."
Work remains to be done around transportation as well, said Zegeye, who writes for Streetsblog Chicago.
There are transportation projects in the works "separate from the Obama Center that would greatly benefit" the project and residents, he said. Those include the overhaul of the 59th Street Metra station and the Cook County pilot program that cut fares in half along two South Side rail lines.
But the roadway changes planned ahead of the center's arrival are questionable, Zegeye said. Closing Cornell Drive through Jackson Park — essentially "a highway going through the middle of the park" — and replacing the road with green space restores "that park feel," he said.
"The problem is, some of that traffic flow is going to be diverted to Stony Island Avenue," and the plan makes no drastic improvements to transit service with an eye on reducing car traffic, Zegeye said.
It was a "missed opportunity" to not include additional transit investments in the city's plan for the area, and the city must explore more "complimentary transit services like bus lanes" before the Obama Center opens, he said.
With employment, transportation and all other fields, Romeo said three questions guide organizers' work: "Is what we're doing addressing the harm that is or could be caused to people? Is it done in a way that centers their voice and gives them agency? Is the thing we're doing helping the people we say we want to help?"
"With this pandemic — and all the stuff that's happened with the movement for Black lives — we know there are a lot of things in America that systematically hurt Black people," Romeo said. "We're trying to make sure the Obama Center … isn't another example of that. We want to make sure this is something that works."
Legislative Efforts
"We're still in the groundwork phases" of developing a version of the housing ordinance tailored to South Shore's needs, Ald. Leslie Hairston (5th) said. Provisions to improve building conditions and assist seniors and condo associations would be "imperative" to any ordinance, she said.
Taylor concurred, saying "we're not there yet" on introducing housing legislation for Washington Park and South Shore.
"Woodlawn seems to be the hotbed of where people are being displaced that we see right now," Taylor said.
There's still work to be done in the neighborhood to secure protections in the stalled community benefits proposal that weren't included in the Woodlawn housing ordinance, like a community land trust, Taylor siad.
"There should be money in a trust that's run by the community and we should be able to get access to," she said. "That's something I'm fighting with them on to make sure happens."
But conversations on housing and development ahead of the Obama Center's opening are not just about Woodlawn, Taylor said — they must involve all communities that will be affected by the massive development in Jackson Park.
"We're a community who historically has fought against each other," she said. "That has not worked for our community, and we've left too many people behind."
Between the grassroots and legislative efforts, the presidential center's arrival is "going to happen equitably in the 5th Ward, there is no question about that," Hairston said. "That is the will of myself and Alderman Taylor; they say that is the will of the mayor, and that is the will of former President Obama. Thy will be done."
Subscribe to Block Club Chicago. Every dime we make funds reporting from Chicago's neighborhoods.
Already subscribe? Click here to support Block Club with a tax-deductible donation.