HYDE PARK — Three transit lines, including the Metra Electric line through the Southeast and Far South sides, are receiving fare reductions and service improvements through a county-wide pilot program that started this month.
The Fair Transit South Cook pilot program launched Jan. 4 and will run through 2023. Fares on the Metra Electric and Rock Island lines will be cut by about 50 percent, with the cost of monthly passes reduced by about 40 percent.
Pace bus route 352, which travels along Halsted Street through the South Side and south suburbs, will see its hours extended and buses will arrive more frequently.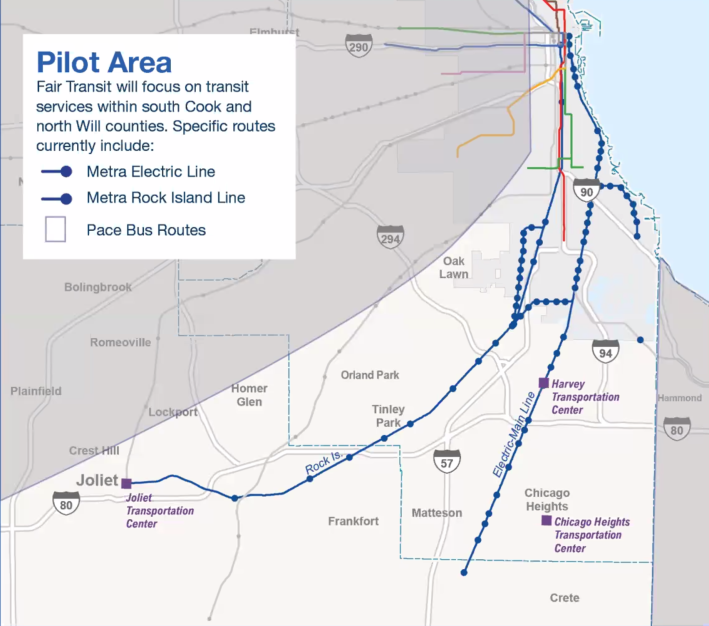 Metra fares will not be reduced further for riders who already received the lower rates, like seniors or people with disabilities. Passes purchased before the rate reduction was enacted may still be used, but refunds will not be issued.
South Cook County was targeted for the pilot program, as a mobility study of the region found many residents spend more than half of their income on transportation, spend more than two hours round-trip commuting to work, and do not own a personal vehicle.
The pilot kicks off as ridership along the Metra Electric has fallen 90 percent due to the pandemic, and 94 percent across all Metra lines.
Metra, Pace and Cook County officials shared updates on the pilot program and urged South Siders to spread the word at a meeting hosted by the Hyde Park-Kenwood Community Conference Thursday.
The program's success primarily depends on attracting more riders to the transit systems, said Sis Killen, assistant superintendent of the Cook County Department of Transportation and Highways.
But coronavirus has forced officials to maintain flexibility as they assess the program, with the understanding that reduced fares alone may not dramatically boost ridership as the pandemic rages on.
"We find ourselves rather challenged during COVID with the declines in ridership that we've seen and the unpredictability in its recovery," Killen said. "We really need to take a fluid approach for what defines success."
Attendees at Thursday's meeting were interested in how the pilot could better coordinate with the Chicago Transit Authority. The program was approved in December without the CTA's participation, despite more than a year of attempts to get the agency on board, according to the Chicago Tribune.
"The Coalition for a Modern Metra Electric will continue to advocate, and we don't believe our work is yet done, because not yet part of the pilot is low-cost transfers to CTA buses," co-chair Linda Thisted said. "We all believe that's an important part going forward to making this a successful future for transit in Chicago."
South Side residents raised concerns of accessibility and safety as the county asks more riders to use transit during the coronavirus pandemic. They're also concerned about the quality of service along the affected lines.
Less than 0.5 percent of Metra riders refuse to wear masks, Metra's director of communications Michael Gillis said. Conductors are on board to enforce Metra's social distancing and mask requirements, in place since last May.
Conductors also walk the cars to ensure all other rules are being followed, and are on hand to assist with strollers, walkers and other accessibility needs while on the train, Gillis said.
With the Obama Presidential Center's planned construction in Jackson Park, "people will need to be impressed" by the South Side's Metra lines, said Gary Ossewaarde, who sits on the community conference's transit task force. He noted the conditions of stations and viaducts as his primary concerns.
There are "major investments" planned for many stations along the Metra Electric line, Gillis said.
These include a $9 million overhaul of the 59th Street station and improvements to numerous other stations — including 79th, 87th, 95th, 103rd and 111th streets — which are all in the design phase. Construction work is projected to begin in late 2022.
Metra is also building a new station in Auburn Gresham along the Rock Island line, a project estimated to take three years to complete.
Subscribe to Block Club Chicago. Every dime we make funds reporting from Chicago's neighborhoods.
Already subscribe? Click here to support Block Club with a tax-deductible donation.