GARFIELD PARK — Young people on the West Side commemorated Black History Month by recording an album to celebrate their Black heritage through poetry and music.
The album was recorded by participants of Marillac St. Vincent Family Services' youth programs. The digital album will be released Friday. To get a recording of the Black History Month Album, go to Marillac St. Vincent's website.
The album honors the music pioneered by Black artists like Nat King Cole, DJ Mr. Fingers and Muddy Waters across several genres, including Chicago blues, Motown, jazz and hip hop. The songs were chosen by the youths.
The album also has contemporary songs and mashups that pay homage to historical figures and the achievements of Black people. One track is a Martin Luther King Jr. speech mixed with live drum beats. Other songs recorded by the students include covers from the soundtrack to the "Harriet" film biopic about Harriet Tubman, the enslaved person who became an abolitionist, spy and conductor for the Underground Railroad.
Cortasia Butler, 12, recorded "Goodbye Song" for the album, which was originally performed by Terence Blanchard and Cynthia Erivo for the "Harriet" soundtrack. The song is an emotional spiritual about escaping from slavery. As Butler sang the song, she felt connected to Tubman and imagined herself walking alongside the abolitionist, she said.
"I usually close my eyes when I sing. But my eyes were open, and I felt like I was there when she was helping slaves to reach freedom," Butler said.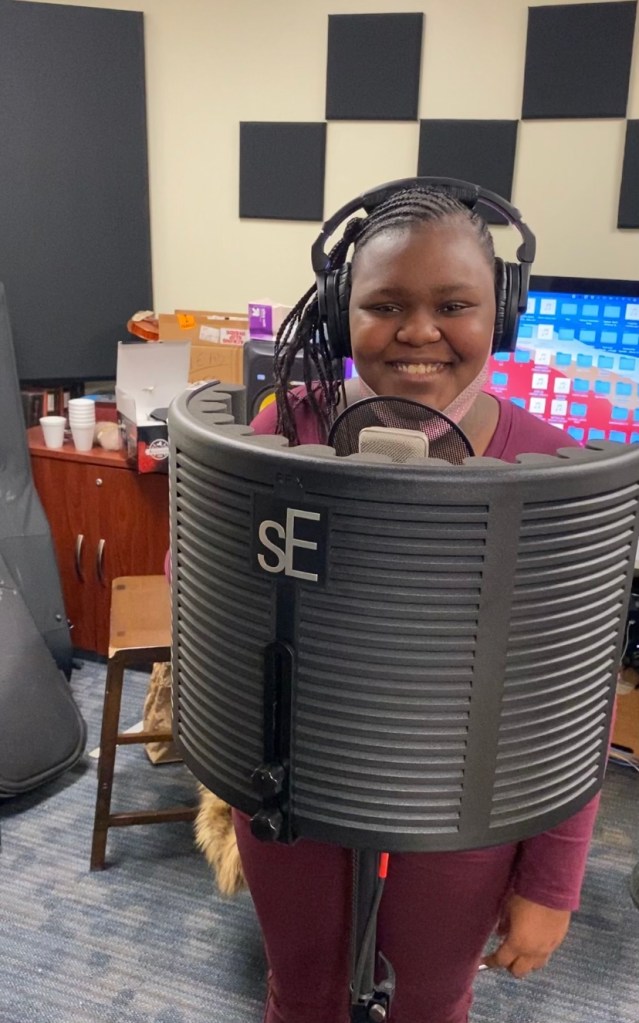 Typically, young people participating in Marillac St. Vincent's programs put on an annual Black History month show for the community. Due to the pandemic, the community assembly had to be canceled.
"Because we can't be together doesn't mean we shouldn't still be celebrating that issue that is so important in this country we have all the contributions of African American music and poetry and art," said Deanna Halligan, program manager for the nonprofit's Hope Jr. program.
The kids in the Hope Jr. program had the idea to record their performances at the organization's music studio in lieu of performing live. Participants recorded the music and poetry across February with the help of BandWith Chicago, a music education organization.
Young people working on the album got to experiment with ways of making music and worked with a professional sound engineer. The experience aimed to replicate the pride and connection young people feel when they showcase their skills to their loved ones, said Annie Palomino, of BandWith Chicago.
"The kids get to come in and lay down tracks … . It's a lot of fun for them," Palomino said. "It achieves something similar to standing up and singing into a microphone to your community. You feel that what you're doing is important and that you're being heard."
Pascal Sabino is a Report for America corps member covering Austin, North Lawndale and Garfield Park for Block Club Chicago.
Subscribe to Block Club Chicago. Every dime we make funds reporting from Chicago's neighborhoods.
Already subscribe? Click here to support Block Club with a tax-deductible donation.