CHICAGO — A mass vaccination site outside the United Center will open March 10, officials confirmed Friday.
The site will be able to give up to 6,000 shots per day, seven days a week — and those doses will come directly from the federal government rather than being taken from Illinois' or Chicago's limited supply of doses, according to a news release from the Governor's Office. That will provide a significant bump to vaccinations in and around the city.
"I hope you're feeling what I'm feeling, and it's hope," Gov. JB Pritzker said at a Friday news conference. "Things are getting better. Some day not too far from now, we'll be at the United Center, not for a lifesaving shot but for a game-winning shot."
The site — which will be set up in the center's parking lots rather than inside the famed sports arena — will offer vaccinations by appointment. Appointments will open soon; officials said they'll provide more details next week. People will be able to make appointments online with Zocdoc.
Illinoisans 65 and older will have first access to the appointments, which will be made available to them before the site opens, according to the Governor's Office.
Any remaining appointments will be open to Illinoisans eligible through the state's other categories, including frontline workers and people with underlying conditions.
Officials have said it's key to prioritize older people for these appointments since they're the population most at risk from severe illness and death from COVID-19.
Mayor Lori Lightfoot said the city is working on a transportation plan so older Chicagoans can easily get to appointments at the center. The city will partner with companies like Uber to provide rides to older people, she said; but she also called on younger people to help older people sign up for and get to appointments safely.
"We need to get them there, and we need to get them vaccinated," Lightfoot said.
The site will be open 12 hours per day — possibly 8 a.m.-8 p.m. — seven days a week for at least eight weeks. The Federal Emergency Management Agency will provide the personnel for the site, financial assistance, equipment and supplies.
Pritzker said it's still being determined what type of COVID-19 vaccine will be administered at the site.
RELATED: Here's How You Can Get Vaccinated Against Coronavirus In Chicago
The United Center itself will not be used. The Blackhawks and Bulls are currently using the facility for games — which fans have not been able to attend due to the pandemic.
People will park in lots around the United Center and go to Parking Lot E, where they will do walk-through vaccinations, said FEMA official Brian Schiller. Tents will be set up to shield people from the elements as they go through the vaccination process.
Construction crews could already be seen setting up at the parking lot Friday.
Pritzker said the state and city could create other mass vaccination sites with their own resources. Chicago's health commissioner previously said the city has looked at sites at Wrigley Field and McCormick Place.
News about the mass vaccination site leaked Thursday. Crain's was first to report the news, and Ald. Walter Burnett Jr. (27th) confirmed the plans to Block Club.
The site is part of a federal effort to open 100 similar facilities across the United States to increase vaccinations.
The state is administering an average of 66,274 vaccine doses per day, based on a seven-day rolling average. So far, Illinois and Chicago have administered at least 2,145,041 vaccine doses of the 2,693,345 directly provided to them.
More than 460,000 doses of vaccine have been administered to Chicagoans.
Another 295,909 vaccines have been administered in long-term care facilities, which have been provided with 445,200 doses. Those vaccinations are done through a federal partnership with pharmacy chains.
All together, at least 2,440,950 vaccine doses have been administered in Illinois out of 3,139,545 doses provided to entities in the state.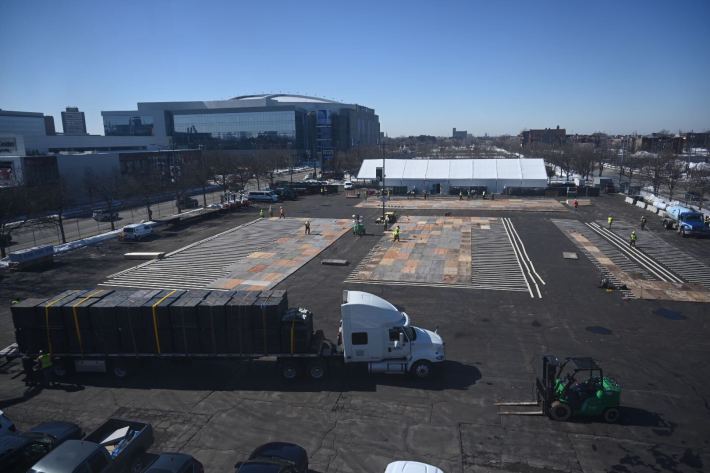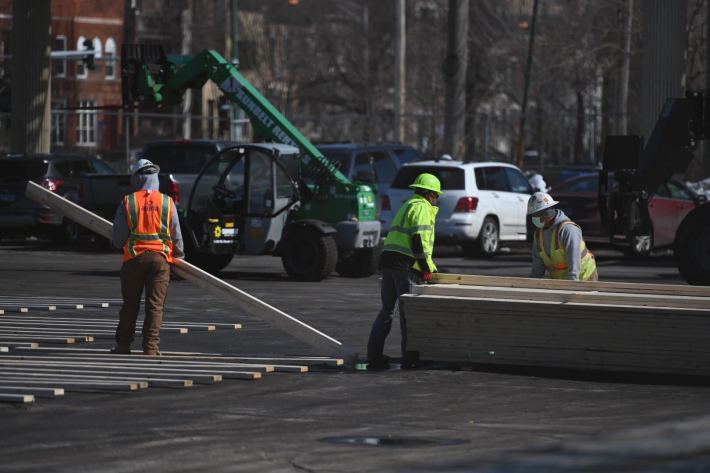 RELATED
• United Center Parking Lots To Be Used As Mass Vaccination Site As Early As March
• Mass Vaccination Sites At Wrigley Field, United Center Could Happen — When City Gets More Doses
Block Club Chicago's coronavirus coverage is free for all readers. Block Club is an independent, 501(c)(3), journalist-run newsroom.
Subscribe to Block Club Chicago. Every dime we make funds reporting from Chicago's neighborhoods.
Already subscribe? Click here to support Block Club with a tax-deductible donation.