NORTH LAWNDALE — Three teams of developers presented their proposals Tuesday to redevelop a large swath of vacant land in North Lawndale that was once home to a notorious illegal dumping ground.
The 20.8-acre site at Roosevelt Road and Kostner Avenue was once the old Silver Shovel dump, also known as Mount Henry to residents. In the '90s, construction companies, including city contractors, illegally dumped tons of hazardous waste at the site. For years, the lots at Roosevelt Road and Kostner Avenue were filled with piles of hazardous construction debris that reached six stories high.
Six development groups are competing to redevelop the empty lots under the city's INVEST South/West initiative. The city will choose the successful proposal after an evaluation process determined in part by community feedback.
Three development teams presented their ideas to residents Tuesday, and the other three will present at 5:30 p.m. Wednesday. Community concerns and guidance will be summarized and presented at a meeting in March, according to the city's planning department.
Register here to join the virtual presentation Wednesday.
"This is what equitable development looks like. This is what a process that engages residents in the decisions that will shape their neighborhoods looks like," said Maurice Cox, commissioner of the city's Department of Planning and Development.
The projects presented at Tuesday's meeting would build facilities for warehousing, distribution and industrial tenants. Each proposal has a community benefit component.
Residents attending the presentation asked how developers would ensure longtime North Lawndale residents would be the first to benefit from the projects. They also asked how developers would prevent the neighborhood from suffering from negative consequences of development.
Developers promised hundreds of temporary construction jobs as well as permanent jobs would be created. Residents said the companies that will eventually rent space at the site must prioritize North Lawndale residents in their hiring, too.
Residents also worried the huge investment could cause property taxes to rise and price out families who have lived there for generations.
"How will you all work to combat gentrification in the community?" one resident asked.
Three projects, developed by Related Midwest and 548 Capital; Chicago Neighborhood Initiatives Group, East Lake Management and MK Asset Management; and Cubs Charities and Pritzker Realty were presented Tuesday night.
Industrial Buildings With Solar Farm, Training Program And Innovation Center
A project from Related Midwest and 548 Capital would build two industrial buildings for manufacturing, distribution and cold storage tenants. The 300,000-square-foot facilities would be powered by a solar farm installed on the roof. The project would create an estimated 500 jobs, developers said.
"This location will be a hub for economic development and small businesses to be empowered through freight logistics packaging and delivery," said AJ Patton, managing partner of 548 Capital.
Developers pledged to prioritize minority-owned business in every level of the project, including "design, construction and professional services and finance," Patton said.
The solar farm on the roof will be installed by Millennium Solar. The company's workforce development program will train Lawndale residents with the skills to install the solar panels and pursue careers in solar, Patton said.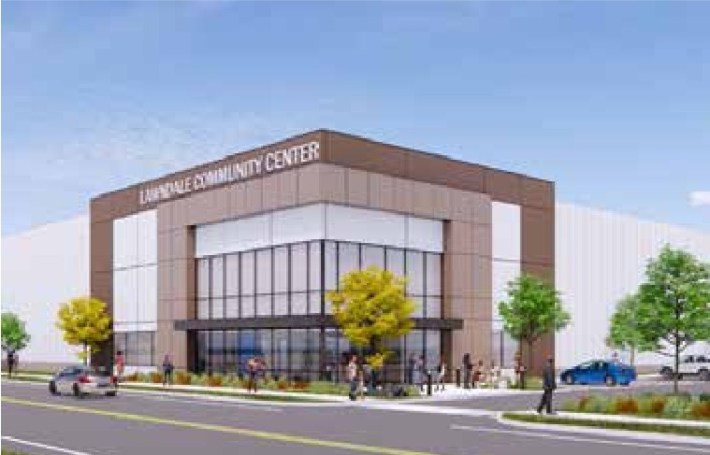 A 10,000-square-foot innovation center would be built at the facility that can be used however the community sees fit, Patton said. Developers have partnered with the North Lawndale Chamber of Commerce to design the innovation center to maximize its impact on the business environment in the neighborhood.
"We're going to connect local business owners with each other … to get the dollar of North Lawndale to circulate longer within North Lawndale," said Rodney Brown, executive director of the chamber.
Industrial Facility, Entrepreneur Center And Employment Training Program
The Lawndale United proposal, a partnership between Chicago Neighborhood Initiatives Group, East Lake Management and MK Asset Management, would bring an industrial facility to the area that would offer reduced rent on 10 percent of the building to attract small businesses.
An entrepreneur support center would offer financial resources to businesses and entrepreneurs.
"Part of our lending is technical assistance. There's never a borrower that just gets funds. We provide wraparound services," said Ciera Boatright, a vice president at Chicago Neighborhood Initiatives Group.
The project would generate about 320 construction jobs and an estimated 255 permanent jobs at the site. Developers are also prioritizing minority-owned contractors, developers said.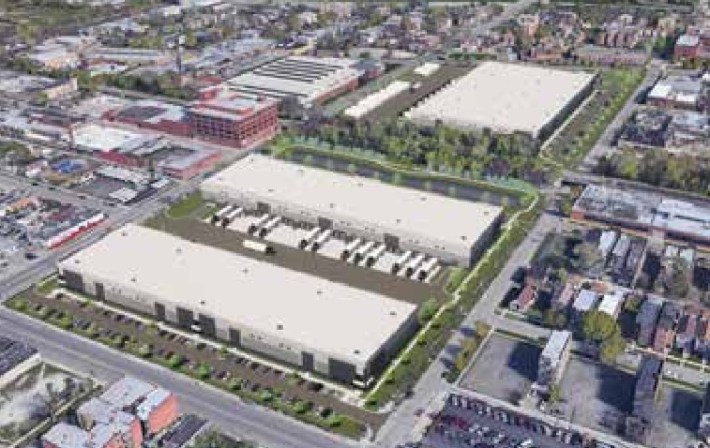 About 4,000 square feet would be dedicated to an employment training program that would support local work readiness and create a talent pipeline to ensure tenants at the warehouse and distribution site, Boatright said.
"We're able to hand them trained, ready-to-go workforce that represents the community," Boatright said.
One resident asked whether East Lake Management, a real estate company, would be a good partner for the community given the company's track record. According to a report by the Chicago Reader, East Lake Management filed 247 evictions in 2018, the second-most in Cook County that year behind Pangea.
"Knowing that, how can East Lake Management be trusted to be a good neighbor in North Lawndale?" an anonymous person asked in the Zoom meeting.
The developer's representative said they'd be happy to talk offline with the resident.
Industrial Warehouse, Cubs Baseball Academy For Youth, Locally-Owned Cafe
Cubs Charities and Pritzker Realty aim to build an industrial warehouse and a Cubs Urban Youth Academy on the site.
The state-of-the-art training center would include an indoor baseball field for neighborhood youth. The center would have classrooms housing academic activities, tech resources for students, community meeting rooms and a locally-owned cafe.
The athletic facilities would include weight room, batting cages, bullpens, a turf field and outdoor and indoor baseball diamonds. The plan includes a rooftop community garden and a teaching kitchen to promote healthy eating.
"While it is baseball and softball, this is just a vehicle for youth development. This is what we are really striving for here," said Alicia Gonzalez, executive director for Cubs Charities.
The industrial part of the project is expected to create 50-100 permanent jobs as well as more than 300 construction jobs. The Cubs Urban Youth Center would create up to 10 permanent jobs, 10 part-time jobs and up to 90 contractual positions, including many jobs that would employ youth.
Resident Sara Heymann asked developers about the environmental impact of the industrial building.
"Is it safe to play sports and go for a jog around the truck traffic and the bad air that comes with it?" she said.
Developers said an 11-acre grass field would help mitigate pollution to improve air quality in the area.
Pascal Sabino is a Report for America corps member covering Austin, North Lawndale and Garfield Park for Block Club Chicago.
Subscribe to Block Club Chicago. Every dime we make funds reporting from Chicago's neighborhoods.
Already subscribe? Click here to support Block Club with a tax-deductible donation.
Silver Shovel Redevelopment Summaries by Block Club Chicago on Scribd