NORTH LAWNDALE — Several developers are eying the West Side's largest stretch of vacant land, and North Lawndale residents will get a say in which project gets approved by the city.
The old Silver Shovel dump — also know Mount Henry to residents — is a painful reminder of the government's neglect of Black communities. The vacant lots were once an illegal dump where construction companies, many of them city contractors, piled hazardous waste six stories high.
Six development groups are competing to redevelop the 20.8 acres of empty lots at Roosevelt Road and Kostner Avenue under the city's INVEST South/West initiative. Developers will present their plans at community meetings where residents can give feedback.
Register here to join the virtual presentations at 5:30 p.m. Tuesday and Wednesday.
The illegal Silver Shovel dump was a safety hazard, a magnet for crime, and the toxic dust blowing off the mountain of construction debris caused health issues for nearby residents since the dumping began in 1990. Community members appealed to city, state and federal environmental agencies to stop the dumping and clean up the waste, but their voices were largely ignored for years, said resident Gladys Woodson, who has lived near the land for almost 50 years.
"We're still feeling the effects of the dump sites that were here," she said. "It affected a lot of our older people, and it affected a lot of our children. …A lot of our young people had serious asthma problems from that site."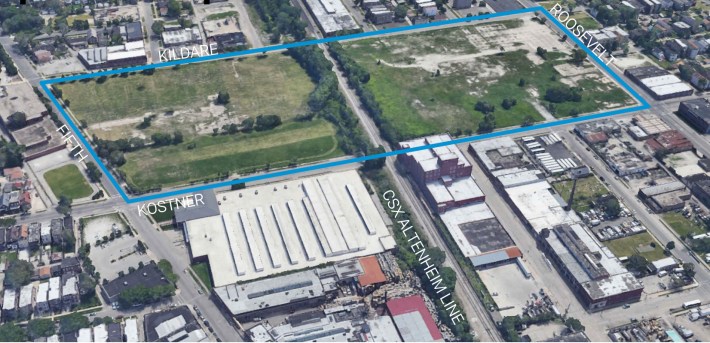 In 1996, it was revealed why government agencies turned a blind eye to the hazardous waste: the man who orchestrated the dumps was an FBI mole involved in a corruption sting known as Operation Silver Shovel. They allowed the dumping in order to catch politicians being bribed into allowing the dumping.
The dumps weren't fully cleaned up until 1998, and promises from then-Mayor Richard Daley to use city dollars to develop the lots into something to help the community went unfulfilled — until now.
Here are the six projects that may finally revamp the site:
Cold Storage And Workforce Training Center
McCaffery & KMA Development aim to develop a shipping, distribution and cold storage facility at the site.
It would also include a workforce training center to house vocational programs. The center would have a café and a "community wealth-creating engine" to support entrepreneurs, the plan said. About 60 units of housing would also be built at the site.
The proposed was developed with A Safe Haven, a Lawndale-based nonprofit helping people to overcome homelessness.
Cold Storage And Innovation Center
Related Midwest and 548 Capital aim to build two industrial buildings on the vacant lots that would be distribution sites with cold storage and manufacturing tenants.
About 10,000 square feet would be dedicated to an innovation center for the Lawndale community.
Cubs Urban Youth Academy And Warehouse
Cubs Charities and Pritzker Realty aim to build a Cubs Urban Youth Academy baseball training center on the south side of the property. The campus would include a multi-purpose facility, outdoor fields and community space.
The north side of the lots would house an industrial warehouse run by Pritzker Realty Group.
Industrial Facility And Employment Training Program
CNI Group, East Lake Management MK Asset and Lawndale United aim to build an industrial facility that would offer reduced rent on 10 percent of the space to attract small businesses. About 4,000 square feet would be dedicated to an employment training program and an entrepreneurs support center.
The project was developed in partnership with  Black Men United, CEDA, Trinal, and the Westside American Job Center.
Industrial Buildings And West Side Works Auto Training Program
Matanky Realty, Safeway Construction and WBS Equities aim to build West Side Works, an an auto mechanic training facility and a convenience store along Roosevelt Road. The project would also include several industrial buildings.
The plans could also include a rooftop baseball training center for neighborhood youth and a business incubator.
The plan was created in partnership with the North Lawndale Employment Network, a job readiness nonprofit that supports residents with barriers to employment.
Industrial Buildings And Community Center
RK5 Development aim to build a community center would have an athletic and recreation association, artist studios, co-working space, and a coffee shop.
Several industrial buildings would house cold storage, manufacturing and warehouses.
The proposal was planned by developers McLaurin JGMA, Beehyyve, McKenzie Management, BOWA, and with organizations including Art West Chicago, Nation Builders, Project Forward and UCAN.
Ald. Michael Scott Jr. (24th) said he is happy there are at least six proposals, giving residents a choice in which one comes to fruition. The proposals being evaluated have the potential to bring jobs to Lawndale and boost the local economy, Scott said.
"You have a myriad of different ways to get this thing done," Scott said. "We can take the best, and one we know will work."
Whichever proposal is selected, Woodson hopes the project will serve the interests of West Side residents.
"I don't want them to forget who was affected by this," Woodson said. "Who's going to benefit from whatever they decide to have there on those sites? I hope it's something that is going to benefit the community."
Pascal Sabino is a Report for America corps member covering Austin, North Lawndale and Garfield Park for Block Club Chicago.
Subscribe to Block Club Chicago. Every dime we make funds reporting from Chicago's neighborhoods.
Already subscribe? Click here to support Block Club with a tax-deductible donation.