CHICAGO — Mayor Lori Lightfoot is facing mounting criticism after her administration spent nearly $300 million in discretionary COVID-19 relief money on the Chicago Police Department.
Last year, the city received about $1.2 billion from the federal government as part of the CARES Act. Of the $470 million in discretionary spending, $281.5 million — nearly 60 percent — paid for personnel costs for the Chicago Police Department, the Chicago Tribune reported.
The news angered some aldermen and activists, who said that money should have gone to rent and small business relief to communities devastated by the pandemic. Ald. Daniel La Spata (1st) called the spending a "failure."
"Every neighbor you have that was denied housing assistance, we were prepared — we could have offered them that assistance,"  La Spata said. "Every vacant storefront you see is a small business we could have supported with these dollars."
The Chicago City Budget office said there was "a lot of misinformation" circulating around the CARES Act spending. In a Twitter thread, the office said they allocated $300 million for the public health response, $94 million for the Department of Family and Support Services and Department of Housing.
Some additional $100 million was used for small business assistance, $367.7 million for the airport, according to the tweets.
"Of the $1.2B in CARES Act funds, the federal govt allows $470M to be used for personnel costs, including public health and public safety depts. Had the City not used this reimbursement, we would have been forced to pass the burden onto our taxpayers," one tweet said.
Asked about the discretionary spending for the police department, a city spokesperson directed a Block Club reporter to the Twitter thread but did not answer questions about why $281 million were allocated to the Chicago Police Department.
During a press conference Thursday morning, La Spata said his concern centered around how discretionary funds were used. He said the mayor's office promised quarterly reports on how the funds were to be used. 
La Spata said it was equally "egregious that $68 million… had not been spent at all."
"We have have every right to be angry," he said.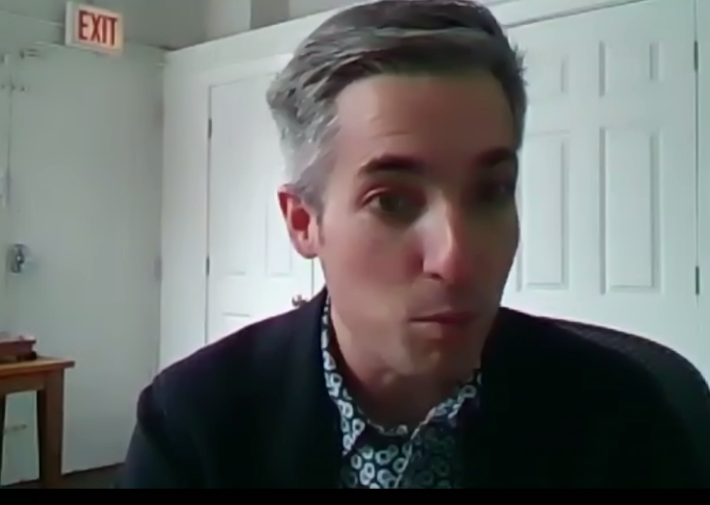 City officials did not answer questions about why millions of dollars of the CARES funds were not used considering the extraordinary circumstances created by the pandemic.
After reviewing information in preparation for the budget committee hearing, Ald. Matt Martin (47th) noticed that $281 million of discretionary CARE funds had been spent on the Chicago Police Department.
"We just have a lot of unanswered questions at this point as to how that money was spent," Martin said.
Martin said there needed to be discussions about why that money wasn't spent on rental and mortgage assistance relief for business and employees; and to combat homelessness and domestic violence.
Martin acknowledged the coronavirus crisis created a need so great that $1.2 billion was "never going to be enough to meet the needs," Martin said.
"The challenging part, but the critical part, is helping make decisions around the most appropriate allocation of those funds, given how much needs there is," Martin said. "We want to have a very thoughtful, deliberative process where we can collectively talk about what the most significant needs are. That's going to vary across the city."
But the discretionary funds should've been used to invest in communities, he said.
"No more broad discretionary uses. We need to invest directly into our communities now," Martin wrote on Twitter.
Ald. Maria Hadden (49th) called the mayor's decision to spend $280 million in CARES funds on police "mind-boggling."
"We could've given that money to people who need to pay rent, landlords to maintain housing, schools to make the necessary improvement to remote learning, small businesses who are struggling to keep their doors open and even as direct hardship payments to our residents," Hadden wrote on Facebook.
In the face of the pandemic, Hadden's office set up a volunteer community response team and hotline to help meet residents needs. She also raised funds to those facing hardships, she said.
"In light of all the need and the ways we could've spent these funds, this allocation of is wrong. It's immoral," Hadden said.
Little Village resident Maria de la Luz Rodriguez said said she applied twice for rental assistance from the city but was denied. More discretionary funding should've been spent to help hardest hit communities, she said.
"The city says there are resources available? What resources? Because here in La Villita…no help came," Rodriguez said. "Stop trying to pacify us with crumbs and broken promises while you divert funds to other places that these funds are not intended for."
Let Us Breathe Collective member Damon Williams called the discretionary fund use "incredibly sad and heartbreaking." He's called on the city to divest from the police department and funnel those funds into communities on the South and West Sides instead.
Ald. Rossana Rodriguez Sanchez (33th) said the way the money was spent was "infuriating."  
"It's infuriating to see what gets prioritized by city, while many are unhoused, with no access to adequate mental health care, facing evictions, unemployment and while bread lines continue to grow. It's cruel," Rodriguez Sanchez wrote on Twitter. "We need to [budget for the many.]"
Subscribe to Block Club Chicago. Every dime we make funds reporting from Chicago's neighborhoods.
Already subscribe? Click here to support Block Club with a tax-deductible donation.