CHICAGO — With snow pounding Chicago Monday and more expected to come through the night, city officials urged patience as plows first work to clear arterial streets before turning to side streets.
The National Weather Service predicted some parts of the city will get a foot of snow before the latest storm ends Tuesday. That's on top of the relentless snow that's already come in recent weeks.
John Tully, commissioner of the city's Street and Sanitation Department charged with clearing the roads, noted the city has gotten 28 inches of snow in the past 19 days — with more on the way.
"We ask residents to be patient with us," Tully said during an afternoon press conference at the city's 311 center. He said more than 300 plows and salt spreaders are out working arterial streets.
Tully didn't offer a timeline for when those drivers will turn to the side streets or return to picking up garbage. Mayor Lori Lightfoot also urged patience.
"Just please be patient," the mayor said. "We will get to you as soon as we possibly can."
Officials urged people to stay inside and off the roads, which turned treacherous Monday morning as the snow started falling. Rich Guidice, executive director of the city's Office of Emergency Management, said whiteout conditions hit Lake Shore Drive around 9 a.m.
Matt Beaudet, commissioner of the city's building department, said some older, bow-truss roofs in the city have collapsed from the weight of the snow, but he urged residents not to go atop their roofs for fear of falling, hitting a soft spot or falling through a vent.
"You don't know what's under that snow," Beaudet said.
Residents were urged to call 311 if the heat in their apartments falls below the legal level landlords must maintain: 68 degrees during the day and 66 degrees at night. The city has done more than 5,100 inspections based on complaints already this year.
Residents were also urged to help each other out — something that Beaudet said he personally benefited from Monday. His neighbor helped dig out his car so he could make it to the snow command center.
"I didn't ask her, but it was one of the small acts of kindness that makes Chicago what it is," he said. "And that's why we all love our city."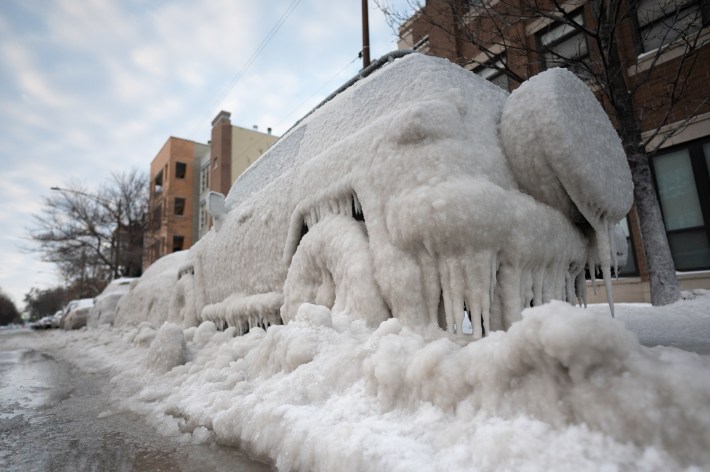 Watch the city's snowfall update press conference here:
Subscribe to Block Club Chicago. Every dime we make funds reporting from Chicago's neighborhoods.
Already subscribe? Click here to support Block Club with a tax-deductible donation.