GOOSE ISLAND — The old Morton Salt plant on Goose Island soon could be recognized as a historic structure — protecting it from demolition.
The Commission on Chicago Landmarks voted unanimously Thursday to approve preliminary landmark status for the building and surrounding properties along 1305-1357 N. Elston Ave and 1213-1251 W. Blackhawk St.
The developers who plan to convert the old salt factory into a music venue and office building applied for landmark status, which ensures a building can neither be demolished nor renovated without city approval. The proposal still requires review from the city's zoning commission and the City Council for the landmark status to be permanent.
RELATED: Plan To Transform Morton Salt Building Into Riverfront Music Venue, Office Space Gets Early Approval
Morton Salt's Elston Avenue operations began in the late 1920s and ceased in 2015. In December 2017, the company sold its property to its current owner for redevelopment, according to the company's website.
The complex meets several points of criteria for landmark status, Department of Planning and Development staffer Kandalyn Hahn said.
Aside from the history of the Morton Salt company itself in Chicago, roof lines, trusses, structures and other historic elements still exist — and they're worth preserving, Hahn said.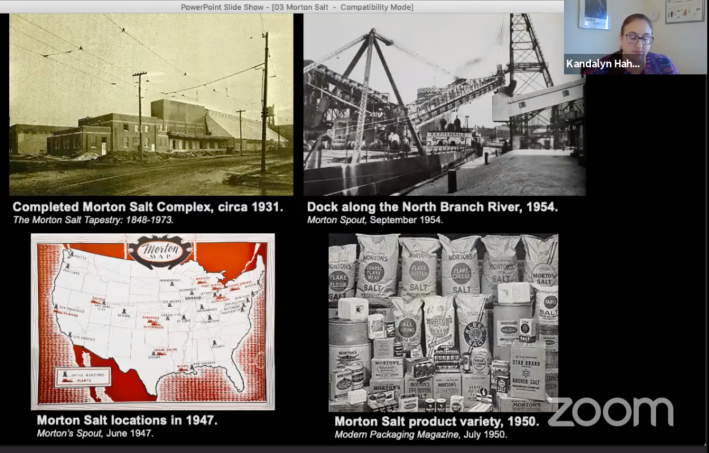 Mary Lu Seidel, director of community engagement at Preservation Chicago, said she supported landmarking the building.
As a young girl growing up in Chicago, she said she remembered seeing the building's iconic sign on drives to the city's South Side. As a college student she admired the sign while biking to the University of Illinois at Chicago via Elston Avenue.
Now, Seidel takes her granddaughter on drives past the building and tells her the story behind the phrase, "When it rains, it pours."
The project "exemplifies adaptive reuse and historic preservation at its best," she said.
"We pledge our support to both the city and the developer to make this project come to completion," she said.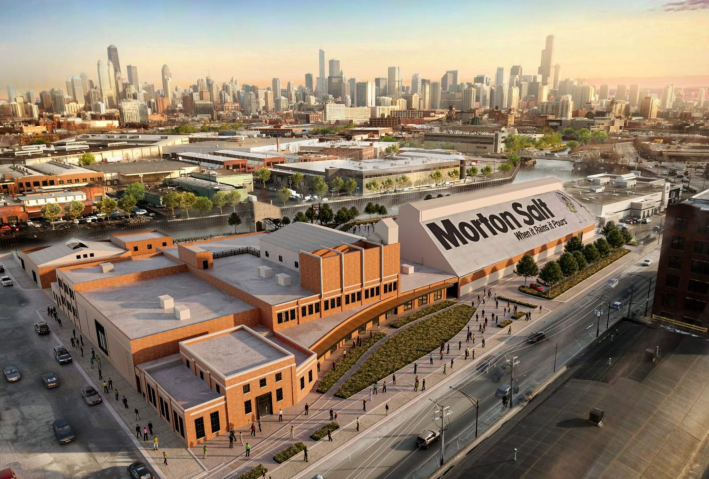 Ald. Walter Burnett (27th) said the Morton Salt girl reminds him of the movie, "Singin' in the Rain."
"I think it's great they're preserving the young lady and the raincoat, so I can keep thinking of Singing in the Rain when I drive past there," he said.
He also said he appreciated the developers' decision to pitch a music venue and office building, which will bring jobs to the area. The developers could have pitched a more lucrative idea, such as a housing complex, he noted.
"This is a very humble development," he said.
Co-developed by Blue Star Properties, the development arm of music venue group 16 on Center, and R2, a Chicago-based commercial developer, the $30 million project would create 200 construction jobs and about 50 permanent jobs and will generate $4.5 million in annual tax revenues, according to plans submitted to the city. 
16 on Center owns Empty Bottle, Thalia Hall, Beauty Bar and several other Chicago venues. R2's portfolio includes several recent developments along the riverfront, including Goose Island's 1315 North Branch and the sprawling REI flagship building, 905 W. Eastman St. 
Commissioner Suellen Burns asked whether the project met environmental requirements given its proximity to the Chicago River. Dave Deuter, representing Blue Star Properties, said this is currently being studied, and he's "confident" the project will meet requirements.
View the redevelopment proposal here.
Subscribe to Block Club Chicago. Every dime we make funds reporting from Chicago's neighborhoods.
Already subscribe? Click here to support Block Club with a tax-deductible donation.