LOGAN SQUARE — The snow that hit Chicago earlier this week provided Logan Square with an extra treat: "snow graffiti."
Local artist NosE has used the snow to decorate building walls with shapes, funny images and affirming words. He hopes the art can make people feel more connected and positive during the coronavirus pandemic, when many people have been isolated.
The temporary artwork has popped up at the corners of Fullerton and Kedzie, Whipple and Palmer, Sawyer and Altgeld and Armitage and Albany, among others. Most of the artist's snow murals feature short words and phrases like "Joy" and "Love."
"I love snow and I love the winter," said NosE, whose real name is Eduardo Vea Keating. "I usually improvise and just try a wall — if [the snow] sticks, I try to finish it."
Snow graffiti is about as simple as it gets, the artist said. There is no fancy technique or tools required — just the right kind of snow and a wall with snow nearby. Keating said powdery, compact snow works best — and it helps to have a nice supply of mittens.
Keating has created snow art since his days in Spain, where he is originally from, though last weekend he celebrated 10 years of living in Chicago — which means he can now officially call himself a Chicagoan, he joked. 
Keating previously lived in Pilsen and Printers Row; last winter was his first in Logan Square. He made it memorable by creating a skyline snow mural at Sawyer and Fullerton. It was one of numerous pieces he created around the neighborhood in 2019. 
"I try to do something each season if there is some good snow," he said. "Before, when we were going to the office, I'd drop off my daughter at school and then do one or two [snow graffiti pieces]. Now I do the same. I go for a morning walk and try to get inspired."
Keating's snow graffiti has earned him social media recognition as well as notoriety in his professional career. He brought the idea to the advertising agency he used to work for — and his campaign of snow murals for a Mexico tourism board won several awards.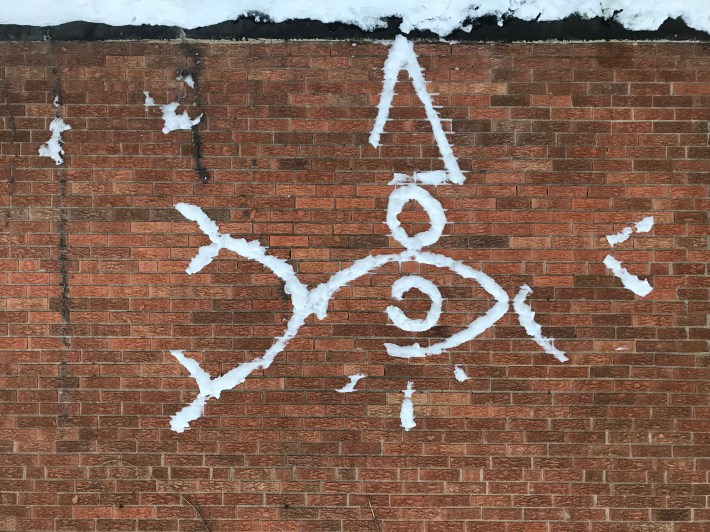 Keating said he has completed at least 10 snow art pieces in Logan Square this year. The first one was made a week ago at the corners of Armitage and Sawyer. Snowed with the phrase "It's a new dawn," the piece celebrated President Joe Biden's inauguration.
On Thursday morning, Keating made a quick piece at Fullerton and Kedzie that read "Joy," which he said was more difficult because the sidewalk snow had been cleared, so he had to use snow shoveled onto the grass. The problem with that is dogs had already claimed some of the snow. 
"I have to be careful not to get the snow with dog pee on it," he said.
Although the sun had melted most of the neighborhood artwork by Thursday afternoon, Keating said he has plans to add more this weekend, when more snow is supposed to hit Chicago. He said he's starting to think about the pieces ahead of time and plans to add new designs to the graffiti still up. 
Neighbors have expressed their gratitude for Keating's snow art on social media, thanking him for the positive vibes and calling him a talented artist. 
Keating said he creates the graffiti because it makes him happy, but he appreciates how his work has touched others. He's had funny reactions to his art, too. 
"The best ones are when I'm in the process of making them and people yell at me from cars and when the police drive by and wave, like, 'Oh, an old dude playing with snow,'" he said.
Logan Square neighbor Maria Waring saw a Facebook post about one of Keating's works and immediately recognized it. Waring is Keating's daughter's teacher at Guidepost Montessori in Wicker Park and said the artist visited the kindergarten class pre-pandemic to share his art and left a book of his work.
The book featured Keating's signature geometric shapes, including the eye he put up on Whipple and Palmer. 
The teacher said Keating's snow graffiti provides a much-needed visual representation of joy and feels more impactful during the pandemic. 
She said Keating's work also illustrates an appreciation for nature that can remind people to explore the neighborhood. She plans to show the snow graffiti photos to her class Friday to demonstrate what can be done with "objects that we see every day." 
"Especially in these times, small differences speak volumes," Waring said. "There is no better exhibition space than the great outdoors. It fosters great awareness for the natural surroundings for both adults and children. That way visitors [can] experience nature and art so close together." 
Subscribe to Block Club Chicago. Every dime we make funds reporting from Chicago's neighborhoods.
Already subscribe? Click here to support Block Club with a tax-deductible donation.