UPTOWN — Building a 12-story apartment building on a Weiss Hospital parking lot will go a long way toward securing the community hospital's future, officials said Thursday.
But not all neighbors agree another apartment complex in Uptown is needed, and some say the proposed project doesn't do enough to address housing needs in the community.
National development firm Lincoln Property Company is under contract to buy the Weiss parking lot at the corner of Wilson Avenue and Marine Drive, where it wants to build a 314-unit structure.
The courtyard-style building would include 136 parking spaces, a bike room and a rooftop deck.
The proposal comes about a year after local officials began expressing concern over Weiss Hospital's parent company's plans for the Uptown medical campus.
California-based Pipeline Health bought Weiss and two suburban hospitals for $70 million in early 2019. It has since closed Westlake Hospital in Melrose Park, causing some to fear for the future of Weiss Hospital.
Lawmakers then learned Pipeline was trying to sell Weiss' surface parking lot, causing further concern for the hospital's future.
At a community meeting on the proposal Thursday, Weiss administrators said there are no plans to close the hospital.
Instead, the new owner has invested into the hospital and plans to use proceeds from the sale of the parking lot to further bolster hospital services and its financial standing, Weiss CEO Irene Dumanis said.
Weiss recently spent $12 million to improve its parking garage, $13 million on an electronic medical records upgrade and $5 million on facility improvements, Dumanis said.
"Weiss is here to stay," she said. "I think our actions speak loudly."
Weiss is a community hospital with 80 percent of its patients on Medicare and Medicaid. The hospital gets reimbursed for those patients' care, but its revenue does not cover the cost of the hospital's desired growth, Dumanis said.
Selling the parking lot would allow for more investment into the hospital, helping it to grow its patient base and improve its financial outlook, she said.
"Our plan is to grow, to provide better care for all of you," Dumanis said. "As your community hospital, I hope Weiss can count on your support of the sale of the property."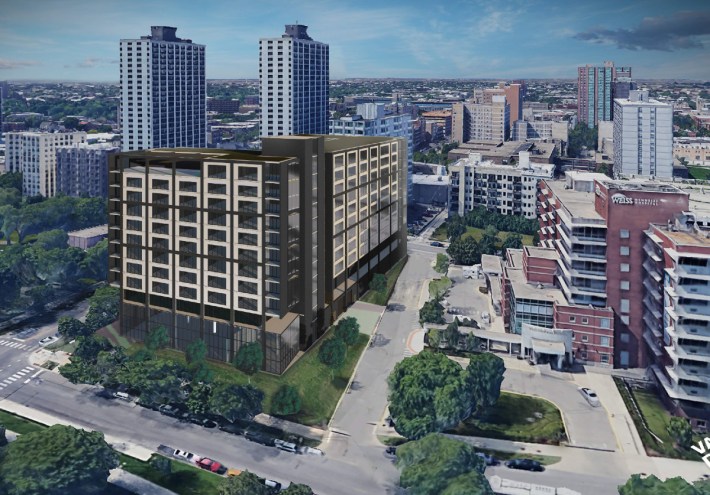 Thursday's meeting allowed Uptown neighbors to hear more about the developer's plans before Ald. James Cappleman's (46th) local development committee is asked to weigh in on the project. The project requires a rezoning to allow for residential uses on what is currently hospital grounds.
Lincoln Property's proposal includes a unique solution to its affordable housing requirement, but some neighbors believe the project does not do enough to boost affordability in the booming neighborhood.
The developer plans to include eight affordable units at the building, which is using the address 4600 N. Marine Drive.
Some neighbors said such a small percentage of affordable units in the development isn't good enough. That is the minimum required to be included in the proposed building.
"Eight affordable units out of 300 is unacceptable, and I'd like to know how you will increase access beyond what you are proposing," neighbor Cori Blum said during the virtual meeting.
To satisfy its other affordability requirements, Lincoln Property said it will pay a $3.1 million in-lieu fee to Uptown-based Sarah's Circle. The organization is planning a new affordable housing project in the neighborhood, for which the fees would be used.
This project keeps the in-lieu fees in the neighborhood and will help build housing that is affordable to people with virtually no income or fixed income, Cappleman said.
City requirements stipulate affordable units be offered to people making 60 percent of the average median income. But the Sarah's Circle housing project will be available to those making 0-30 percent of the area median income, Cappleman said.
Building housing for such low-income populations is "extraordinarily difficult to do," Cappleman said.
"That's why Sarah's Circle needs this funding so badly, because it's very expensive to build," he said. "This particular development will actually help provide affordable housing that's badly needed."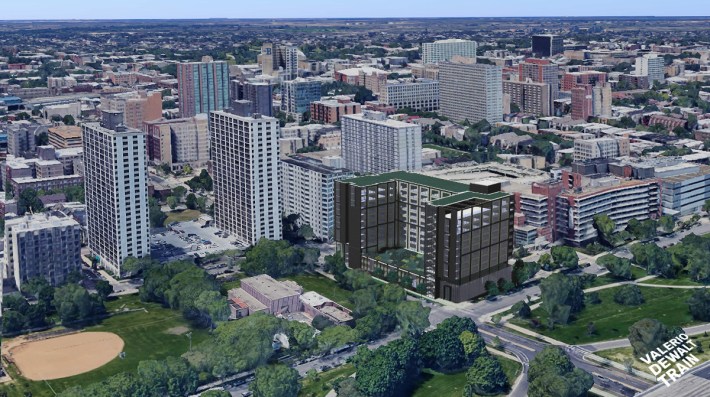 Lincoln Property said its apartments would not be the "micro-units" that have dominated the new rental market in Uptown.
It plans to include 88 studios, 168 one-bedrooms and 58 two-bedrooms. Units average just over 700 square feet. Studios will likely start at $1,700 and two-bedrooms at $2,900, Lincoln Property Vice President Joe Segobiano said.
"We intend to built a new [type of] Uptown building," he said. "We do think these units will be highly desirable."
Others believe the complex does not offer enough family-sized housing.
"We do not need more luxury housing," neighbor Marc Kaplan said. "We need low-cost housing that is affordable for the residents of Uptown and the city."
Neighbors' input will be considered before the project goes in front of Cappleman's local zoning committee. The project would then need City Council approval.
The parking lot Pipeline wants to sell sits on prime lakefront land in an area of Uptown that has attracted developer attention for years.
One half-mile of the Weiss site, two projects totaling 310 units have received approval to be built near Wilson Avenue and Broadway.
Subscribe to Block Club Chicago. Every dime we make funds reporting from Chicago's neighborhoods.
Already subscribe? Click here to support Block Club with a tax-deductible donation.