CHICAGO — The city aims to make coronavirus vaccines available to all Chicagoans by the end of May — though that's a very tentative goal, Dr. Allison Arwady, head of the Chicago Department of Public Health, said Tuesday.
Arwady revealed more details of the city's vaccination campaign during a Tuesday morning livestream. She said Chicago will move into Phase 1B of its coronavirus vaccination campaign Monday, and the city is tentatively planning to move into Phase 1C by late March. Phase 2 — when anyone 16 or older can get vaccinated — would begin at the end of May, according to the plan.
The dates for the plan are very tentative and hinge on how many vaccine doses the city gets from the federal government, Arwady said. So far, Chicago has only gotten about 32,000 doses per week.
"We will make sure that when you get a vaccine here in Chicago, it is safe, all of the appropriate measures are in place …," Arwady said. "A safe, efficient vaccine process is what's going to get us past COVID."
People who want updates from the city on how and when they can get vaccinated can sign up with Chi COVID Coach, Arwady said.
The city's currently in the campaign's Phase 1A, when health care workers are prioritized for vaccines. But the health department has allowed health care providers to give vaccine doses to people 65 and older if those doses would otherwise be wasted.
During Phase 1B, scheduled to start Monday, people who are 65 and older and frontline essential workers, like teachers and grocery store workers, will be able to be vaccinated.
The city will release more information this week about how people in that phase can get more information and sign up to be vaccinated. Arwady said she expects those appointments to be limited and fill up fast.
And Arwady said the city is asking health care providers — who will perform the bulk of vaccinations in coming months — to prioritize within Phase 1B and first give vaccines to people who are most at risk from COVID-19 since supply of vaccine doses is still low.
That phase is expected to take most of February and March.
After that, during Phase 1C, other essential workers can get vaccinated, as can people age 16-64 who have underlying medical conditions that put them at risk of severe cases of COVID-19. The city's plan suggests that phase would begin March 29.
After Phase 1C, the city would move into Phase 2 — when vaccines are available to all Chicagoans 16 and older. The plan suggests that would begin May 31.
Younger children likely won't be able to be vaccinated until this summer, at the earliest, since experts are still researching if the vaccines are safe for kids, Arwady said.
People will need to be patient because demand for the vaccine will likely far outweigh how much is supplied to the city, Arwady said.
The overall campaign is expected to take most of 2021. People who are eligible to be vaccinated during phases 1A, 1B or 1C but wait can still get vaccinated during later phases
Most people will be vaccinated through pharmacies, doctor's offices and urgent care clinics, among other health care settings, Arwady said. But the city has set up mass vaccination sites it's used for health care workers.
So far, Illinois has administered at least 495,563 vaccine doses and has been allocated 1,085,750 doses. More than 100,000 doses of vaccine have been administered to Chicagoans.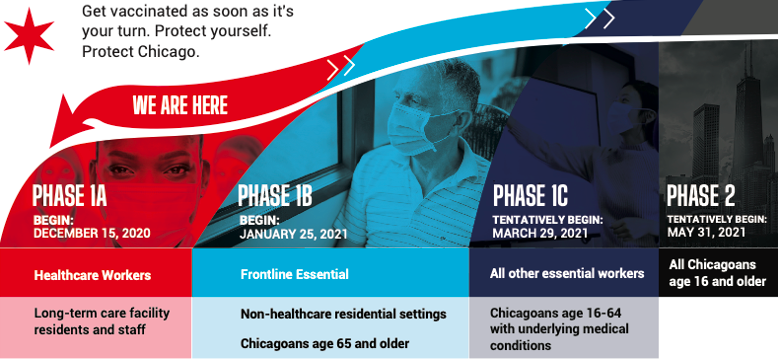 Block Club Chicago's coronavirus coverage is free for all readers. Block Club is an independent, 501(c)(3), journalist-run newsroom.
Subscribe to Block Club Chicago. Every dime we make funds reporting from Chicago's neighborhoods.
Already subscribe? Click here to support Block Club with a tax-deductible donation.