LOGAN SQUARE — Back in May, Diana Dávila turned her Logan Square restaurant Mi Tocaya into a food bank production facility and gave out hundreds of free homestyle Mexican meals to families in need.
With coronavirus restrictions back in place and struggles mounting, Dávila is at it again — but this time, she's focused on feeding undocumented restaurant workers, who, despite playing critical roles in our economy, have been shut out of federal relief programs.
Dávila has teamed up with the nonprofit Dishroulette Kitchen and Logan Square Neighborhood Association to regularly give out free meals to undocumented restaurant workers — and other families in need — starting in February. Dishroulette Kitchen was formed to support restaurant owners and workers during the pandemic
The program is named after Mi Tocaya's motto "todos ponen," which means "everyone contributes" in Spanish. In the Mi Tocaya kitchen, it's a call to action they take a step further: "Everyone puts into the pot, everyone takes from the pot," Davila said.
Just like in May, the program will help Dávila's acclaimed Mexican restaurant stay open and will also help neighbors in need — a win-win, Dávila said.
The struggles of restaurant owners, servers and bartenders have made headlines during the pandemic, but the challenges for busers, dishwashers, food preppers and other back-of-the-house workers, many of whom are undocumented, haven't grabbed nearly as much attention, said Dávila and Jackson Flores, the head of Dishroulette Kitchen.
What's worse, many undocumented workers have nowhere to turn when they're laid off. They don't qualify for federal relief such as unemployment benefits and stimulus checks. In many cases, they live far from family and friends.
"They're at the bottom of the totem pole but they're still part of this economy," Flores said. "We really want to show some representation and shine a light. It's a disparity and I think we have a responsibility to care for the people who have taken care of the industry for so long."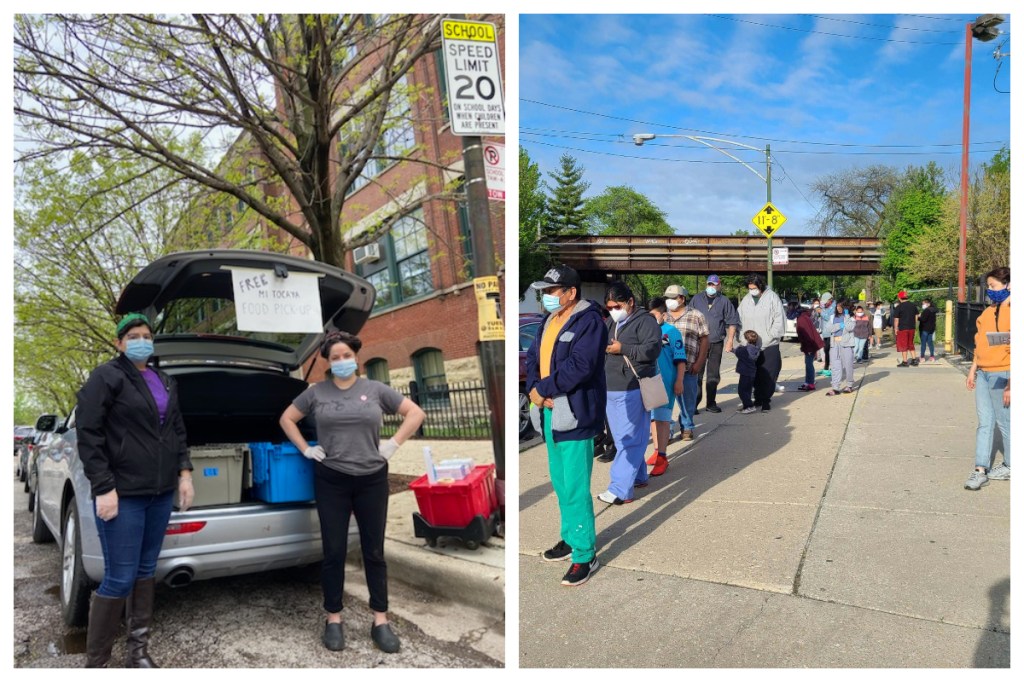 Dávila, who is first-generation Mexican-American, said she's heard "so many" stories about chefs and restaurant owners mistreating undocumented workers.
"They have to pay such a huge price, not just emotionally, psychologically, but also physically," she said. "It's always been something that's mattered a lot to me."
Dávila said she chose to keep a few of her undocumented employees on the payroll despite the financial challenges. She said they keep the restaurant running and she couldn't bear to put them out of work.
"They're really invested in Mi Tocaya the same way I'm invested in them," she said.
Now's the time to give back, Dávila said.
Undocumented restaurant workers and other people who are food insecure will be able to grab free, freshly cooked meals at Mi Tocaya at 2800 W. Logan Boulevard 11 a.m. – 3 p.m., Tuesday – Friday starting sometime in February. A specific start date will be announced soon. The goal is to keep the giveaways going for a couple of months.
So far, Dávila has been able to bring in some funding to get the program off the ground, but she needs to raise more money to cover the cost of labor, food and restaurant supplies.
Soon she's launching a series of chef interviews on Mi Tocaya's Instagram to raise awareness about the program and to highlight the ongoing struggles of restaurants in this pandemic world.
The program is Dávila's latest effort to save Mi Tocaya from closure. In addition to hosting meal giveaways in the spring, Dávila has launched a brunch menu, a mini farmers market and partnered with a number of delivery apps — all to make it through the pandemic.
Without the meal giveaways, Dávila would likely be forced to close the restaurant for the season and lay off her few remaining employees, a few of them undocumented.
"I really didn't want to do that," she said. "The space is like a living space. When there's [no] people occupying the space, it just starts to deteriorate."
Flores, the head of Dishroulette Kitchen, has been helping Dávila with the program every step of the way.
Flores worked in restaurants for several years before getting laid off in March. She said she hopes to see leaders in other Chicago communities adopt the todos ponen program, which aims to reverse a longtime industry-wide problem.
"How are we going to back up the people that are making our restaurants work?" Flores said. "The less-than-glamorous jobs like dish washing, housekeeping, prepping — they go to immigrants. They are hard jobs, hours are long but in every restaurant is an employee who has been there for 20-30 years doing the same job and doing it properly. We hope that this shines a bigger light on this."
For more information, and to donate, visit Logan Square Neighborhood Association's site.
Subscribe to Block Club Chicago. Every dime we make funds reporting from Chicago's neighborhoods.
Already subscribe? Click here to support Block Club with a tax-deductible donation.