ROGERS PARK — A proposal to bring a seven-story apartment building to the middle of a Pratt Boulevard block is drawing mixed reviews from neighbors.
Rogers Park neighbors heard from development firm Creative Designs Thursday on its plans to build a 78-unit building on a vacant lot it owns at 1233 W. Pratt Blvd.
The project would include 18 studios, 46 one-bedroom, 12 two-bedroom and two three-bedroom units. Nine apartments will be earmarked as affordable, which is one more than the city's required number of affordable units for such developments.
If approved, the project could revitalize a long-vacant lot that previously housed a fire-damaged synagogue, a non-conforming parking lot and, most recently, the local farmers market.
But some neighbors argued the proposal is too dense for the residential block it would reside on, and it does not include enough affordable housing units. They spoke out at Thursday's community meeting, which was hosted by Ald. Maria Hadden (49th)
RELATED: Rogers Park Lot, Once Home To Synagogue, Could Become 78-Unit Apartment Building
Other said the density would add housing in Rogers Park while improving a primely located lot.
In a poll of the 30-plus people who attended Thursday's virtual meeting, 61 percent of attendees said they would not support the existing development proposal, while 39 percent would.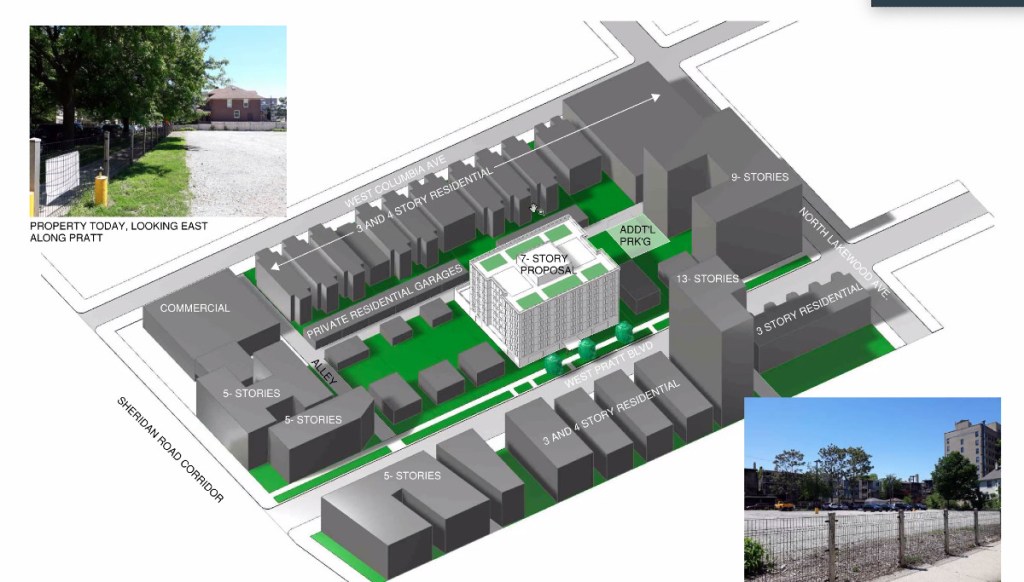 At issue with the development is its scale.
The development would rise seven stories in the middle of the 1200 block of West Pratt. The property is neighbored on both sides by single-family homes, but other properties on the block rise nine and 13 stories.
But those buildings are old and precede current zoning laws. Creative Design's development would require a zoning change to accommodate the number of desired units.
"Those buildings that are taller … predate modern zoning," said Rogers Park neighbor Robert Kokott. "I would like to see a height that is keeping in character with the neighborhood."
In the poll, 51 percent of respondents said they do not want more density on the block, while 49 percent said more density is desired. Fifty-seven percent of respondents said the development's proposed height is a concern, compared to 43 percent who said the height is not a concern.
Creative Designs President Ibrahim Shihadeh said the proposed density allows for more affordable housing, but he is willing to work with Hadden's office on financial incentives that would allow for more affordable units.
Shihadeh owns and manages property throughout Rogers Park, including nearby at 1263 W. Pratt Blvd. He bought the vacant lot in 2018 and built a parking lot, which was torn up after it was learned it was built without proper permitting, Hadden's office previously said.
Shihadeh denied neighbors' claims the parking lot caused flooding in neighboring houses. He said the development would be a win for Rogers Park.
"It's beneficial to us and to the neighborhood," he said. "We create a better neighborhood [when] we create better housing."
Hadden said she will work with neighbors and the developer on the proposal, and there will be more opportunities for residents to weigh in.
"We have a space like this where we have a real opportunity," Hadden said. "I think this is going to be a good process."
A Block Club subscription is an excellent gift. Get a subscription now and you'll get a free tote bag — and you'll help us reach our goal of 15,000 subscribers by the beginning of 2021. We're almost there! Subscribe or buy a subscription as a gift here.



Already subscribe? Click here to support Block Club with a tax-deductible donation.