UPDATE: After this story was originally published, the city revoked a permit to tear down the building for at least 90 days. Read more here.
WEST LOOP — A rare surviving example of Queen Anne Victorian architecture is headed for a date with the wrecking ball after standing at the corner of Lake Street and Ogden Avenue for nearly 130 years. 
Built in 1891 as a Schlitz-branded saloon and tied house, the four-story structure was most recently home to beloved neighborhood Italian restaurant La Luce. The brick and copper-clad building features distinctive bay windows and a corner turret topped by a weathervane.
The west Fulton Market site has faced demolition threats since La Luce shut its doors in 2016 after 27 years. The property was placed on a city-mandated 90-day demolition delay shortly after its previous owners filed for demolition permits, which ultimately expired.
The property's new owner, Anthony Giannini, received a fresh demolition permit Nov. 30, Chicago Cityscape reported. Historic preservation advocates pushed officials to place the former La Luce building under a second demolition delay but were unsuccessful.
"It does seem as though some of the processes have been skipped," said Ward Miller, executive director of Preservation Chicago. "The building should have been held again, and we got no response from the city. We did outreach four years ago and had a good response from neighbors, but it falls on the city to use their power to preserve and protect these buildings."
Miller said the extra time would have allowed his group to restart a dialogue with the city to push for landmark designation or a design compromise where the historic corner facades could be incorporated into a future development. The building is located several blocks outside the Fulton-Randolph Historic District.
For some West Loop residents, the demolition of the 129-year-old structure is not only an architectural loss, but also a reminder of the area's evolution from upscale residential enclave to industrial meatpacking hub and then to trendy mixed-use neighborhood. 
"For me, La Luce was an old-fashioned Italian spot, a real neighborhoody kind of place, and I miss it," said Connie Fairbanks, West Loop neighbor and author. "The style building recalls a time when Ashland Avenue was a very fashionable residential area. It was famous for its grand mansions."
It's unclear what property owner Anthony Giannini has planned for the site after the structure is demolished, but redevelopment seems most likely. 
Giannini could not be reached for comment, but he is also moving forward with plans to tear down the one-story building at 1385 W. Lake Street, according to the building's former tenant.
Auto mechanic Midwest Performance Cars moved out the space last week for a new location at 2105 W. Fulton St.
"We shared our utility hookups with the La Luce building, so they were waiting on us to leave before the buildings could be demolished," said Aimee Zee, an employee of Midwest Performance Cars.
Green construction fencing has gone up around the former La Luce and Midwest Performance Cars buildings. 
In recent years, developments like the nearby West End on Fulton offices and the Mason apartments have flooded the area. A 26-story rental tower at 1400 W. Randolph St. is under construction next door and will encompass the La Luce's old triangle-shaped parking lot, said developer Darren Sloniger of Marquette Companies.
It's the same real estate gold rush that prompted previous property owner and longtime La Luce operator Michael Moretti to sell the vintage building in the first place. 
"We were property rich and restaurant poor," Moretti told Eater Chicago in 2016. "We couldn't sell enough product to justify what we had to offer."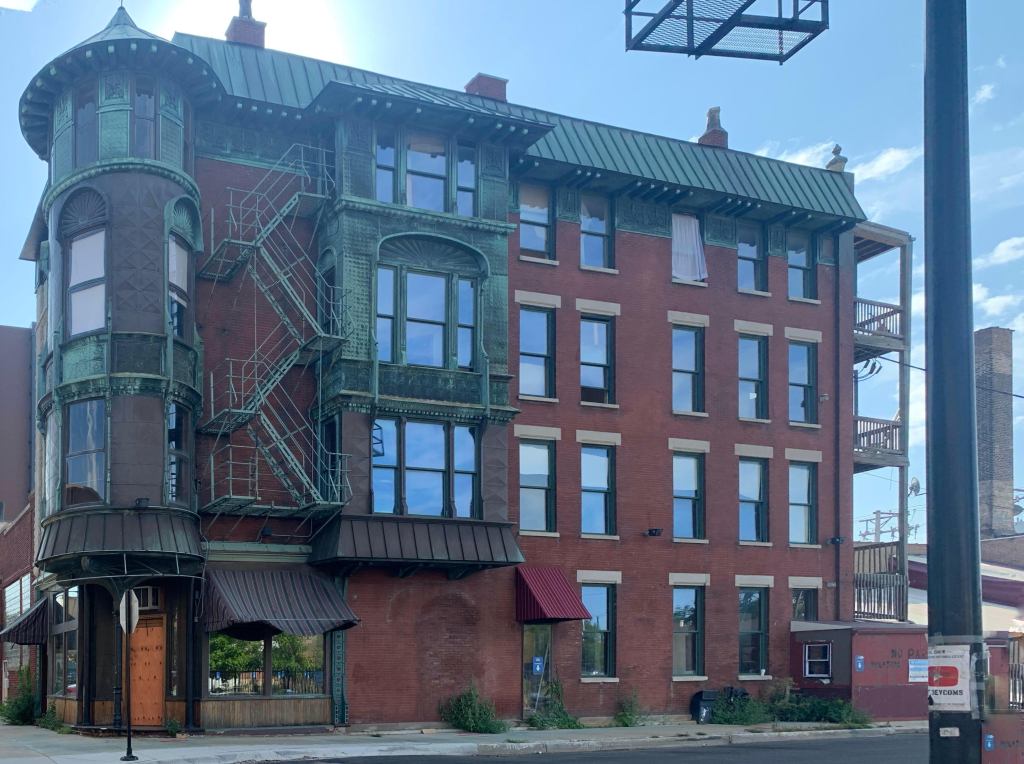 Subscribe to Block Club Chicago. Every dime we make funds reporting from Chicago's neighborhoods.
Already subscribe? Click here to support Block Club with a tax-deductible donation.
A Block Club subscription is an excellent gift. Get a subscription now and you'll get a free tote bag — and you'll help us reach our goal of 15,000 subscribers by the beginning of 2021. We're almost there! Subscribe or buy a subscription as a gift here.