WEST LOOP — A historically significant Queen Anne Victorian building dating back to 1891 has been spared from demolition — at least for 90 days. 
The city has revoked a Nov. 30 permit to tear down the former Schlitz-branded saloon and tied house at the corner of Lake Street and Ogden Avenue. The vacant brick and copper-clad structure most recently housed La Luce Italian restaurant for 27 years before closing in 2016. 
For the permit to be issued, the historic building should have been subject to a city-required 90-day demolition delay period. The hold is a requirement for all properties with an "orange rating" on the Chicago Historic Resources Survey. 
The designation doesn't protect a structure from being torn down, but provides additional time for preservationists and officials to "explore options to preserve a building, including but not limited to landmark designation," according to the city's Demolition-Delay Ordinance.
In the case of the La Luce building, the permit was released prematurely due to an error in the addresses listed city's computer system, according to Peter Strazzabosco, deputy commissioner of the Chicago Department of Planning and Development.
"A 90-day demolition hold had been entered in the city's system for 1393 W. Lake St. instead of the address range of 1393-1399 W. Lake St.," Strazzabosco said. "As there was no hold on the 1399 W. Lake address listed on the application, the Department of Buildings issued the demolition permit. The Department of Planning and Development's Landmarks Division discovered the discrepancy and immediately requested the permit be revoked.
RELATED: 129-Year-Old Victorian Building, Former Home To La Luce, Scheduled For Demolition
The building's owners, listed as Veritas LLC, wasted little time submitting a new demolition application on Dec. 2, which triggered a new 90-day countdown. That hold will expire on Mar. 1, according to Strazzabosco. 
On Thursday morning, Spirit Wrecking & Excavation pulled its green construction fences that once wrapped around the site. A representative from the company said that the fencing can not be present during the 90-day delay.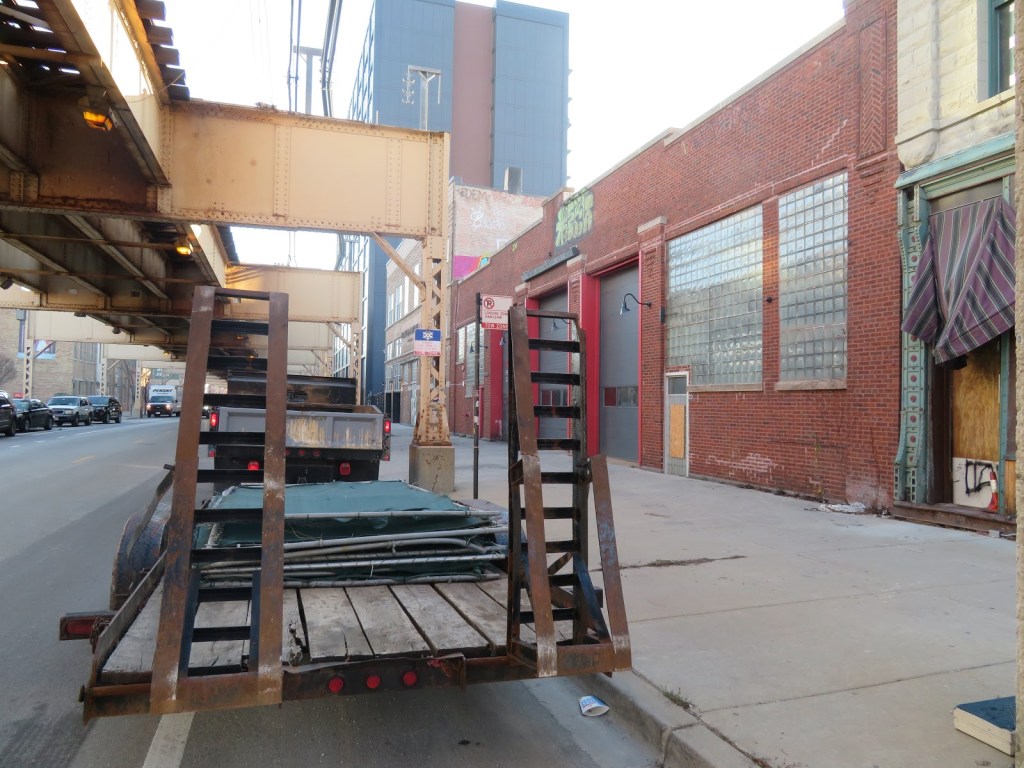 The reprieve for the former tied house is a victory for preservationists, albeit a temporary one. It's unclear what comes next for the historic building, which could be torn down as soon as the 90-day hold expires.
"While the immediate demolition threat might be averted, postponing the demolition for a mere 90 days is not enough for this beloved and iconic 130-year old building," Preservation Chicago leaders wrote in a newly launched online petition, which gathered more than 1,500 signatures in 16 hours. 
One solution could be to landmark the old La Luce building, which would protect it from demolition or possibly compel developments to preserve the ornately detailed corner facades into a new building. 
Eight historic tied houses were included in a new landmark district designated by the city in 2011. The Lake Street property was not included in the designation due to objections from its owners at the time, according to Preservation Chicago. In June, the city granted landmark status to a 113-year-old former Schlitz tied house at 9401 S. Ewing Ave. on Chicago's East Side. 
Property owner Anthony Giannini of Agent Equity Partners declined to comment on the permit revocation or his company's plans for the site. Giannini also intends to demolish the single-story building next door at 1385 W. Lake St., recently vacated by Midwest Performance Car. 
The former La Luce building completed a 90-day demolition hold once before in 2016, when its pervious owners applied for a demolition permit. That permit expired, and the property eventually changed hands.
Subscribe to Block Club Chicago. Every dime we make funds reporting from Chicago's neighborhoods.
Already subscribe? Click here to support Block Club with a tax-deductible donation.
A Block Club subscription is an excellent gift. Get a subscription now and you'll get a free tote bag — and you'll help us reach our goal of 15,000 subscribers by the beginning of 2021. We're almost there! Subscribe or buy a subscription as a gift here.