ALBANY PARK — A six-story affordable housing development in Albany Park could break ground in early 2021 if the city approves its zoning request.
Developer Celadon Holdings announced in April plans for an apartment building focused on affordable housing at an empty lot at 3557 W. Lawrence Ave. after the city granted the project highly competitive tax credits.  
Celedon is partnering with the Renters Organizing Ourselves to Stay initiative created by Communities United, a nonprofit focusing on affordable and quality housing. It's one of two Albany Park projects the initiative is working on.
Aron Weisner, one of the developers, said during a Thursday community meeting they plan to start construction early next year and units could be available to rent by late 2021 or early 2022.
"It'll hopefully go before zoning board of appeals before the end of the year, because we want to start building this as soon as possible early in the new year," Diane Limas, Communities United's board president, told Block Club.
The apartments were already desperately needed in the neighborhood, advocates say, and the coronavirus outbreak and subsequent economic crisis has only accelerated the need for this type of housing.
DePaul University's Institute for Housing Studies has identified Albany Park as having a high share of lower-income renters, families and seniors who are vulnerable to displacement due to rising housing costs.
During the meeting, at least two neighbors asked developers how soon they could apply live in the building once it's built. 
The building plans to feature 12 one-bedroom, one-bath apartments; 33 two-bedroom, one-bath apartments; and five three-bedroom, two-bath apartments.
It would include on-site laundry, a public gathering space, 13 car parking spaces, 50 bicycle parking spaces and three murals that local artists will be able to decorate throughout the seasons. 
The developer is pursuing a transit oriented designation, which means it wouldn't need additional parking spaces for the property since it is near the Brown Line and Lawrence Avenue bus routes.
The construction is aimed at helping families who earn 15 percent, 30 percent and 60 percent of the average median income levels for the Albany Park area.
Additionally, the building will have eight "unrestricted workforce" apartments aimed at helping families who earn 80 percent of the average median income level in the area.  
Sixteen apartments will benefit from Multi-Year Affordability through Upfront Investment Component rental subsidies. These are aimed at helping people at 15 percent and 30 percent of the average median income levels who may be crowding into apartments with relatives and friends to avoid homelessness. 
Concordia Place plans to open an early childhood care center on the ground floor of the building. It would offer free or low-cost child care to residents of the building, Weisner said.
Resident Crescencia Delgado said she and her family could benefit enormously from this type of housing.
"I've lived in an apartment with my brother so I can afford to pay the rent," Delgado said in Spanish. "We had to do this because I didn't want to take my kids out of school and take them to another neighborhood where they wouldn't know anyone."
Over three years they moved to three apartments in the area, she said.
"I like the idea of having a building with accessible rents because right now my kids have grown older and I'd like to have an apartment with more space for them here instead of having to look for apartments in another place. It give me the opportunity to keep living in this neighborhood," Delgado said.
Some neighbors said they were concerned 13 parking spaces would not be enough for an area already congested with cars. Some also said they felt the design doesn't fit in with the rest of the buildings in the area. 
John Friedmann, president of the North River Commission, was concerned the developer had not yet announced who the on-site building management company would be.
"One of the reasons that we haven't yet identified our management partner for this project is that we are really working with the idea of measuring twice and cutting once to make sure we get the right manager for this property," Weisner said. "We also have to get that manager approved by the city of Chicago … Ultimately that's going to be subject to the city's approval, but obviously whoever we select will be done in tandem with our community partners." 
During her campaign and since being elected, Ald. Rossana Rodriguez (33rd) has been a proponent of keeping neighborhoods affordable and working to prevent people from being priced out due to rising rents and gentrification.
The 33rd Ward is soliciting neighborhood feedback on the development. Rodriguez asked neighbors to contact her office to submit comments on her website.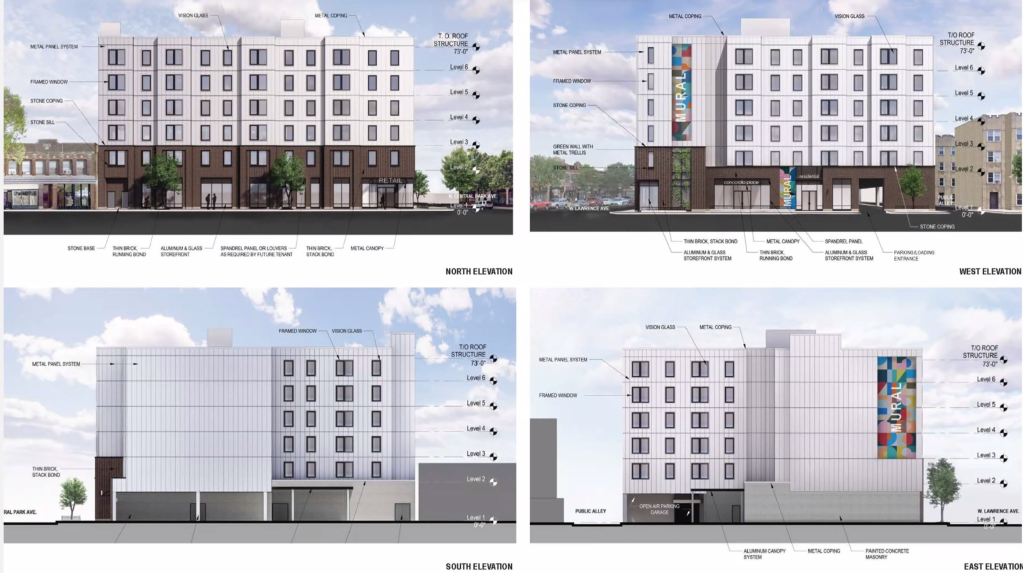 RELATED
60 Affordable Apartments Proposed For Albany Park Using City Tax Credits
Activists Attempt To Create Community Garden On Old Gas Station Site — Even Though Affordable Housing Is Being Built There
Subscribe to Block Club Chicago. Every dime we make funds reporting from Chicago's neighborhoods.
Already subscribe? Click here to support Block Club with a tax-deductible donation.