NORTH LAWNDALE — Village Leadership Academy students celebrated a historic victory recently after persuading the Chicago Park District Board to rename Douglas Park in honor of Frederick Douglass and Anna Murray Douglass.
This is the first time a Chicago public park has been renamed, setting a precedent for the city to strip the names of other controversial historical figures from parks, streets, schools and libraries.
It was a years-long battle starting in 2017 when the students, many of whom live in North Lawndale, first learned their neighborhood park was named not for abolitionist Frederick Douglass but for Stephen A. Douglas, who advocated for the expansion of slavery.
Douglas, a Civil War-era senator from Illinois, is not known to have owned slaves himself, but his wife did.
"If your park is named after a slaveholder and your neighborhood is predominantly Black, that's really offensive to your people," said Aryn Peterson, a Village Leadership Academy student who worked on the campaign. "It's really important to take what's going on in your community seriously … the park you play in, it has a really big impact on yourself."
The students initially thought the campaign would be an easy win: Changing the name would really only require adding a single "s" to all the park's signs. But they'd soon find navigating city bureaucracy is a marathon, not a sprint. And the students were often underestimated and disregarded because of their youth, they said.
But the young organizers were undeterred and learned it takes grit to make real change at a young age. These are some of their tips for other student organizers who want to make a difference in their communities.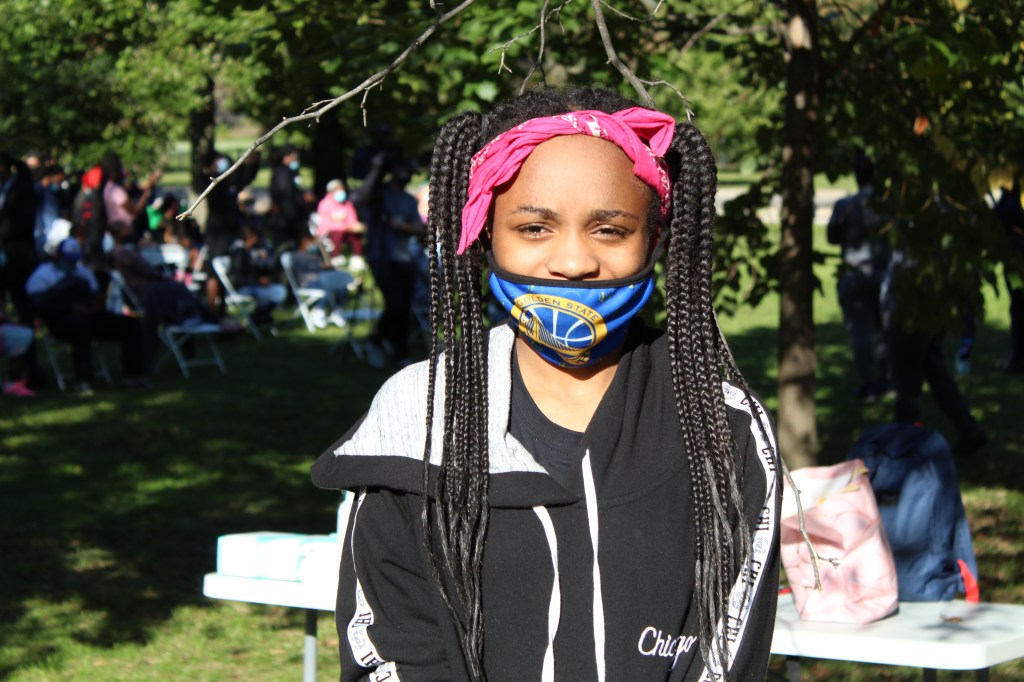 'You Are Powerful If You Use Your Voice'
Nothing will ever change unless people are willing to speak up, the youth organizers said.
Even though the odds were stacked against them, the students went out on a limb and raised their voices to call on the people in power to fix a historical wrong. Even when it seems impossible to make a difference, it is always worth taking the chance, said Jazzmin Johnson, 13.
"You are powerful if you use your voice. Don't ever doubt yourself. And I would have never known that if I never tried, if I would've never got help from other people to try," Johnson said. "You never know what you can do if you never try it."
Raniya Thomas, 13, said she was initially afraid to speak out against injustice in her neighborhood and call on public officials to change the name.
"I needed to be able to step outside of my comfort zone. Because when I started this, I was a very shy, laidback person. Now, I'm just very outgoing. This campaign changed me over the years," Thomas said.
It was hard to get people to care about the park, Thomas said, especially since the organizers behind the project are so young.
"People believe that young people can't make a change. They just think there we're really cute, shut us down, because they think that is not worthy of listening to because of how young we are," Thomas said.
But young people who want to make an impact shouldn't be discouraged from using their voices, Thomas said, even when people aren't listening.
Don't "let what people say get to you and change your opinion on how this is wrong," Thomas said. "You just got to be that light and power."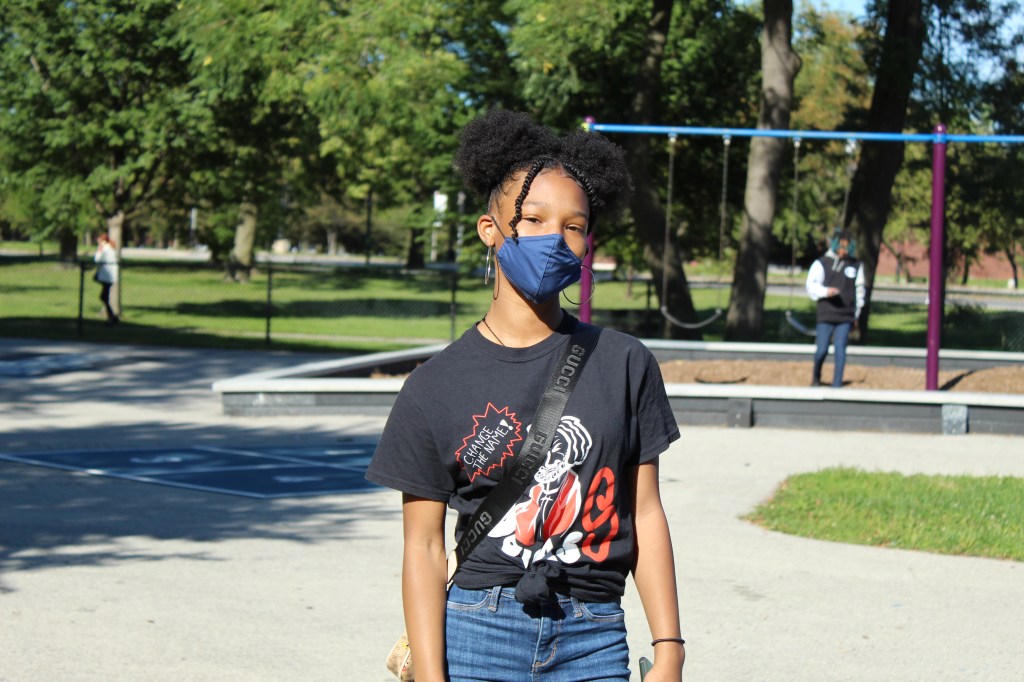 Build Collective Power
It's easy for those in power to ignore just one person, the organizers said. But when enough people raise their voices together, it is impossible to ignore them.
"You're gonna need a lot of support when you're talking to people in power higher than you. Because we're little kids, they're not going to take us seriously. But if they see a group of us coming together, trying to help out working hard, they may take us more seriously," Johnson said.
So it was essential for the campaign to win the support of the community to build power behind their demands, students said. They canvassed their community, launched a political education campaign about Douglass' legacy as an abolitionist and gathered more than 10,000 signatures in a petition.
"We had to go out and talk to people in the community, people on the train. We had to talk to everybody about it," Thomas said. "By the time we were at the Board of Commissioners meeting, we finally had a lot of our supporters … . They understood that we were serious."
And since the organizers behind the campaign are students, it was important for them to be able to get help from adults to do things they couldn't do alone.
Student organizers had their teachers, Bianca Jones and Jennifer Pagan, to help them do research, learn from more experienced community organizers and meet with local officials and the Park District Board.
The students also found a powerful ally in Sheila McNairy, who advocated for the students as chair of the Arts and Culture committee of the North Lawndale Community Coordinating Council.
"I definitely think it's important to find allies. Allies can also broaden your horizons and give you more resources to expand the campaign," said Zari Young, 14.
Get Support From Your Peers
Teamwork was essential for their campaign, the students said. Working together gave the budding organizers the chance to learn from each other and bounce around ideas, and it gave them the resilience to keep going when things got hard.
"It was way easier to do because I have my friends. They all have my back in this," Thomas said. "They were throwing ideas at me, and we were going on right back at each other."
Putting their heads together also made it easier to plan ahead since they could brainstorm solutions to the challenges they encountered, Thomas said.
"We don't like going to the teacher with one idea. We want multiple, just in case that one doesn't get through," Thomas said.
Do Your Research
When Young learned her neighborhood's park was named for a white supremacist, it made her wonder how the park got its name in the first place.
"I wanted to know when this happened — like when it was named, and who named it. What was the event around it being named? I wanted to know all that," Young said.
Without knowing how things ended up the way they are, Young said she wouldn't have known how to fix them. It is essential for young people to do their research to figure out why things are the way they are and how they can be changed, students said.
To move their campaign forward, the youth organizers learned about how the naming process worked so they could follow all the city's rules to propose the change. They also educated themselves about Douglas so they could build a case for why it is inappropriate for the park to be named for him.
Students also did extensive research on Douglass to raise awareness about his accomplishments as a statesman and orator so residents could look forward to honoring his legacy. They also explored the history of Murray Douglass so they could incorporate her name into their proposal since she helped Douglass escape slavery and establish a station of the underground railroad.
Peterson said doing research on the historical figures and on the city processes helped them to be organized and impress officials. 
"It's important to be bold and be strategic and think about what you're gonna say," she said. "You have to get your wording correct. If you sound disorganized or anything, they're not going to take you seriously."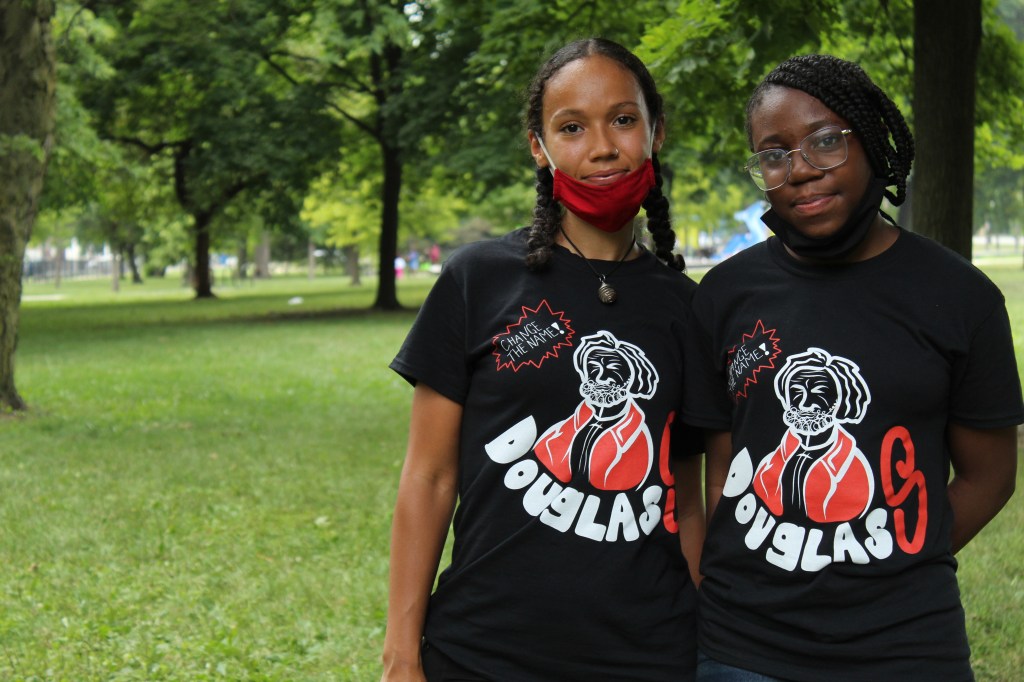 Pascal Sabino is a Report for America corps member covering Austin, North Lawndale and Garfield Park for Block Club Chicago.
Block Club Chicago's coronavirus coverage is free for all readers. Block Club is an independent, 501(c)(3), journalist-run newsroom.
Subscribe to Block Club Chicago. Every dime we make funds reporting from Chicago's neighborhoods.
Already subscribe? Click here to support Block Club with a tax-deductible donation.