PILSEN — Born out of a desire to fight food insecurity on the Lower West Side, a food pantry is evolving to meet the expanding needs of Pilsen residents amid the ongoing coronavirus pandemic.
Family physicians Evelyn Figueroa and Alex Wu launched a food pantry inside the University of Illinois Pilsen Health Center clinic two years ago, hoping to provide critical social services to address food insecurity, homelessness and poverty while serving patients.
Earlier this year, right as the pandemic hit Chicago, they relocated the pantry to a vacant church at 1850 S. Throop St. and broadened their work. Now rebranded as the Pilsen Social Health Initiative, Figueroa and Wu oversee a bustling operation that includes the food pantry, a thrift store and an on-site social worker to help families apply for assistance programs.
The couple is also working to establish a medical supply closet and a computer center with wifi for students.
"We have many families struggling to meet basic needs," Figueroa said. "People are really suffering right now."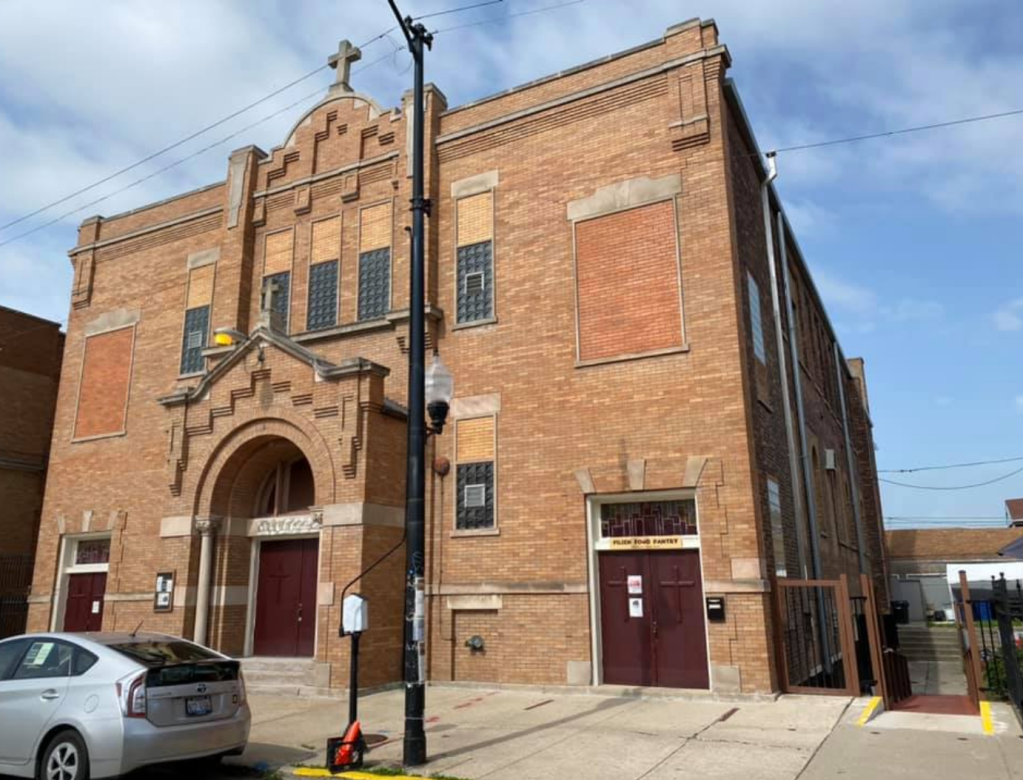 Figueroa and Wu opened the Pilsen Food Pantry inside the health center in 2018, inspired by a similar setup inside a San Diego health clinic.
The aim was simple: meet patients where they are, Figueroa said.
While patients would visit the clinic, clinicians would make referrals to the food pantry. Other patients noticed the signs and would inquire about the food pantry. As an open-access food pantry, Figueroa said many people coming in weren't UI Health patients.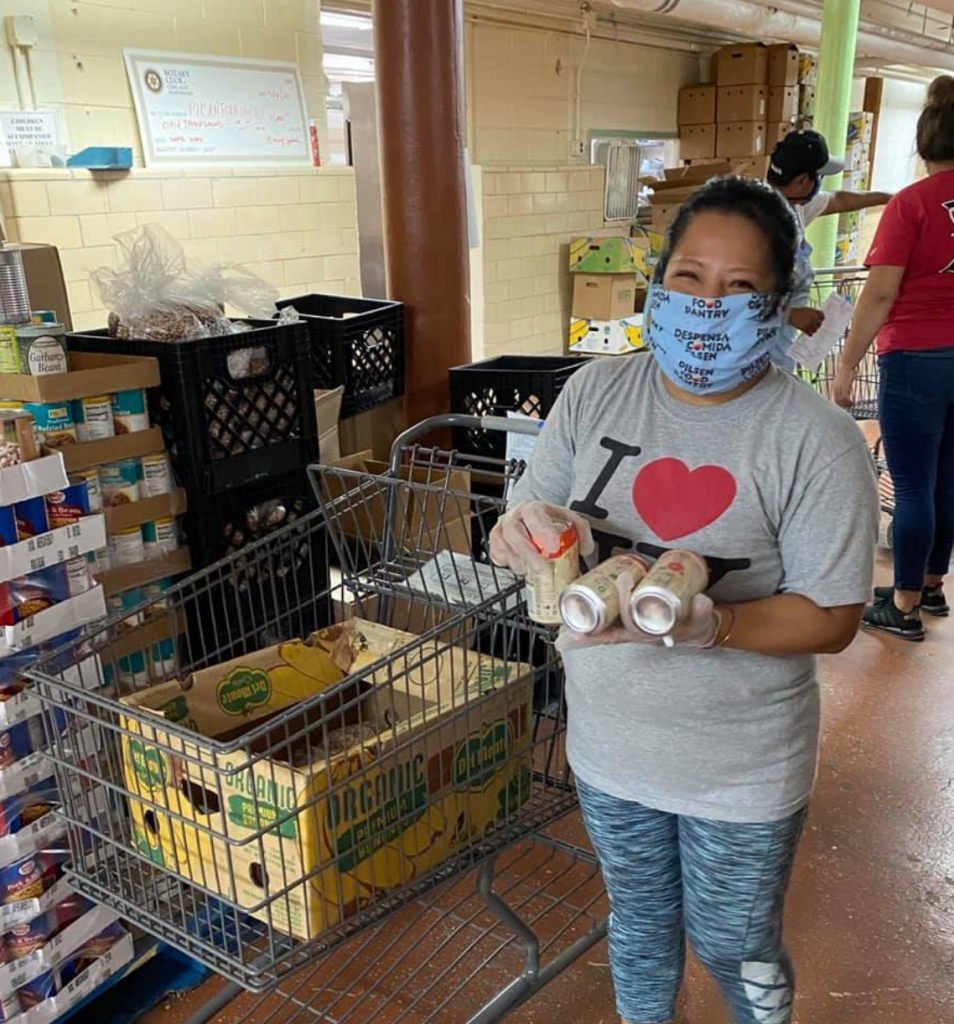 Rather than give a standard packet of goods, Figueroa and volunteers created a system where patients picked from the available items. She wanted to create a normal shopping experience and reduce food waste.
Figueroa said they quickly figured out the need was much greater than they initially anticipated. Within a year, Figueroa sought to expand their services.
With the help of Ald. Byron Sigcho-Lopez (25th), Figueroa relocated the pantry to the vacant Holy Trinity Church in late March as coronavirus and the related shutdown hit the city. The school closed in the early '90s, and the church was absorbed by nearby St. Procopius in 2004.
The larger space is making it easier for Figueroa and Wu to expand their services and assist more low-income families when they need help most.
The demand for food has doubled during the pandemic, Figueroa said. On average, they see 50 people per day, five days a week, but on some days up to 70 families show up requesting help, she said.
"People we never expected to see coming to the pantry have continued to come to the pantry," Figueroa said.
In the 60608 ZIP code, which includes Pilsen, more than 2,600 have tested positive for coronavirus, among the highest numbers in the city. In May, predominately Latino neighborhoods were seeing the most coronavirus cases in the state.
Latino neighborhoods are struggling financially, too. According to WBEZ, 72 percent of Latino households reported having "serious financial problems compared with 36 percent for white households in the city."
Most recently, the couple opened the Clothes Closet, a thrift store, inside the church.
Initially, the group organized a clothing drive to support a local shelter for people struggling with homelessness. But the drive yielded 8,000 pounds of donated clothes within three hours, Figueroa said.
"We weren't expecting so many clothes," she said.
Many items were left over even after delivering the donations to the shelter, so Figueroa decided to convert a vacant classroom at the church into the thrift shop.
"It's a sliding scale thrift shop, allowing people with no ability to pay to get free clothes, and then thrift shop pricing for others," she said.
Figueroa partnered with Northeastern Illinois University to bring in a social work intern three days a week to provide case management for Medicaid, programs such as SNAP and additional services.
Figueroa also is working to convert a room at the old church into a classroom with computers, wifi and printer access for neighborhood children. They are also working with Brighton Park's Devices for the Disabled to provide walkers and canes. 
Organizers eventually want to provide housing and medical respite care for people experiencing homelessness, too.
Sigcho-Lopez lauded Figueroa's efforts, saying she's provided necessary services during the pandemic, which has hit the neighborhood hard.
With undocumented immigrants being left out of public aid and many workers being laid off in large numbers, Sigcho-Lopez said, "this space has been critical at a time when government has not been as responsive."
Partnerships between Figueroa and her team and the city help many put food on the table and provide clothing to their families, Sigcho-Lopez said.
The conversion of the vacant church was a great way to repurpose the building for the benefit of the community, he said.
During the pandemic, Figueroa said the work she's put in to connect vulnerable patients with community supports was "pretty intimidating."
But they received a wealth of community support. Neighbors volunteered at the pantry. Local farmers have donated produce. Pilsen restaurant Casa Indigo cooked meals for families picking up goods at the pantry. Sigcho-Lopez and State Rep. Theresa Mah have backed their work.
Figueroa said pantry organizers have been able to partner with other community groups to exchange any extra goods to make sure the "right food gets in the right tummy."
"Obviously, we are in an unprecedented crisis, … and the community has come together to make this happen," Figueroa said. 
More information on the Pilsen Social Health Initiative can be found here.
Subscribe to Block Club Chicago. Every dime we make funds reporting from Chicago's neighborhoods.
Already subscribe? Click here to support Block Club with a tax-deductible donation.