CHICAGO — The city's Latino community is facing a surge in coronavirus cases, officials said Wednesday.
Just a month ago, the Latino community accounted for 14 percent of cases and 19 percent of deaths in Chicago. But Latino people now account for 37 percent of Chicago's COVID-19 cases and 25 percent of the city's deaths in cases where a person's race or ethnicity was known, Mayor Lori Lightfoot said at a press conference.
"With increasing testing, improved reporting and the continued spread of this terrible virus, we are seeing a surge in cases among our Latinx cases," the mayor said. "This demands we dig down deeper and work harder to confront this reality."
A Growing Crisis
While Chicago and Illinois have seen their curves of coronavirus cases begin to flatten over the last several weeks, the Latino community is actually seeing sharp growth in cases.
There have been 7,156 lab-confirmed cases among Latino Chicagoans, and 266 Latino people have died, said Dr. Allison Arwady, commissioner of the Chicago Department of Public Health.
Many of these cases are in Little Village, Brighton Park, Archer Heights, Gage Park and Belmont Cragin, which are neighborhoods with large Latino populations, Arwady said.
And statewide, "the Latinx population has become the group with the highest proportion of positive cases in Illinois," said Dr. Ngozi Ezike, head of the Illinois Department of Public Health, during a separate press conference.
Latino people represent more than 40 percent of the new reported cases in Illinois over the last week, said Dr. Marina Del Rios during the press conference.
And of the 26,000 people in Illinois who identified as Hispanic when being tested for COVID-19, nearly 60 percent have tested positive — which is three times the state average, Pritzker said.
"Because of decades of disparities in health care access and delivery, we've seen the worst effects of this pandemic fall upon, disproportionately, upon the backs of the communities of color in our state," Pritzker said. "That's especially true in our Black communities, our Native American communities and our Latinx communities."
---
Confirmed cases by race and ethnicity in Chicago: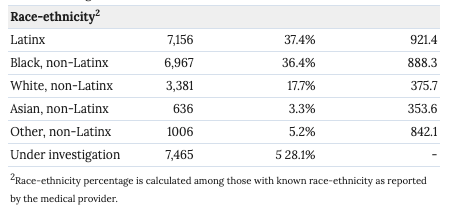 ---
Part of the sharp uptick in confirmed cases among Latino Chicagoans is due to the city expanding its testing efforts in Black and Latino communities and because the city has pushed testing companies to get information about a patient's race or ethnicity when testing someone for COVID-19, officials said.
The Esperanza clinics have seen more than 1,000 people test positive for COVID-19, the vast majority of them Latino. They've had an "incredibly alarming" positivity rate of more than 50 percent, said Carmen Vergara, chief medical officer of Esperanza Health Centers, where the majority of the patients are Latino.
But the Latino community is also facing unique challenges while trying to battle coronavirus, officials said.
"Many of us are unable to stay home because we work in essential areas of the economy … and have a higher risk of getting exposed to COVID-19 and bringing it home to our families," Del Rios said.
Many of the people who come to Esperanza for health care also live in multigenerational homes or struggle with crowded housing, Vergara said. Officials have said this can make it harder to isolate.
Lightfoot also pointed a finger at President Donald Trump, saying his anti-immigrant and anti-Latino language has scared people and made it difficult for them to seek help.
"There are consequences of President Trump's hateful, xenophobic demonization of this community. … Now more than ever we need to bring people out of the shadows," Lightfoot said. "Whatever their fears may be, we have to make sure that we break through that to educate them about the opportunities to help themselves in the middle of this pandemic. And we cannot let anybody, no matter who it is, demonize our communities and scare them away from seeking treatment and getting education … ."
Looking For Solutions
The city created its Racial Equity Rapid Response Team in early April after data showed Black Chicagoans were being disproportionately affected by COVID-19. Now, it's expanding the focus of the team, Lightfoot said.
The team will "be zeroing in on areas where we see the highest increase in case rates," like in areas with high Latino populations, Lightfoot said. That means the city will need teams on the northwest and southwest sides of the city, and those teams will have to work with community groups and leaders there to create strategies for reaching people, she said.
"Each community has its own unique set of challenges, and they have to be addressed in their own unique way, and we will do that with trusted partners in each of these areas," Lightfoot said.
The city plans to create multilingual videos and distribute postcards and door hangers directly to residents' homes so they can better understand the risks of COVID-19 and how to prevent its spread.
There will also be at least three bilingual town halls: one focused on seniors Thursday night, an immigrant youth town hall and then a "broader" Latino town hall, Lightfoot said.
And because data has shown there are clusters of cases in industries where many of the workers are Latino, the city is partnering with unions and businesses to reach out to workers and to ensure businesses are keeping employees safe, Lightfoot said.
And any residents who need help isolating due to COVID-19 can contact the city health department to get a free hotel room.
"This is going to be critical to our families who live in multigenerational homes and need a safe space to" get through the crisis without putting family at risk, Lightfoot said.
The state is also trying to expand its testing in Latino communities throughout Illinois, and it will work with leaders in Latino communities to get contact tracing programs started, Pritzker said.
Illinois also expanded emergency Medicaid to cover people who are undocumented to help them receive health care during the crisis.
Spanish-speaking Illinosians can also text COVID ESP to 312-500-3836 to get daily informational messages in Spanish.
Lightfoot said she also wants officials to create programs that will result in lasting change for communities of color once the pandemic is over.
"We have to build a foundation to address the health disparities for COVID and beyond," Lightfoot said. "These divides weren't created overnight and they won't be solved overnight, but this has got to be a call to action for all of us."
Block Club Chicago's coronavirus coverage is free for all readers. Block Club is an independent, 501(c)(3), journalist-run newsroom.
Subscribe to Block Club Chicago. Every dime we make funds reporting from Chicago's neighborhoods.
Already subscribe? Click here to support Block Club with a tax-deductible donation.