CHICAGO — The post office is in trouble.
Despite new Postmaster General Louis DeJoy's pledge to maintain funding to handle mail-in voting, postal workers in Chicago say they are understaffed, overworked and being exposed to coronavirus — and are urging vote-by-mail voters to mail in their ballots as early as possible to avoid disaster on Election Day.
Block Club interviewed Chicago Postal Service workers — who spoke on the condition of anonymity for fear of retaliation — about the obstacles they're facing as the country struggles with the coronavirus pandemic.
Postal employees said they are worried about the spread of coronavirus among their coworkers and are troubled by policies set by the new postmaster general.
President Donald Trump and his administration have been accused of trying to disenfranchise vote-by-mail voters before the Nov. 3 election by hamstringing the post office.
With the pandemic still in full swing in the U.S., many people are planning to vote by mail. More than 198,000 people have requested a vote-by-mail ballot just in Chicago, breaking the city's record, with even more expected to apply, according to the Chicago Election Commission.
Despite the surge in mail-in voting, DeJoy — a Republican Party fundraiser and Trump donor — has eliminated overtime for mail carriers, cut post office hours and removed postal boxes and sorting machines since he took his post in June.
At the same time, Trump said he opposes funding for the post office because he doesn't want to see it used for mail-in voting.
"If we don't make a deal and that means they don't get the money that means they can't have universal mail-in voting, they just can't have it," Trump said last week.
Facing backlash, DeJoy announced Tuesday the agency won't enact funding changes until after the election.
But Chicago postal workers said the damage has already been done because Trump falsely claimed vote-by-mail is rife with fraud.
There is no evidence of significant fraud through vote-by-mail ballots, according to a 2016 New York Times investigation.
"They're trying to brainwash you," one 36-year postal worker said. "I don't feel the president feels we cannot adequately get the ballots. It's the contrary. He knows we can do that work."
RELATED: Voting By Mail In Chicago: Here's Everything You Need To Know
During election season, political mail, which includes mail-in ballots, becomes the top priority of the Main Post Office at Canal and Harrison streets in the South Loop. 
Workers said they're proud of the role they play in facilitating Americans' right to vote. But they are worried about the unprecedented number of ballots that will come through the processing center, especially amid the Trump administration's changes to the system.
One employee said the downtown post office in Chicago removed machines which sort mail by ZIP code.
"If they've taken out 10 processing machines, how can we get ballots out in a timely manner?" she said. "We have boatloads of mail backed up into containers that we can't even get to the stations because there's so many people." 
The employee was also concerned about having enough temporary workers, who are usually hired from election season through the holiday season.
"The mail volume is very high and then we're not hiring, so we're kind of spread thin," she said.
A Chicago-based Postal Service spokesman declined to comment. He referred Block Club to the service's COVID-19 media statement, which details sanitation protocols and paid leave policies but does not address concerns raised by workers interviewed.
In order to handle the impending avalanche of mail-in ballots, workers said they need more funding and support — not less, said an Army veteran who has worked for the postal service for more than three decades.
"When you affect the Postal Service in the middle of a pandemic, when you know a lot of people are not going to be able to cast their votes … it seems like you would be ecstatic to have an agency in place to reach every corner of the United States," one worker said. "It seems to me so blatant, that the president of the United States would want to handcuff or hinder the Postal Service."  
Mail Delays Caused By Staff Shortages, New Policies
Since early June, Chicago residents have reported long delays in receiving their mail and long lines at post offices.
Chicago Mayor Lori Lightfoot told NPR on Monday she heard mailboxes were removed from Chicago, but she has not been able to confirm that claim yet. She described "delays in mail," from people being unable to access post offices or standing in long lines to get in.
"We're hearing from the postal union that they're being deprived of the resources that they need, protective gear, not enough postal workers and that their hours are being shifted to force them to deliver mail in the nighttime," Lightfoot told NPR. "This is … a concerted attack on the post office, the postal system."
In the weeks since Trump appointed DeJoy, workers in Chicago told Block Club they've experienced logistical changes that have severely "handcuffed" their abilities to do their jobs efficiently.
Under previous protocol, trucks left the processing center around 8 a.m. daily with mail that had been sorted overnight. Often, the trucks do not actually leave at 8 a.m., giving the understaffed overnight workers extra time to sort as much mail as possible to fill the trucks.
But DeJoy is now requiring trucks hit the streets at 8 a.m. sharp. Workers told Block Club that means trucks are often leaving unfilled, creating delays in mail delivery.
There also are staffing issues due to the elimination of overtime pay as workers are out sick with coronavirus. Many workers had been pulling 12-hour shifts six days a week to keep up with demand before overtime was cut.
Workers say as many as 40 postal employees at the South Loop processing center have tested positive for coronavirus. At least two people ended up in the hospital, with one on a ventilator, one worker said.
When an office has too many positive cases, unsorted mail is sent elsewhere for processing, workers said. This adds to the backlog, slowing down mail service for Chicagoans everywhere, a worker said.
"That's probably why people are not getting their mail, I see that on the news," one staffer said. "They didn't have the people to break down the mail. … They put us in a group, essential workers. 'Y'all must come to work.' We aren't getting essential pay, we aren't getting none of that. … Talking about delays and you already don't have enough employees. The election is not even here yet."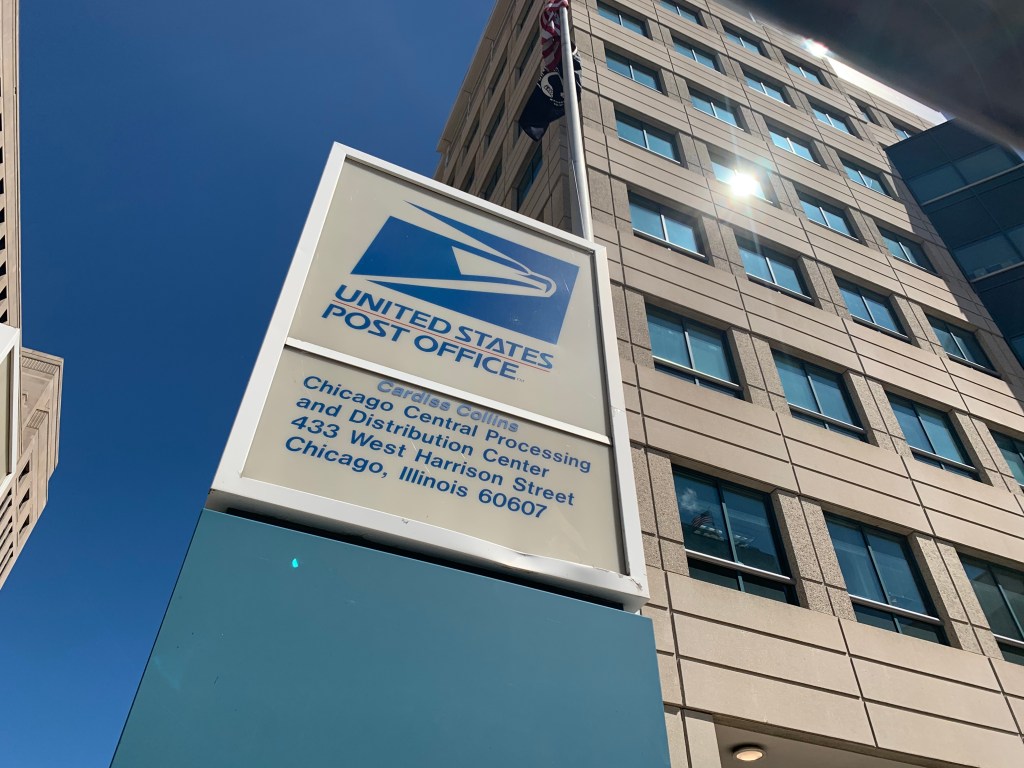 One worker who has been with the postal service for nearly 30 years was infected with coronavirus in March. After she tested positive, her bosses refused to tell her co-workers they had been interacting with someone who was infected, she said.
"The supervisors wouldn't even tell the employees so they could get tested," she said. "I only had two weeks of hazard pay. I was still feeling ill when I came back, but I still had to work."
In Chicago, coronavirus has ravaged communities of color, with Black and Latino residents far more likely to die of the virus than their white neighbors.
According to the Pew Research Center, postal workers are more racially and ethnically diverse than the labor force as a whole. In Illinois, more than 50 percent of postal workers are Black women.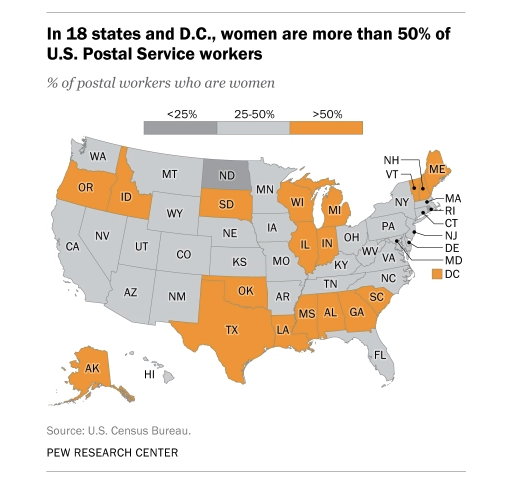 How Residents Can Help
Residents can help postal workers by requesting vote-by-mail ballots early — applications are online — and by voting in person at early voting sites, workers said.
Voters with concerns about the mail can also bring completed vote-by-mail ballots to drop boxes at early voting sites or the Election Board at 69 W. Washington St. on the sixth floor. Voting sites will be announced in September.
Additionally, buying stamps helps address the budgetary shortfall, said the Army veteran and longtime worker.
Neighbors can also help by being patient and showing compassion, workers said.
"They complain a lot that the mail delivery is late instead of understanding that it's an underlying pandemic going on out here," one worker said. 
"People can be more supportive," another said. "Say, 'Thank you for your service.' You rarely hear somebody say, 'Thank you.'"
Subscribe to Block Club Chicago. Every dime we make funds reporting from Chicago's neighborhoods.
Already subscribe? Click here to support Block Club with a tax-deductible donation.