LOGAN SQUARE — A Logan Square man arrested by U.S. Immigration and Customs Enforcement earlier this month is set to be released while his case is pending, a win for the man and the neighbors who rallied around them, his wife said.
A U.S. immigration court judge in Chicago set the man's bail at $2,000 on Wednesday, according to a Justice Department spokesperson and the man's attorney, Amina Najib.
The man and his family are able to afford bail thanks to an outpouring of donations from neighbors. If bail is paid by Thursday, the man will be released from McHenry County Jail on Friday morning, according to the man's wife.
Block Club is not naming the man because he is undocumented. The man's wife declined to be named.
"My kids are going to finally see their father after all of these long days and the torture we felt thinking our family was going to be torn apart," the man's wife said Wednesday.
"I have no words [for] how thankful I am for everyone helping and caring for my family. It's just such a blessing to have this community as a family."
The man, who is in his 30s, was arrested about 6:30 p.m. Aug. 4 at California Avenue and Point Street. He was driving to pick up popcorn for a movie night at home with his wife, their 13-year-old daughter and 6-year-old grandson in the car when an ICE agent pulled them over.
ICE spokeswoman Nicole Alberico previously said the man was arrested for being an "unlawfully present national of Mexico." She also said the man was convicted of a drug charge in 2003, a justification the man's wife found troubling.
"They're bringing up any little thing they could bring up," the man's wife previously said. "It was 2003. That was 17 years ago. It's because he was smoking marijuana when he was young. … Is this the cause? He's a monster to society? Because I don't know what to say."
After the man was detained, Chase Elementary teachers and staffers sprang into action and put out a call for donations to help the man and his family. The man is a parent of Chase students.
In just one day, the Chase Elementary Solidarity Fund, which also goes to other Chase families in need, brought in $9,000.
"It's an incredible feeling that we all have this one goal, and that's to take care of each other," said Tiffany Gamboa, a teacher's assistant at Chase.
RELATED: Donations Pour In For Logan Square Family After ICE Arrests Father Of 5: 'I Really Hope … He Gets To Come Back Home'
The man moved from his hometown of Puebla, Mexico to Chicago in 2000, according to the man's wife and an ICE spokeswoman. In recent years, he was working on securing his citizenship status, but his wife said they came up short when it came time to hire a lawyer.
The couple runs their own home-cleaning business, which they launched four years ago. They have five children, most of them teenagers. When they found out their father would be coming home, they were overjoyed.
"They're so happy, they can't believe it," the man's wife said.
Wednesday was "the longest day of our lives," the man's wife said. She said she was so anxious for the bond hearing that she got up at 5 a.m., hours before it was set to begin, and prayed.
"Everything came out good. I'm just so blessed. I have no words [for] how thankful and happy and emotional I feel at this moment," she said.
Despite the news Wednesday, the man and his family still have a long road ahead. Najib, the man's attorney, said his deportation case could drag on for three to five years with the way the courts are operating amid the pandemic.
"He shouldn't have been picked up in the first place, especially in light of the pandemic," said Najib, with law firm Kempster, Corcoran, Quiceno & Lenz-Calvo.
Partly in response to the man's arrest, neighborhood leaders are staging a press conference and "know your rights" event 9:30 a.m. Friday in front of Chase Elementary, 2021 N. Point St.
It will be hosted by Ald. Daniel La Spata (1st), Logan Square Neighborhood Association, Organized Communities Against Deportation, and Illinois Coalition for Immigrant and Refugee Rights.
"ICE has been using rented vans without identifying marks in our community. Agents have approached people walking on the street, or getting in or out of their car and asked for folks' identification," La Spata's chief of staff Allison Carvalho wrote in an email.
"It is imperative that we come together to condemn this type of harassment and intimidation of our fellow neighbors."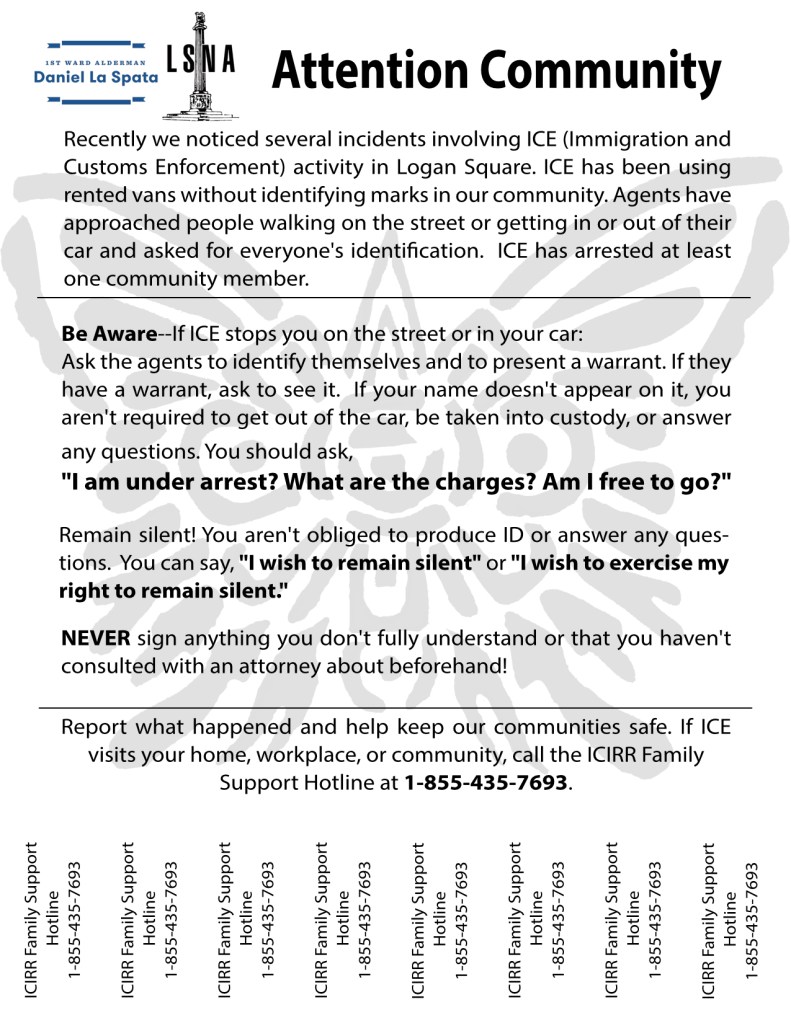 Subscribe to Block Club Chicago. Every dime we make funds reporting from Chicago's neighborhoods.
Already subscribe? Click here to support Block Club with a tax-deductible donation.