CHICAGO — A storm with tornado-strength winds knocked down trees, downed power lines and damaged buildings across Chicago on Monday afternoon.
The National Weather Service said no one died in the storm and few injuries have been reported.
The "long-lived, large storm complex" ripped through the Midwest during the afternoon, with wind gusts hitting 90 mph and lasting for 15 minutes — and even longer — in some areas, according to the National Weather Service.
The wind speeds were equivalent to a weak tornado, "but over a vastly larger area than a tornado would impact," the agency said in a tweet.
Officials set off tornado sirens as a precaution shortly before 4 p.m. in Chicago, and minutes later the neighborhoods were lashed by heavy wind and rain.
A tornado warning was put in effort for the North Side of the city, and a tornado did form in Rogers Park before it moved into Lake Michigan and became a water spout.
Midway Airport saw wind gusts as strong as 72.5 mph, and they hit 62 mph at O'Hare Airport.
Throughout the city, buildings were damaged, with some even partially collapsing. Trees were uprooted and branches cracked and fell onto homes, cars and streets.
The storm also caused "numerous fires" across the city because the wind took down still-energized power lines, the Fire Department said in a tweet. Most of the damage was seen on the city's Northwest Side, the department said.
ComEd reported numerous power outages throughout Chicago, with power still out in many places as of Tuesday morning.
The National Weather Service called off the thunderstorm watch about 5:30 p.m.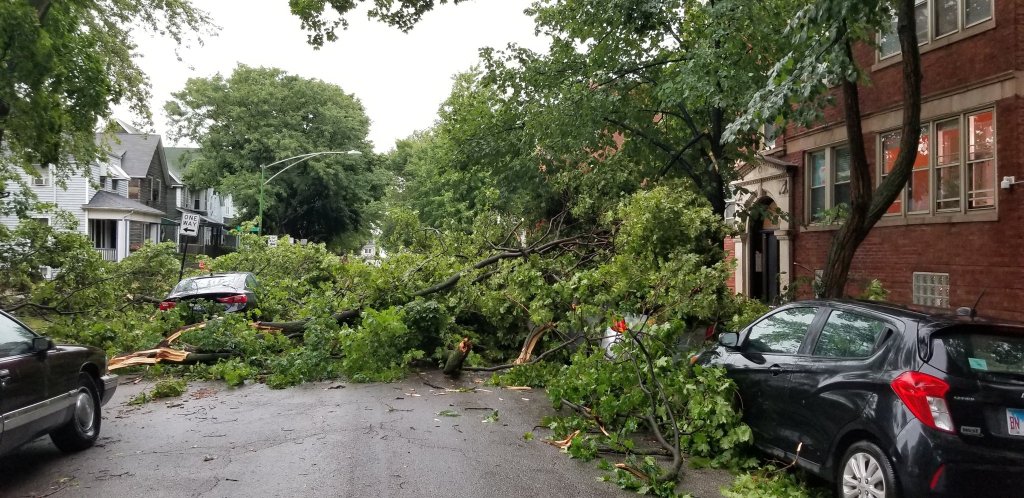 In Lakeview, dozens of neighbors stood outside taking stock of the damage as two uprooted trees smashed a parked Toyota Matrix and blocked the intersection south of Byron Street and Wayne Avenue.
Julie Zielke, a resident of the 3800 block of Wayne Avenue, said the "sky went completely black" while wind and rain grew stronger.
Within a span of 10 minutes, Zielke said, the power went out and there were two loud crashes.
When Zielke stepped outside, the street was littered with foliage, broken branches and two large trees.
"I've lived here for 14 years and I've never seen anything like this before …. These trees have been here a long time," she said. "It's sad but we'll recover. It's a great street. The block is very neighborly."
Neighbors looked on in shock taking photos, while others moved large branches from the streets onto the curbside.
Cesar Borrero said when he received a tornado alert, he didn't take it seriously until wind started to pick up. He went outside and moved his car away from a large tree.
As he looked at the smashed Toyota, Borrero, who has lived through hurricanes in Miami, said, "This was crazy … . I feel really bad for the owner."
Leslie, another Lakeview neighbor, said she was out walking with her husband minutes before the storm hit. As soon as she got the alert and winds started to pick up, she moved her plants from her porch to her home.
While moving her plants, she said she was so she wasn't outside.
"We have to remember how powerful nature is," she said. "There are forces like derecho [storms] that you just don't know about until you experience it."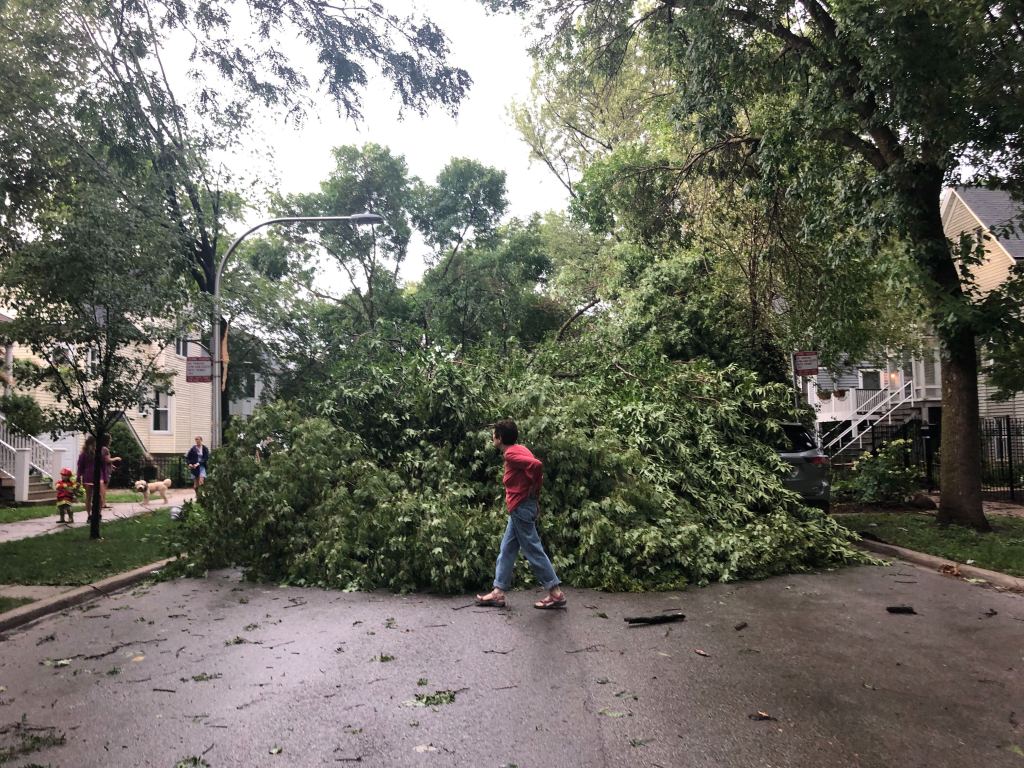 Similar scenes played out throughout the city.
In Logan Square, a tree collapsed onto a car at St. Louis and Schubert avenues. The fallen tree and other large branches blocked the street — and further down on Schubert, more branches littered the road.
Neighbors walked around the street, trying to move branches, taking photos and looking on in awe.
On the same block, a branch cracked and partially fell on the roof of a home's porch. After the storm, neighbors put up a ladder and tried to safely remove the large branch.
Throughout the neighborhood, cracked and completely downed trees and branches could be seen on the streets, sidewalks and buildings. Police blocked off Logan Boulevard temporarily due to the number of branches in the road.
Some buildings were also damaged and structures fell.
In Portage Park, a large car dealership sign fell into the street at 5333 W. Irving Park Road, knocking down a fence and hovering over a car.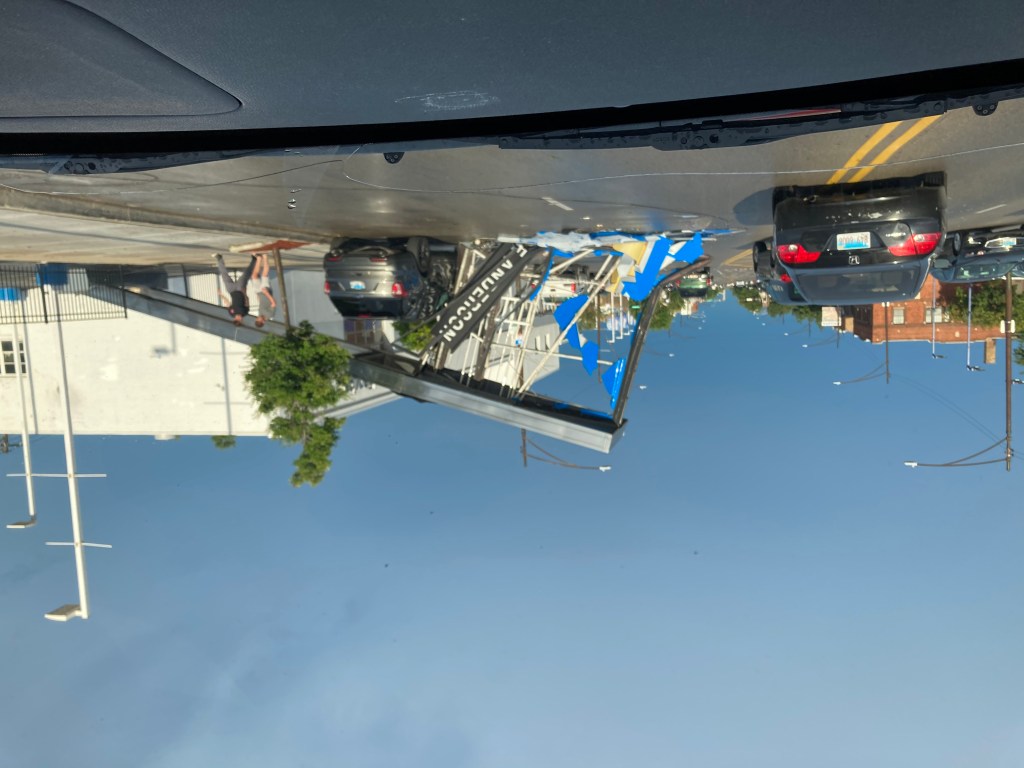 Subscribe to Block Club Chicago. Every dime we make funds reporting from Chicago's neighborhoods.
Already subscribe? Click here to support Block Club with a tax-deductible donation.