WEST TOWN — Inside West Town Jewelry and Loan on Monday afternoon, Gabriel Coconate felt a sense of déjà vu.
Surrounded by shattered glass, Coconate called a locksmith, ordered plywood boards and waited on a call back from his insurance company.
Earlier that morning, a group of looters had raided Coconate's store, 2059 W. Chicago Ave., shattering bulletproof glass and making off with armfuls of stolen goods.
Security camera footage showed the looters were in and out within three minutes, fleeing the store just seconds before flashing blue police lights lit up the street corner.
It was a familiar scene; in late May, another group of looters hit the store — costing Coconate about $30,000 in losses.
Coconate wasn't yet sure Monday how much the most recent looting would cost him. But between the May looting and overall loss of business due to coronavirus, he is worried his business won't recover.
"The business is hurting as-is from COVID. And now this," Coconate said. "It's all-around horrible. … I'm just kind of losing my mind over here, basically. I don't know what to expect in the future."
Coconate has owned West Town Jewelry and Loan for four years. The business supports his wife and three children.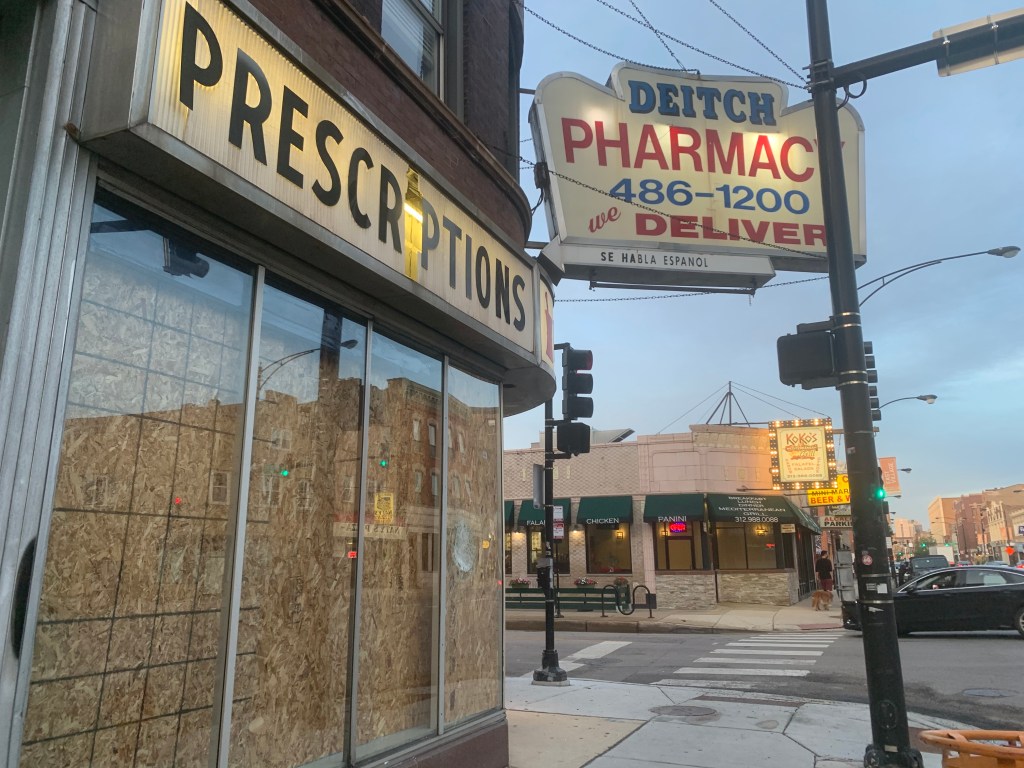 Deitch Pharmacy, another family-owned West Town business, was also looted, the West Town Chamber of Commerce confirmed in an email.
The West Town businesses were hit during a wave of widespread looting late Sunday and early Monday. The Downtown area was the hardest hit, though there was looting in more residential neighborhoods.
The unrest Sunday came hours after police shot a 20-year-old man in Englewood on the South Side.
Similarly, looting at the end of May and beginning of June came amid national upheaval over police killing George Floyd in Minneapolis.
RELATED: Widespread Looting And Gunfire Rock Downtown After Police Shoot Man: 'We Are Waking Up In Shock'
In a statement, Black Lives Matter Chicago activists said Black lives are more important than "downtown corporations who siphon Tax Increment Financing (T.I.F.) money" and exploit the labor of Black and Brown Chicagoans. 
"These corporations have 'looted' more from our communities than a few protesters ever could, yet the mayor reserves her anger for the latter," organizers said. "We will remain in the streets until our demands are met."
Coconate said to the looters were "young opportunists" who had nothing to do with "peaceful protests."
"I'm all for the police, I'm all for law enforcement," he said. "It's constant anxiety and fear every night now. … My fear is what's gonna happen tonight or the next night. And for nothing. I didn't do anything to anybody. Why are they destroying people's businesses?"
Subscribe to Block Club Chicago. Every dime we make funds reporting from Chicago's neighborhoods.
Already subscribe? Click here to support Block Club with a tax-deductible donation.