DOWNTOWN — The day after protesters and police clashed downtown Saturday — and an aftermath that included violence, fires, theft and busted-out windows — police were surveying the damage, and Chicagoans were picking up the pieces.
On Sunday morning, workers were sweeping up glass and boarding up windows at shops across the posh Magnificent Mile and Loop. Store owners took stock of the damage at their shops. Fire-ravaged police squad cars were still on the streets.
Among the shops damaged was Central Camera, which was destroyed in a fire. The iconic shop at 230 S. Wabash Ave. has served photographers since 1899.
Dori Butler, a photographer Bronzeville, was photographing the protest Saturday night when she saw the shop go up in flames.
"It's not a big box store. It's a independent store that has survived for more than 100 years and paid the downtown rents. It was my first camera store," she said. "I'm thinking of the history of the store and the people who worked there and it hurts me."
Logan Nijensohn, who worked at Central Camera, looked on as people took pictures of the damage.
"This is just angst," he said as he watched the flames. "Things can be replaced and Central Camera stands with Black Lives Matter."
Central Camera owner Don Flesch started a GoFundMe to help rebuild the shop and it had raised more than $33,000 as of Sunday at 2 p.m.
"Although this is a tough time for the store, it doesn't compare to the loss of George Floyd's life and the countless other Black lives lost," Flesch wrote. "We stand with the African American community in solidarity."
Convenience store Tuts, in the 100 block of West Illinois, was "a total loss," owner Adel Elbiadi said as he surveyed the damage Sunday. People stealing busted through the shop's glass door.
Todd and Megan Toborg, who run a design studio nearby, helped him sweep up the glass. Megan Toborg said it was "heartbreaking."
"This is an independent store. These guys have had to deal with lack of business because of COVID and now have to deal with this," she said. "Plus, the owner's wife has been stuck in Egypt for the last two months because of the travel restrictions. She's going to return home to learn that her husband's business has been destroyed."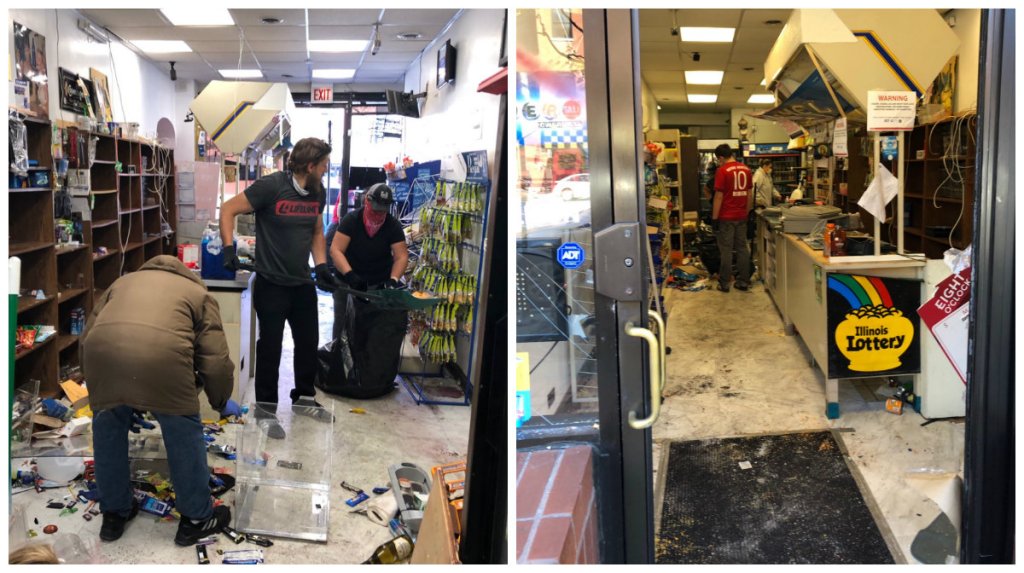 The help from his neighbors kept Elbiadi from despair, he said.
"I hope the state and my insurance can help me," he said.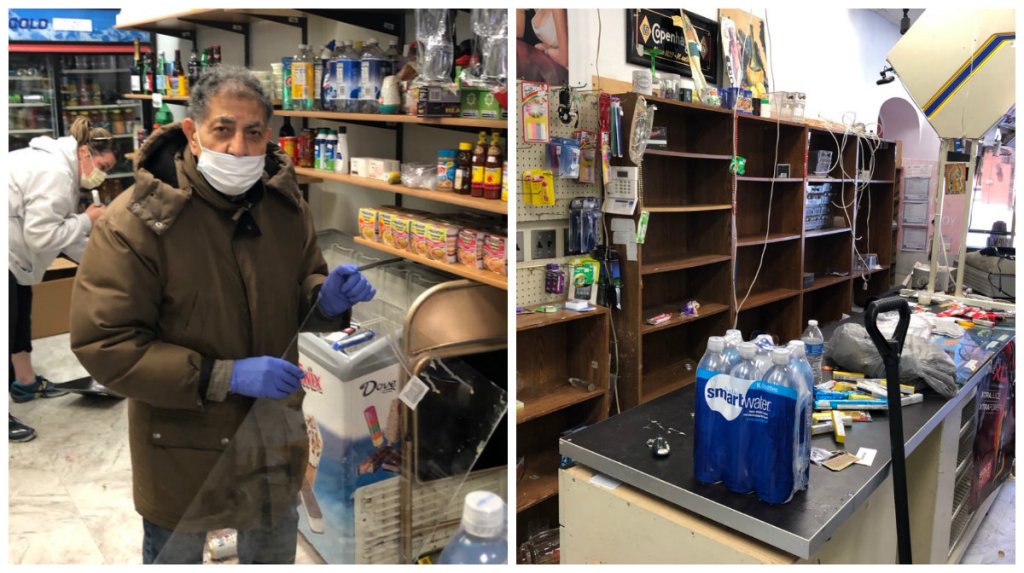 The Anti-Cruelty Society, at the corner of Grand and LaSalle in River North, was also damaged. The building was tagged and a half-dozen windows were busted out although the building, home to 190 animals, was not breached.
The animals are all safe, officials said. They were all moved from the first floor to other holding areas in the building for now.
On Sunday, Laura Rau, who lives in River North walked to the Mag Mile area with a garbage bag, broom and shovel to help clean up broken glass Sunday.
"I felt compelled. I had to do something today," she said.
Rau said she had spent the last month with her parents in Missouri but returned home last night. After having a hard time getting home because many streets were blocked off, she said she watched the chaos unfold on TV.
"It's very sad," she said.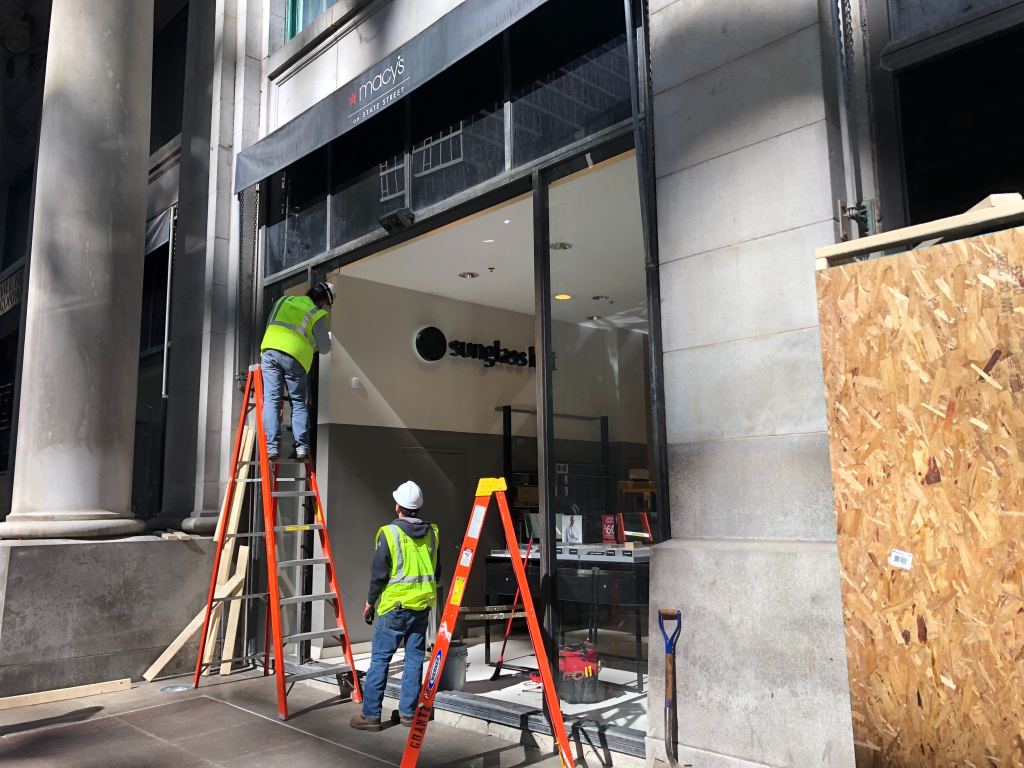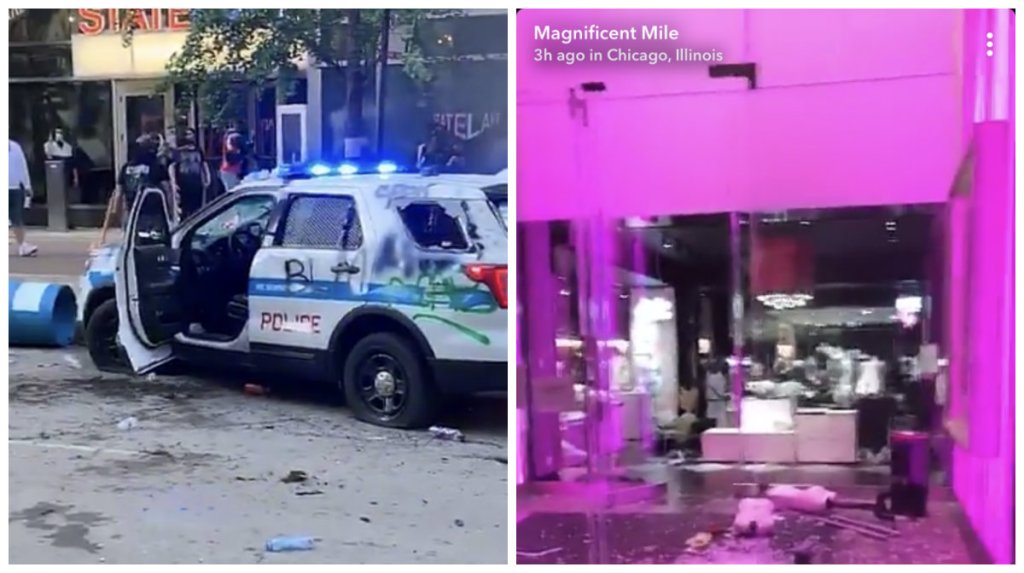 Subscribe to Block Club Chicago. Every dime we make funds reporting from Chicago's neighborhoods.
Already subscribe? Click here to support Block Club with a tax-deductible donation.