LAKEVIEW — Restaurant owners say they need a faster approval process to expand outdoor dining into sidewalks now that the city is beginning its phased reopening Wednesday.
Restaurants need a specific Public Way Use permit — usually required for any stores with signs, canopies, awnings or benches that extend onto public property — to expand outdoor dining onto their sidewalks. But obtaining those permits can be a lengthy process that requires City Council approval, according to Maureen Martino, executive director of the Lakeview East Chamber of Commerce.
"If you timed it wrong, you'd have to wait another month for the next City Council meeting to get your sidewalk cafe," Martino said. "What we really need is an easier permitting timeline."
Isaac Reichman, public information director at Chicago's Department of Business Affairs and Consumer Protection, said the city is working on a temporary and streamlined process to approve these permits, but it's still processing any Public Way Use permits that come in until then.
Reichman said the city has received more than 800 sidewalk cafe applications this year. Nearly 400 of them have come in since March, when BACP closed its offices and began processing licenses online.
So far, 324 permits have been issued, with another 417 "approved and in the final stages of issuance," Reichman said.
"We haven't publicized the permits much until recently, but now that we're getting to ramp up reopening, we want businesses to know they can still get sidewalk cafes," Reichman said.
According to the BAPC website, the entire Sidewalk Cafe Permit process can take 30–45 days and has a minimum fee of $600, depending on the outdoor space's size and location.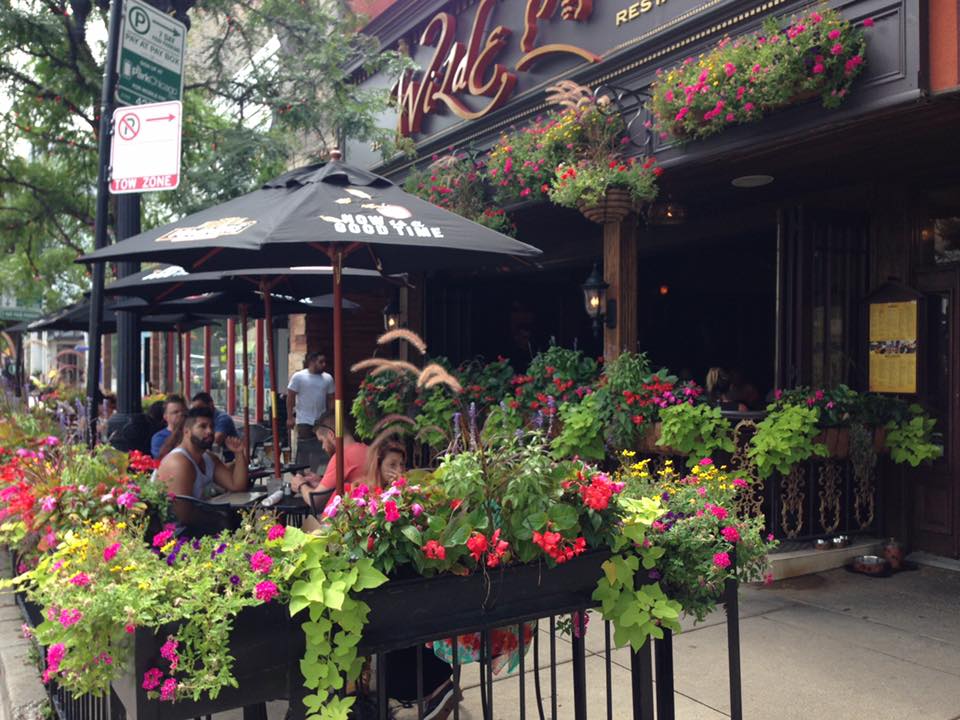 On Friday, Mayor Lori Lightfoot said the city is working on streamlining the permitting process and would waive those fees.
"We're very focused on speed here," Lightfoot said. "We don't want bureaucracy to be an impediment to restaurants being able to take advantage of this opportunity."
Lightfoot discussed the Public Way Use permits during her Friday press conference announcing several commercial corridors that would be closed to traffic for outdoor dining at specific times as part of the city's open streets pilot program. The stretch of Broadway that runs from Belmont to Diversey in Lakeview is among the six streets included in the plan.
But for restaurants located away from the corridor, sidewalk cafes might not be enough, Martino said. "Many sidewalk cafes don't make financial sense to operate because of capacity issues and social distancing requirements of six feet between tables," Martino said.
The average storefront is 25 feet long, leaving room for just a few outdoor tables that meet those requirements, Martino said. Sidewalk cafes must also leave at least six feet of walking space to comply with the Americans with Disabilities Act.
"Restaurants might not have even applied for the sidewalk cafes yet because they don't know if opening with only two tables outside will work for their business," Martino said.
She said the Lakeview East Chamber is looking for ways that sidewalk cafes could be extended beyond restaurants' property lines onto neighboring business lots or nearby street parking spaces. It's also considering blocking off certain public areas as designated communal spots where diners can take their restaurant orders to eat.
"Our goals is to make sure that restaurants, especially the ones that don't have any type of space for outdoor dining, have options," Martino said. 
Read all of Block Club's coverage on outdoor dining here.
Block Club Chicago's coronavirus coverage is free for all readers. Block Club is an independent, 501(c)(3), journalist-run newsroom.
Subscribe to Block Club Chicago. Every dime we make funds reporting from Chicago's neighborhoods.
Already subscribe? Click here to support Block Club with a tax-deductible donation.