BELMONT CRAGIN — A Black woman running errands in Belmont Cragin on Sunday was pulled from a car and brutalized by Chicago police in an encounter captured on video.
Mia Wright, Tnika Tate and three others were headed to the Brickyard Mall, 2600 N. Narragansett Ave., Sunday afternoon to pick up some supplies for a small birthday celebration, Tate said, only to discover the mall was closed due to looting the night before. According to Ald. Gilbert Villegas (36th), the mall was shuttered as neighbors worked to repair the damage.
Tate, 39, turned around to leave the mall when she saw a group of Chicago police officers and pulled over to get out of their way, she said.
Seconds later, about a dozen officers rushed her car with guns drawn, she said. In a violent confrontation caught on video, officers then smashed the windows, dragged 25-year-old Wright out of the car by her hair, threw her to the ground and pinned her by her neck — eerily reminiscent of the police confrontation that led to George Floyd's death in Minneapolis, sparking massive protests throughout the country. A male family friend was also pulled from the car.
"It was devastating because there was nothing we could do," Tate said.
Wright and Tate spoke to Block Club Chicago about the frenzied encounter a bystander caught on video. It was shared on social media by their cousin, Chicago-based journalist Adrienne Samuels Gibbs.
The cousins said they do not know what precipitated the incident.
Wright was detained for several hours, charged with disorderly conduct and suffered injuries from the shattered glass hitting her face. Tate was not arrested but had her car seized by police.
Police said Wright was arrested and charged with disorderly conduct after "the offender was observed by responding officers assembled with 3 or more persons for the purpose of using force or violence to disturb the peace."
This baffles the cousins, as they hadn't even exited the car. Wright has a June 22 court hearing on the charge.
When asked about the brutality caught on video, police issued the following statement:
"The Chicago Police Department strives to treat all individuals our officers encounter with respect. Misconduct on the part of our officers will not be tolerated."
WARNING: Video contains violent encounter
'I Was Scared For My Life'
Tate said the officers were shouting indistinguishable commands as they approached her car. Before Tate and Wright could comprehend what was happening, the officers smashed in the windows and ripped the door handle off the car.
Officers grabbed Wright by her hair and pulled her from the car, she said. The bystander footage shows the cops throwing Wright and one other person to the ground. One officer held her down with his knee pushed into the back of her neck.
As Wright was being pinned to the ground, she said what happened to Floyd flashed in her mind.
"It hit me at that moment. That's all I thought about. I heard people screaming, 'Why do you have your knee in her neck?' That's why people are protesting," Wright said. "It was horrible. It was a moment I was scared for my life." 
Wright said she was in such terror that she didn't notice the razor sharp shards of glass that lodged in her eye when police smashed the windows inches from her face. She finally felt the pain of the glass when she was in the back of a squad car.
She begged to see a medic to save her eye, but she didn't get to a hospital until an hour after she was taken to the Grand Central police station.
At the station, Wright said she was verbally abused by a sergeant.
"The sergeant opened the door and he looked me in the face and called me a f—— savage," she said.
While in lockup, she said she wasn't given access to an attorney and couldn't call her mother for more than six hours.
Wright was released 16 hours later with a charge of disorderly conduct. Officers said she was gathered with three or more people with intent to disturb the peace — but Wright said she and her four family members were sitting quietly in their car.
Tate was not arrested at the scene but officers arrested her cousin with no explanation, she said. Officers told her she would have to take the bus to the police station to get her damaged car back.
When Tate arrived at the station, a sergeant gave the car back with no paperwork explaining why it was taken. Police don't have information on why the car was taken and don't have any vehicle information listed in Wright's arrest records, Chicago Police spokesman Officer Ronald Westbrook said.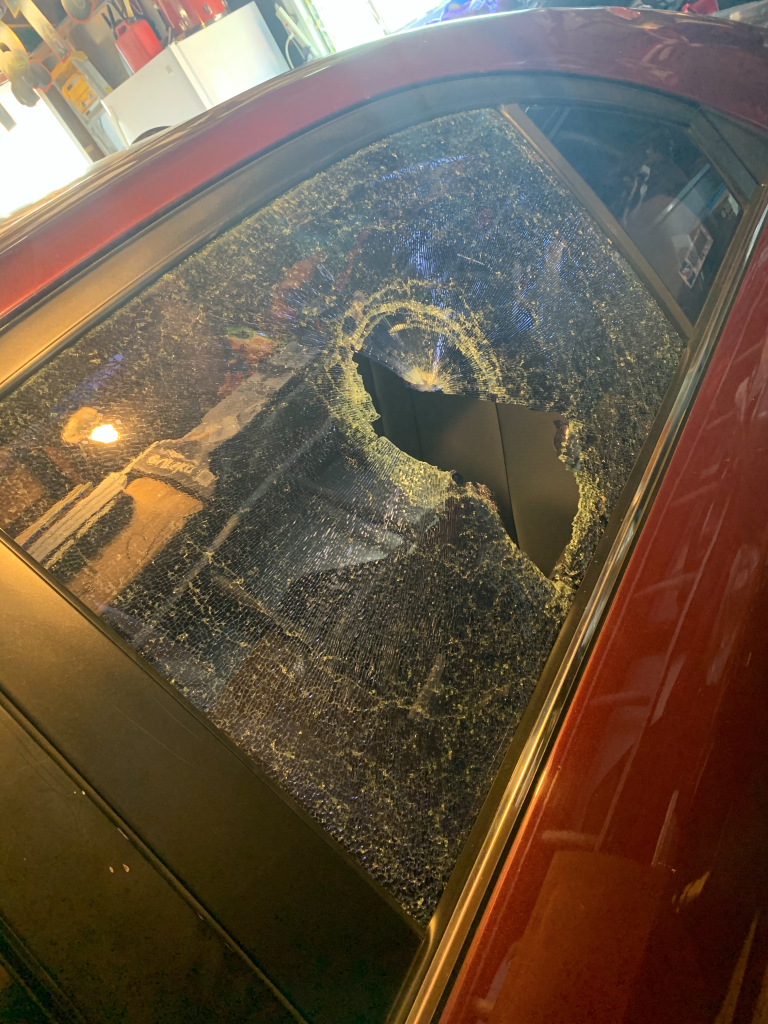 Tate said she told Fisk she wanted to file a misconduct complaint, but she was instead directed to call 311 to report the issue. Tate said the complaint line is inaccessible due to the overwhelming number of complaints being made across the city.
"They scare you with these weapons in their hands and they're using excessive force. They don't feel as necessary to tell you anything. They just feel that they can do whatever they want to do and there's no repercussions," Tate said.
Days later, Tate was hesitant to say the attack was racially motivated. But due to the way she and her cousin was treated, she believes race is the only possible reason they police decided to "terrorize and scare" them.
"So I can see why a lot of people are protesting. I can actually see why these people are just going absolutely berserk," she said, though she had never thought to participate in any of the protests before.
The most hurtful part of the incident was explaining to her 3-year-old son what had happened after she came home shaken and disturbed in a beat up car.
"I feel so saddened that my baby is saying, 'Mommy, the police did that to you? I'm scared of the police,'" she said. "I can understand how people can get PTSD."
Wright's vision was not damaged by the glass that lodged into her eye, but she said she is struggling with a lot of physical and emotional pain.
At night, her mind jolts back to those traumatic moments. She hasn't slept in days, she said.
Anxiety creeps over her when she hears the sound of approaching footsteps and sirens in the distance. She said she is constantly looking over her shoulder, fearful that once again a police officer once again will appear.
Wright's doctor prescribed her medications to deal with the anxiety. She now takes muscle relaxers to manage the pain she still feels in her body from being manhandled.
"I know I need to have some counseling done because of everything. It makes me look at the police different after everything now," she said. "They don't make me feel safe at all. They make me feel scared now. Scared for my life."
Editor's note: An earlier version of the story incorrectly stated two women were removed from a car that contained two women by officers. A woman and a man were removed from the car that contained five people and the story has been updated.
Pascal Sabino is a Report for America corps member covering Austin, North Lawndale and Garfield Park for Block Club Chicago.
Block Club Chicago's coronavirus coverage is free for all readers. Block Club is an independent, 501(c)(3), journalist-run newsroom.
Subscribe to Block Club Chicago. Every dime we make funds reporting from Chicago's neighborhoods.
Already subscribe? Click here to support Block Club with a tax-deductible donation.