IRVING PARK — Chicago's "king of mole" is taking over the site of Little Bucharest Bistro later this summer. 
Chef Geno Bahena, known for cooking at Rick Bayless's Frontera Grill and Topolobampo restaurants, plans to open Mis Moles Restaurant and Tequila Bar at 3661 N. Elston Ave.
Bahena left his job as a culinary director at Boston-based Wegmans Food Markets to come back to Chicago and take over the location.
Little Bucharest Bistro was owned by Branko Podrumedzic. He opened the restaurant in May 1970 at the corner of Ashland and Wellington avenues and relocated to the Elston address in 2012.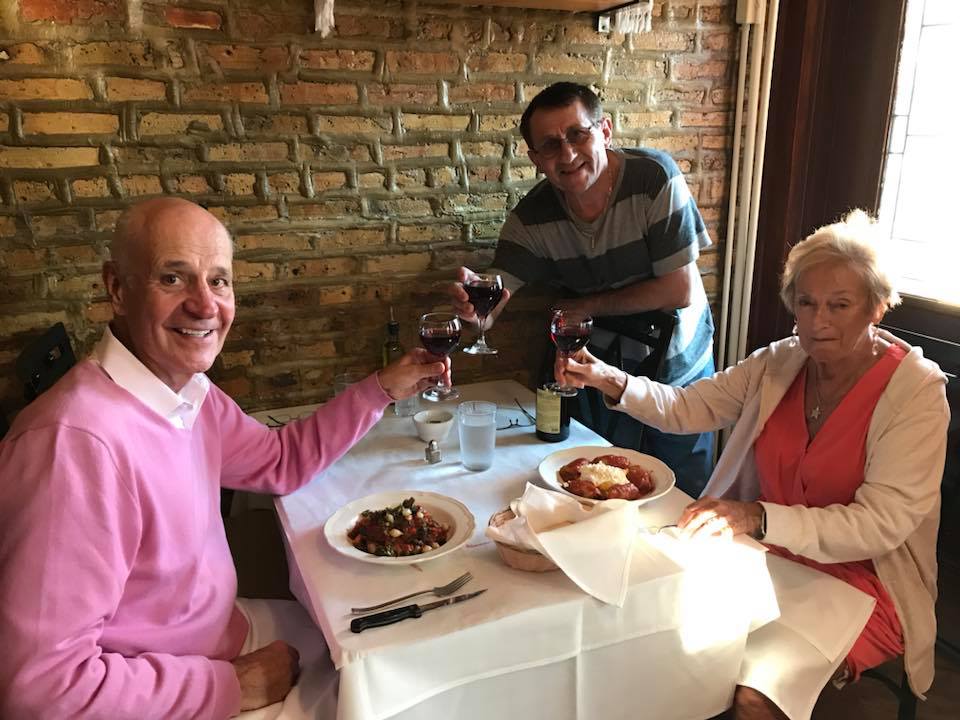 Little Bucharest was part of a generation of beloved restaurants opened by European immigrants, such as Irving Park's Sabatino's and Lincoln Square's Brauhaus, Podrumedzic said. Those restaurants are closed now, too. 
Under Podrumedzic's ownership, the restaurant was known for dishes such as dry-rubbed Moldovan stew and Eastern European stuffed cabbage. There often would be a spit roast just outside the front door on weekends with a full lamb or pig cooking over an open flame in the warmer months.
Podrumedzic served his last meals over the weekend before ending Little Bucharest's 50-year run.
"All these generations of people came to my place for their birthdays, funerals and weddings. It was nice to hear from so many over my last weekend open that we were so much a part of their family histories," Podrumedzic said. "I love what I do and I've been doing it for 50 years. It's the only thing I know how to do. It was bittersweet, but I had to close."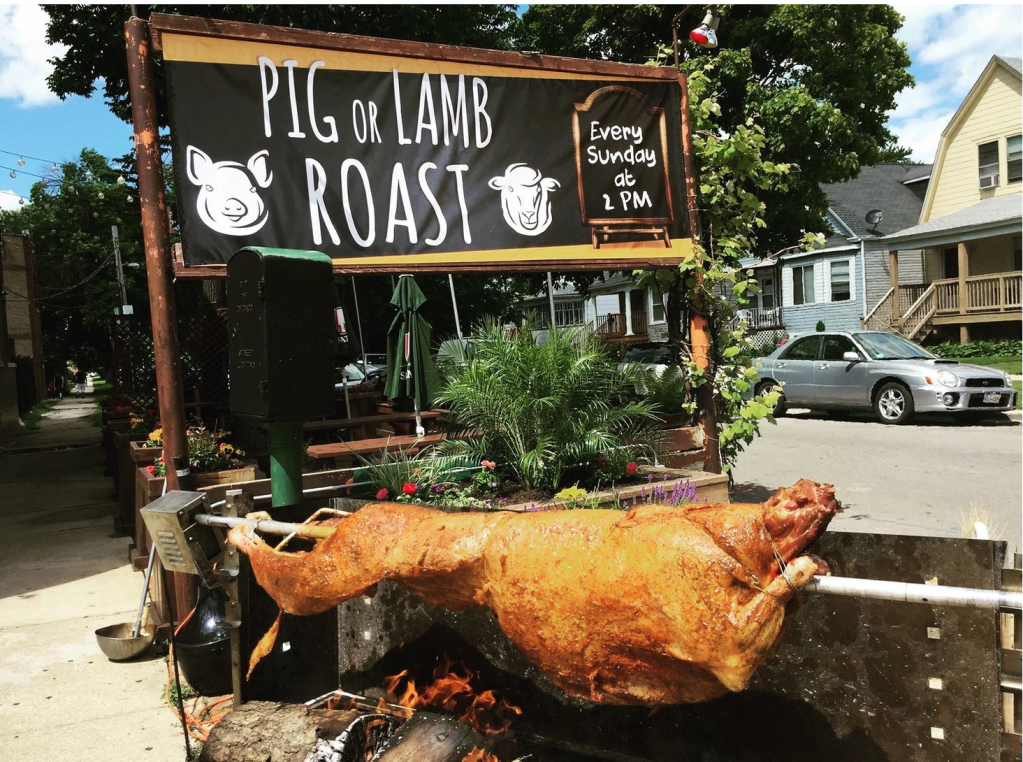 Plans for Bahena to take over were well underway before the virus hit Chicago in March, Podrumedzic said.
Podrumedzic, nicknamed "Mr. Branko" by customers, had been looking to retire and sell his business — but not receiving federal aid he applied for during the statewide shutdown accelerated his plans to close.
"I can't fight the politicians who are pushing for the big corporations to get aid, but I don't see them giving small people like us help," Podrumedzic said.
The shutdown also made it more complicated to get approval from the city for Mis Moles Restaurant and Tequila Bar to open later this year, Bahena said.
"Everything has been emails back and forth with them forever. It's been really tricky to do this during the pandemic," Bahena said.
Bahena hopes the dine-in ban will be relaxed enough by late June to allow him to reopen the business as a Mexican restaurant specializing in seasonal and regional moles.
"These are recipes I perfected over the years and make at home," Bahena said. "They're what I know how to do the best."
Bahena learned to cook mole from his grandmother. She would only serve mole with turkey, especially black mole, in their hometown in Mexico.
"But here in America, I actually took the liberty to play with food a bit more and combined grilled rack of lamb with black mole. It goes so well together, but if I serve that back in my hometown they'd think I'm crazy," Bahena said, laughing. 
Podrumedzic said he's offered to help Bahena get his restaurant off the ground after the virus is under control. He also plans to travel with his wife to hot springs in Florida and Mexico after the pandemic.
"I can't wait for this pandemic to be over so I can get back to cooking for our neighbors," Bahena said.
Mis Moles Restaurant and Tequila Bar's menu is below.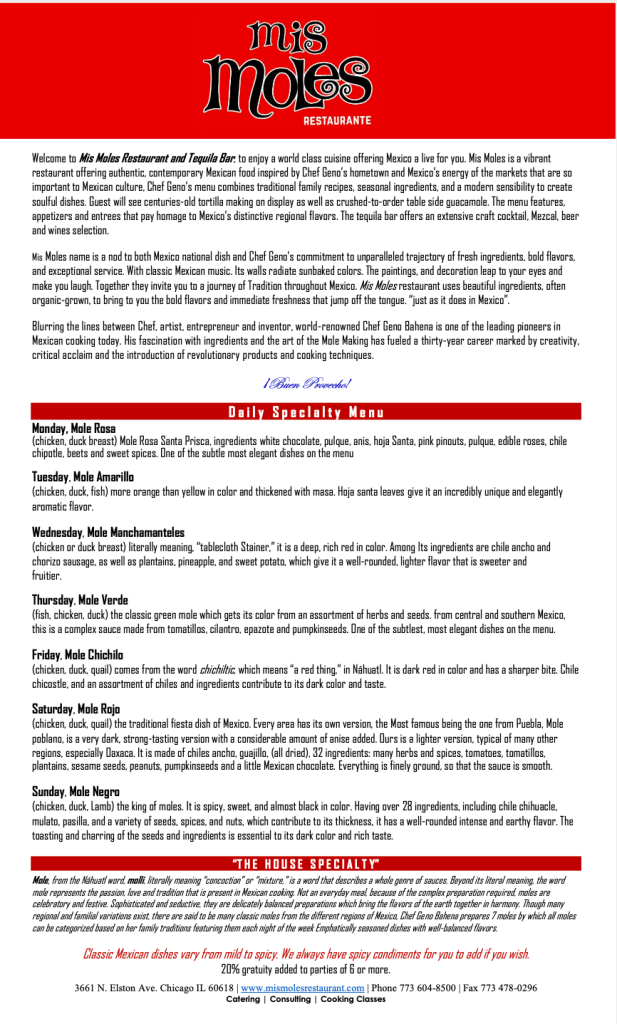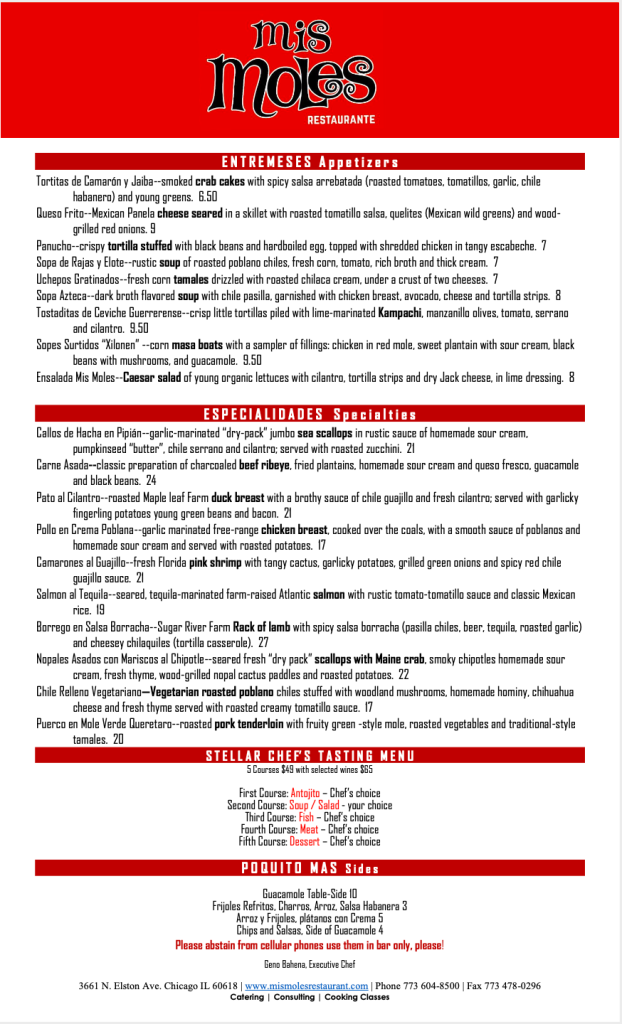 Block Club Chicago's coronavirus coverage is free for all readers. Block Club is an independent, 501(c)(3), journalist-run newsroom.
Subscribe to Block Club Chicago. Every dime we make funds reporting from Chicago's neighborhoods.
Already subscribe? Click here to support Block Club with a tax-deductible donation.