DOWNTOWN — About 200 protesters gathered outside the Thompson Center Friday to demand Gov. JB Pritzker cancel his executive order that has shuttered many businesses since March 21.
The Open Illinois group chanted, carried signs and made speeches — but about 40 health care workers in protective gear showed up as well.
Mary Wiggins, a nurse at the University of Illinois Hospital and Health Sciences System, wore scrubs, gloves, a mask, head scarf and safety googles while holding a sign that said "Nurses are the pillars of public health." Wiggins said the protesters do not understand what nurses and doctors are seeing in hospitals right now. The whole situation makes her sad, she said.
"I think they've never seen death or held someone's hand while they died and it's sad," Wiggins said.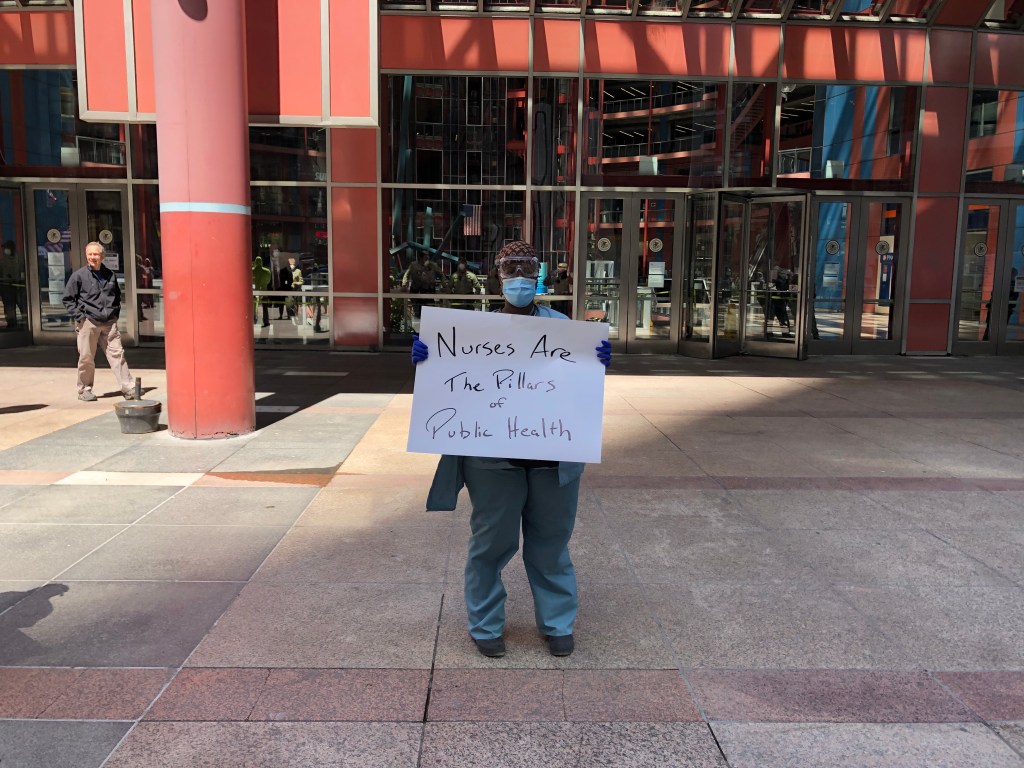 Many of the protesters who want Illinois to lift its stay at home order came from the suburbs, including Patrick Swearingen, a Frankfort man who brought his wife and four elementary-school aged children to the protest, each carrying signs in favor of opening up the state. The family was not wearing masks.
Swearingen said he knows coronavirus is real, but he believes the state shutdown violates his rights.
"I believe COVID-19 is a serious issue but that our constitutional rights are being violated. The cure is worse than the virus," said Swearingen, who works in I.T.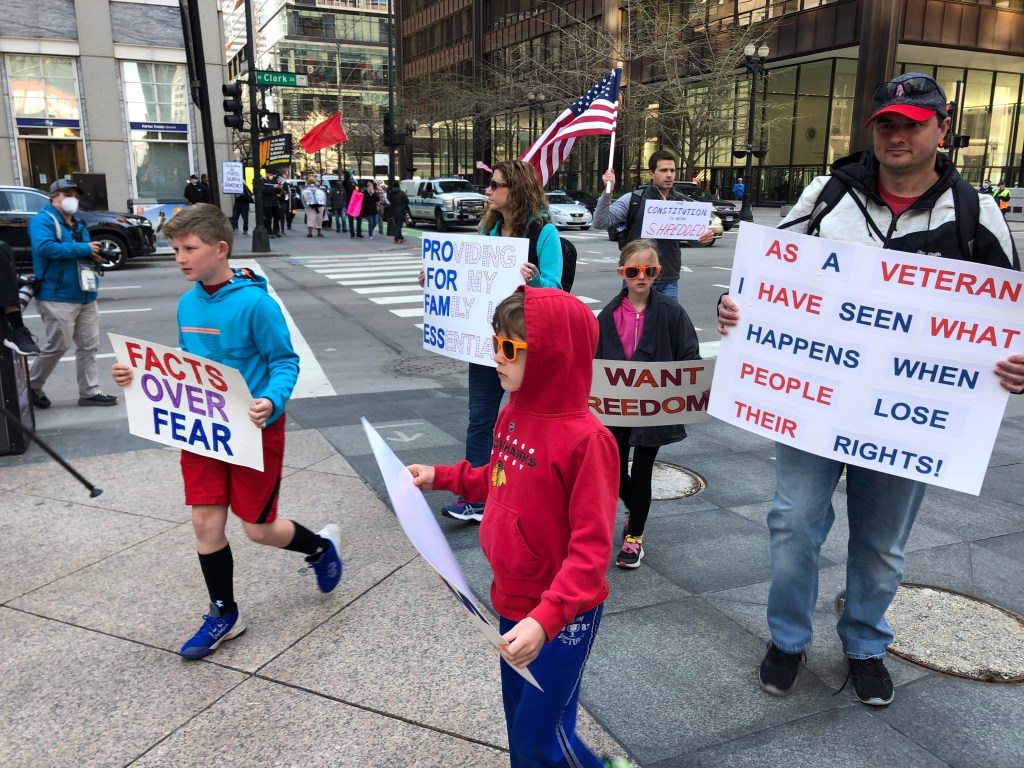 Carm Ferrazzuolo, a hair stylist from suburban Palatine, attended the rally with her family. Pritzker's decision has caused her to fall on hard times financially, she said.
"Our governor's not standing up for us. He's telling us to stay home but he's not paying my property tax bill," Ferrazzuolo said.
Hair stylists are among other 1099 workers who have not yet received unemployment benefits, and likely won't until after May 11.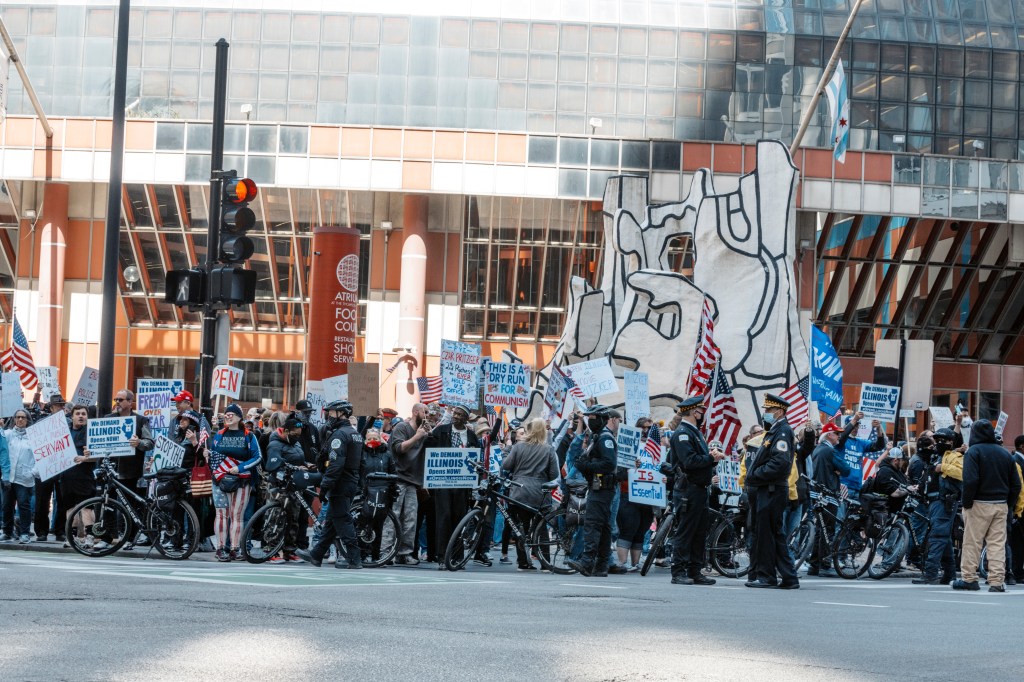 About 40 people who mostly work in healthcare practiced social distancing and wore masks on the periphery of the protest. They said they understand the desire by some to get back to work, but believe it's not safe yet.
"I'm getting tired of seeing people intubated and dying every day and then seeing people not taking it seriously," said registered nurse Benjamin Salazar, who works Loyola University Medical Center in Maywood.
Salazar carried a sign that read "Stay Home! We are getting tired of seeing people die!" He wore a mask and black scrubs to honor COVID-19 victims and said he engaged in several conversations with the protesters.
"They want to get to work and I understand that, but the human aspect outweighs the financial aspect," Salazar said.
Joining the health care counter-protesters were Alds. Carlos Ramirez Rosa (35th), Rossana Rodriguez (33rd) and Daniel La Spata (1st).
"Supporting the nurses is always an easy decision," Rodriguez said. "Coming down and facing people who don't care about keeping social distance or wearing masks was another thing, but it's a decision we made in order to support common sense."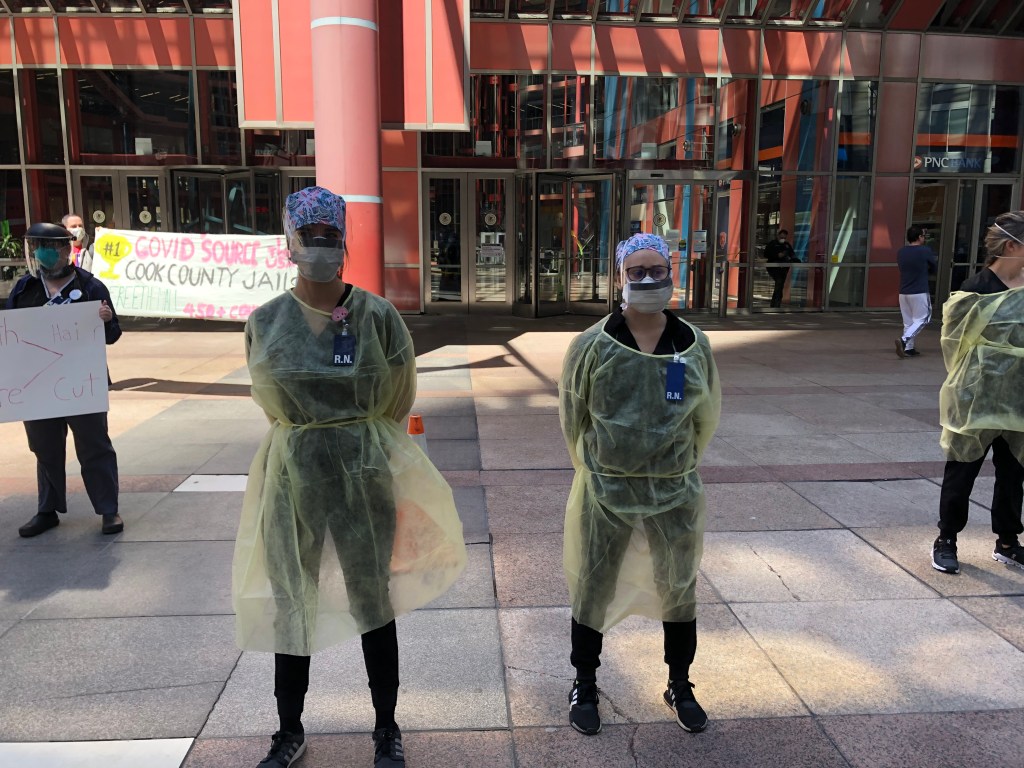 Gov. Pritzker has repeatedly said he wants to open Illinois businesses back up as soon as possible, but as new coronavirus cases continue to climb in the state, it is not safe to do so.
"What we've tried to do is to follow the science, and I would encourage those who are thinking of breaking the rules to follow the science, too," Pritzker said Thursday. "What we know … is that people put themselves at risk when they don't wear masks, when they gather in large groups. We know that people who are going from place to place and who are asymptomatic … are putting other people at risk."
With no mask, former Cook County Commissioner Tony Peraica also spoke in support of the protesters, saying Pritzker and Illinois House Speaker Michael Madigan have overstepped their authority.
"They have taken our rights away, using this pandemic as an excuse," Perica said. "… This is undemocratic and will no longer be tolerated. Those who feel threatened, those who feel insecure about their situation are welcome to stay home, hunkered down in their basements, and can wait for the governor to tell them they can come out. We are here to say that we can think for ourselves and we can come out whenever we please."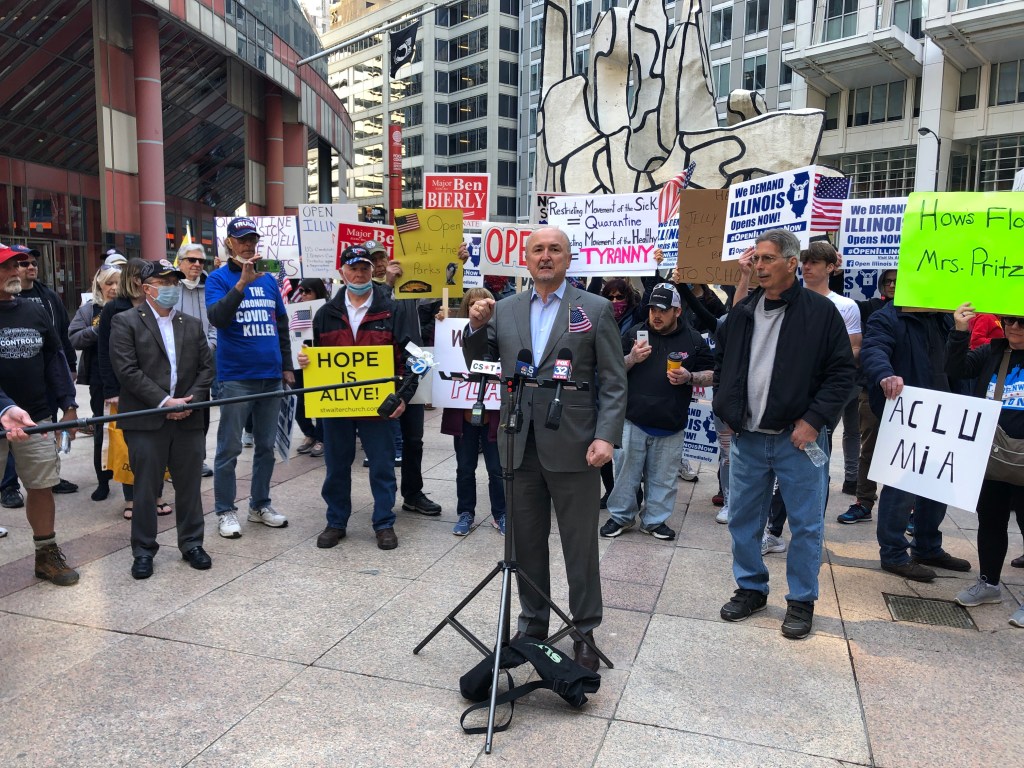 Meanwhile, Illinois saw its highest one-day total of newly confirmed coronavirus cases Friday with 3,137 new confirmed cases. When asked what he would say to protesters Thursday, he said to look at the numbers.
"I would point people to the fact that people are still getting infected," he said. "More and more people are ending up in the hospital and more and more people are dying. We had 141 people die today, and not all of them were in Cook County or Chicago. Some of them were in downstate Illinois."
Block Club Chicago's coronavirus coverage is free for all readers. Block Club is an independent, 501(c)(3), journalist-run newsroom.
Subscribe to Block Club Chicago. Every dime we make funds reporting from Chicago's neighborhoods.
Already subscribe? Click here to support Block Club with a tax-deductible donation.