WRIGLEYVILLE — For a Cubs fan born in 1950, most of Don Costello's life was a lesson in baseball futility.
As a kid, his team was a bottom feeder. Even when they briefly shined in 1969, they famously crumbled at the end and fell back into the league's cellar for more than a decade. By 1981, Costello had enough. 
Coming off a season where his beloved Cubbies were last in the National League East, Costello couldn't see himself rooting for them anymore. So he wrote letters to most of the teams in the league, offering his services as a "free-agent fan."
At least several teams played along and wrote him back. Those letters were just unearthed by his son after Costello died April 21 at age 69.
Don Kostelec posted some of the letters on Twitter after finding them while going through his dad's stuff. In a sports-starved nation, the response has been overwhelming. As of Thursday evening, his post has gotten more than 10,000 Retweets and close to 70,000 likes. 
"I knew at times he would get frustrated and write these letters," Kostelec said Thursday. "His apartment is covered in Cub stuff and while going through his things I found these letters in plastic sleeves and was like 'wow.'"
Indeed, the letters he posted, from the front offices of the Montreal Expos, Milwaukee Brewers and Seattle Mariners, all were filled with fun responses.
In the letter from Harry Dalton, executive vice president and general manager of the Brewers, he tells Costello he'd be happy to have him root for the Brewers in the American League but advises him to stick with the Cubs in the National League. (The Brewers were in the American League from 1969 to 1997.)
Dalton ended the letter by writing, "this offer is open-ended and you may accept when you choose to do so. There is only one condition tied to the offer. If by any chance some of the Cubs' misfortune the past few years are because of your association with them, then we really would rather you adopt the Yankees!"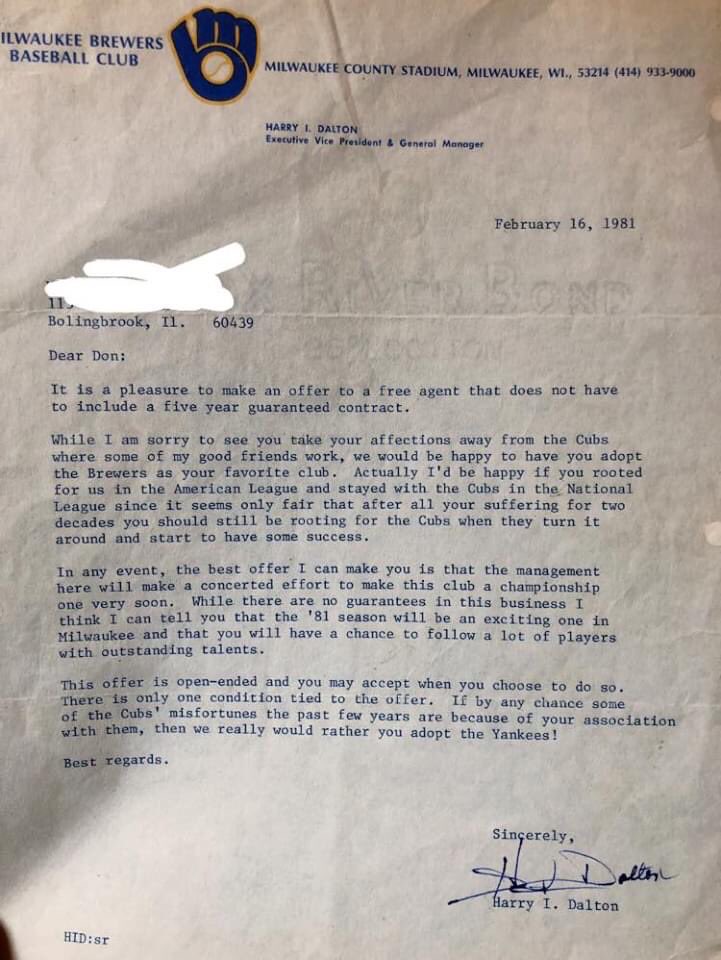 Randy Adamack, director of public relations for the Seattle Mariners, also wrote Costello back, turning down his offer — at least for the time being.
"In trying to remain consistent with the Mariner philosophy, we are not in the market for free agent fans at this stage of our development. We are trying to develop fans through our system, which we feel is the proper direction for a club just four years old," Adamack wrote. "When we reach the point that we are on the verge of going all the way, a fan with your experience may be what we need to put us over the top. At that time, you can be sure that we would be interested in acquiring your services."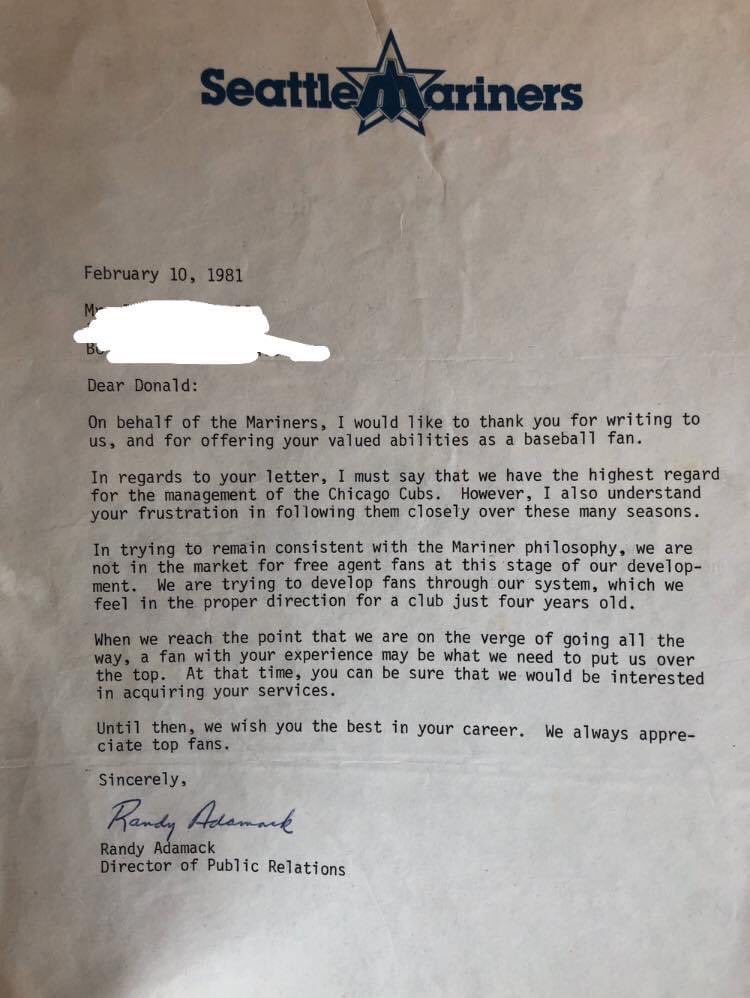 The Montreal Expos — which ultimately became the Washington Nationals — also wrote a tongue-in-cheek letter to Costello. In a letter written by vice president of player development James Fanning, Costello is advised to stick with his Cubs.
"The trauma you would suffer trying to pull — which you really could not do — for another club would imperil your sporting health seriously," Fanning wrote. "Imagine yourself cheering for the Montreal Expos on the last day of the 1981 National League season as the Cubs and Expos go into the final day tied for first place…sorry Donald, I can't accept your free agency offer."
Of course, that scenario never happened as Montreal finished second to St. Louis in 1981. The Cubs finished dead-last at 38-65 in a season split in half by a players strike.  
Kostelec, who lives in Boise, Idaho and works as an urban planning consultant, said he doesn't have all the responses, speculating that his father only kept the memorable ones. He said he didn't think his father wrote to the White Sox or Cardinals to offer his "free-agent" fan services.
Costello was born in Wicker Park, but grew up largely in Bridgeport and Canaryville, two South Side neighborhoods home to mostly White Sox fans. He became a Cubs fan for the same reason many do — because his father was one. And along with that love for the Cubs was a hatred of the White Sox. 
"You could see the fireworks from Comiskey from his back porch but he never owned a pair of white socks because that's how much dislike he had for the White Sox," Kostelec said.
Kostelec, who also is a Cubs fan, pointed out his father's letters were written at a time when manual typewriters were the norm and each letter had to be typed individually rather than cut and pasted into a computer file — something that exemplified his level of disgust with the Cubs at the time.
"I remember talking to him about the Cubs and he said in the 1970s they wouldn't even open the upper deck at Wrigley. After having hall of famers on those teams in the 1960s and then nothing in the 1970s, I think it was more than a decade of frustration by the time he wrote those letters," Kostelec said.
He also said his father wrote to the Cubs to express his frustration years after his first letter-writing campaign.
"I also found a letter back from Andy MacPhail back when he worked for the Cubs. It was kinda like 'rest assured, we're trying.'" MacPhail, currently the president of baseball operations for the Philadelphia Phillies, was president and CEO of the Cubs from 1994 to 2006 — indicating that Costello wrote additional letters during periods of frustration after 1981.
While Costello flirted with giving up on his team, it's probably safe to say any fan who went to the lengths he did threatening to leave really did it out of love — a love that was paid back seven years ago after he retired from working as a warehouse worker and forklift operator. That's when the Cubs hired him to work in its stadium operations department, where he would often escort VIPs to suites.
Kostelec said his father didn't have any clout to land the job, nor did he likely bring up his 1981 "free-agency" campaign — but it worked out as he was part of the organization when it won the World Series in 2016, its first in 108 years.
"He got a World Series ring because the Cubs got them for all their employees and he left it to my daughter, whose name is Addison Clark," Kostelec said. He added that since his father's passing, Costello's co-workers and the Cubs' front office have been very generous.
"My father certainly wasn't a man of means by any stretch, but within 24 hours his co-workers had raised $15,000 in a GoFundMe campaign to help pay for all of the things," Kostelec said. 
"I've had Cubs front office folks reach out to me. It's been pretty special and unexpected. He meant a lot to that organization based on everything I've heard and very few fans ever get to do that, so that's pretty amazing."
Kostelec said he plans to get together with some of his father's Cubs co-workers once baseball season resumes.
"We'll celebrate his life by going to a game and then to a bar afterwards. That's what he would have wanted."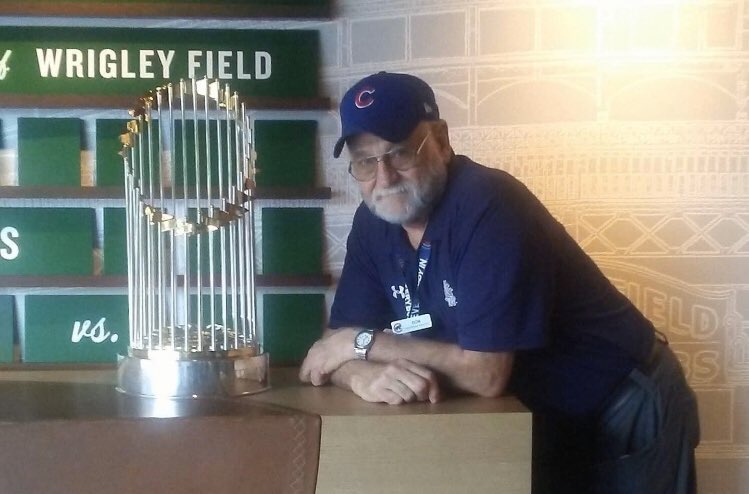 Subscribe to Block Club Chicago. Every dime we make funds reporting from Chicago's neighborhoods.
Already subscribe? Click here to support Block Club with a tax-deductible donation.