LOGAN SQUARE — In an effort to spread joy and offer relief to neighbors during the coronavirus pandemic, 29-year-old circus performer Joe Lobeck is making Logan Boulevard his stage.
"There's a psychological element to this, and if you can take your mind off of it, it does have an effect on you physically and emotionally," Lobeck said. "I just believe that this is maybe providing just a tiny bit of relief, which is nice."
As of Sunday afternoon, 93 cases of coronavirus have been found in Illinois — double the number of cases Illinois was reporting on Friday.
Gov. JB Pritzker ordered all schools in Illinois to close starting Tuesday, and bars and restaurants are closed starting Monday night to anything but drive-thru, curbside pickup and delivery.
With circus schools shut down and all gigs canceled, Lobeck started practicing his act Sunday morning outside of his apartment, at Logan Boulevard and Sacramento Avenue.
Several neighbors stopped to watch so Lobeck kept it going.
Lobeck juggles balls, pins, cigar boxes and hats. He also does handstands and other contortions on a handmade bar.
At one point on Sunday, some 15 people, including families with young children, sat in the grass and watched Lobeck perform. Other people who are self-quarantining watched from their windows.
"I'll just come out here and train and do this every day and make people happy," he said.
Lobeck has been a circus performer for about five years; he teaches at CircEsteem in Uptown, among other places. The 29-year-old was recently in Israel teaching circus arts to kids but was forced to leave due to the coronavirus — "right before things started to get really, really serious," he said.
Lobeck is now living in Logan Square with his girlfriend, who works at Whole Foods, but is soon planning to move back to the small town in Colorado where he's from to wait out the pandemic. He's confident he'll be able to find odd jobs when he moves back his hometown.
"In a time like this — my family is out there and I think it's a good idea to be with family, stay inside, do art, do music, do circus — just get in touch with community more," he said.
Until then, Lobeck said he plans to practice and perform on the boulevard every day.
On Monday, Lobeck performed for a couple walking by and a family pushing their kids in strollers.
A driver honked and cheered and Lobeck flashed a wide smile.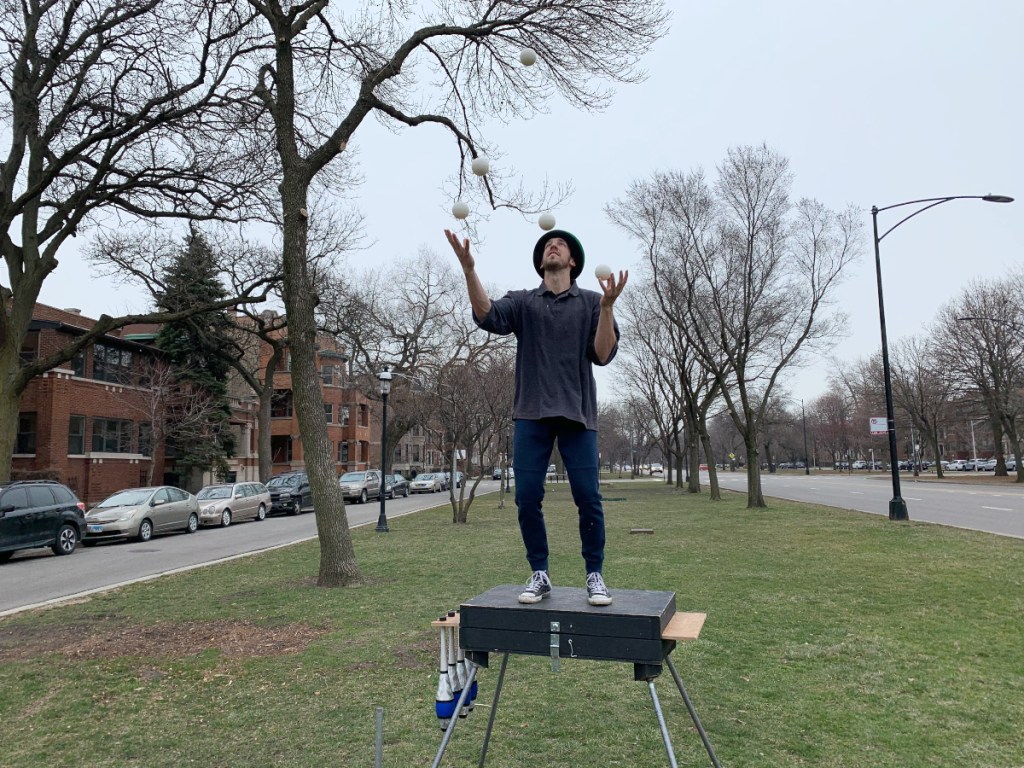 "You see people come out of the woodwork and all of a sudden there's their heart. They always have a story, oh my father, or I'm a musician, we're hurting. Everyone has this common story. We need more of that," he said.
"I'm not pro-coronavirus, but I do see the benefit in what it's doing, in a strange way. … Humanity is a strange paradox. In times of crisis, we come together. Remember 9/11? How the whole country banded together? But then we forget. You know, things go back to normal and it goes back to business as usual. It seems cyclical to me. So I think at the very least what we can do is appreciate and be grateful for what this is doing right now."
Block Club Chicago's coronavirus coverage is free for all readers. Block Club is an independent, 501(c)(3), journalist-run newsroom.
Subscribe to Block Club Chicago. Every dime we make funds reporting from Chicago's neighborhoods.
Already subscribe? Click here to support Block Club with a tax-deductible donation.