CHICAGO — Twelve new cases of the novel coronavirus have been recorded in Illinois, bringing the state's total to 105, Gov. JB Pritzker's administration announced Monday.
The new number comes a day after Illinois saw 27 new cases.
Dr. Ngozi Ezike, director of the Illinois Department of Public Heath, said people have now tested positive in 15 Illinois counties, up two from Sunday. Peoria and Will counties registered their first cases Monday, she said.
Meanwhile, Pritzker said Monday he is enacting the Centers for Disease Control's Sunday evening recommendation to ban gatherings of 50 people or more. He also encouraged residents to limit gatherings to 10 people.
Pritzker, who ordered all restaurants and bars to stop in-person dining as of 9 p.m. Monday, said anyone who willingly defies his ban, including for St. Patrick's Day parties on Tuesday, will be responsible for the health of the patrons.
"Weeks from now, months from now, when one of those partygoers, when one of those people that they defied the order to have into their establishment, becomes sick … they should know that they are responsible for that. And they should not hold these parties," Pritzker said.
Restaurant owners who would defy his order are outliers, Pritzker said. Most understand "we are in a very serious moment in the history of our state and our nation, and people need to make sacrifices."
Pritzker also said the state is scrambling to ramp up testing, but precious preparation time was lost by mistakes made by the White House. Pritzker made the announcement at the State Emergency Operation Center in Springfield.
Ezike said testing is being prioritized for those at highest risk. For those with milder symptoms, do not demand to be tested, she said, as testing supplies need to be reserved for those who need them: the elderly, those in longterm care facilities and those with preexisting medical conditions.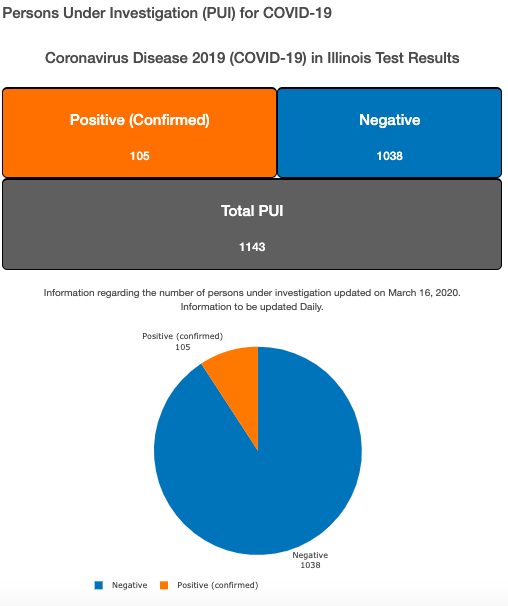 This weekend saw massive changes in Illinois as officials look to slow the spread of coronavirus: Pritzker ordered all schools in Illinois to close starting Tuesday, and bars and restaurants are closed starting Monday night to anything but drive-thru, curbside pickup and delivery.
Ezike said state officials know there's a lot of disruption that will be caused to many people, "but the hope is that when we look back, our actions that seemed like drastic steps, we hope that it would be an over-reaction."
Officials have urged people to work from home and stay inside as much as possible, and large events have been banned and postponed.
"To the people of Illinois," Pritzker said. "I know it's easy to be overwhelmed by all the news that's coming at you right now. But I also know that Illinoisans have the courage and the generosity and the empathy to find our way through."
Symptoms
Coronavirus can be deadly, but the vast majority of cases have been mild. Those most at risk from the virus are people who are elderly or who have underlying health conditions.
Symptoms of coronavirus can appear two to 14 days after a person has been exposed to the virus, according to the Centers for Disease Control. People with no symptoms may have the virus and spread it to others.
The virus spreads between people through coughing and sneezing, according to the Illinois Department of Public Health.
The symptoms:
Fever
Cough
Shortness of breath
If you or someone else has difficulty breathing, persistent pain or pressure in the chest, become confused, cannot be roused or develop a bluish face or lips, get immediate medical attention, according to the CDC.
How To Protect Yourself
The CDC only recommends those are already sick wear facemasks because they help you avoid spreading the virus.
Here's what you can actually do to prevent getting ill:
The CDC and other officials have said people should wash their hands often, including before, during and after eating; after using the bathroom; and after blowing your nose, coughing or sneezing.
The CDC has a guide here for how to properly wash your hands. Remember: Wash with soap and water, scrubbing your hands for at least 20 seconds.
If you can't wash your hands with soap and water, you can use an alcohol-based hand sanitizer, according to the Illinois Department of Public Health.
Avoid touching your face, especially your eyes, nose and mouth, with unwashed hands.
Clean and disinfect objects and surfaces you touch frequently, like cellphones and light switches. Here are tips from the CDC.
Stay home when you're sick and avoid close contact with people who are sick.
If you have to sneeze with a tissue, throw it out immediately after using it, according to the CDC.
What To Do If You Think You're Sick
Even if you're not showing symptoms, the Chicago Department of Public Health recommends people coming from high-risk countries (here's a CDC list) self-quarantine for 14 days after returning home.
If you do have symptoms of coronavirus, contact your primary doctor or a health care facility before going in. Explain your symptoms and tell them if you've come into close contact with anyone with coronavirus or traveled to an area where corona is widespread (here's a CDC list) within the last 14 days, according to the Illinois Department of Public Health.
From there, the experts will work with your local health department to determine what to do and if you need to be tested for coronavirus, according to the Illinois Department of Public Health.
And, of course, if you think you're sick with coronavirus, don't risk exposing other people to the virus. Anyone who feels unwell has been advised to stay home.
Those with questions and concerns about coronavirus can call the Illinois Department of Public Health at 800-889-3931.
Block Club Chicago's coronavirus coverage is free for all readers. Block Club is an independent, 501(c)(3), journalist-run newsroom.
Subscribe to Block Club Chicago. Every dime we make funds reporting from Chicago's neighborhoods.
Already subscribe? Click here to support Block Club with a tax-deductible donation.