WEST TOWN — The notorious intersection of Grand Avenue and Wood Street in West Town, scene of a crash that sent a car plowing into a restaurant last month, will be studied by the the city for potential changes.
Ald. Daniel La Spata (1st) said the city's Department of Transportation will study the busy intersection, which neighbors say has gotten busier and more dangerous since drivers in the crowded neighborhood began using it to avoid arterial streets.
Last month, a two-car collision sent a Nissan plowing into the front window of Breakfast House, a family-owned business at that corner.
Breakfast House was serving about 30-40 customers at the time of the crash, owner Jamie Jara said. 
"The lucky part is that nothing happened inside, with the customers," Jara said.
About every three light changes, a driver runs a red light, one neighbor said. A bartender at Output Lounge said he witnesses an average of two to three crashes at the intersection per year.
Once CDOT completes its study, La Spata will review the recommendations for how to move forward, 1st Ward staffer Nick Zettel said.
"Once we receive the completed studies from CDOT, it helps us understand the costs associated with traffic safety features, and how to approach potential implementation of traffic safety features," Zettel said.
Neighbor Matt Solie said he hopes La Spata takes a serious look at the study's results.
"I'm big into experts and knowing your field," he said. "I would hope the alderman looks at that. I do think it obviously could be improved. … I think something should be done."
RELATED: Car Plows Into West Town's Breakfast House At Accident-Prone Grand Avenue Intersection
Since the Breakfast House crash, neighbors have floated ideas for changes to improve safety at the intersection, including the addition of a red light camera and the conversion of the light into a 4-way stop sign.
Eric Cyranski said he's not sure a red light camera would deter traffic, as he believes the people running the red lights aren't neighbors.
"A red light camera would be punitive, it's not going to deter the guys that think they're going to make the light," he said. "It would catch you after the fact, but if you just ran somebody over, what does that do for you?"
Instead, Cyranski said he hopes La Spata considers creating a roundabout at the nearby intersection of Wood and Ohio streets.
When Cyranski moved to the corner of Grand Avenue and Paulina Street nearly two decades ago, he said Wood Street was a "quiet" road.
Today, it's a "major thoroughfare" for drivers hoping to avoid traffic on Ashland and Damen avenues, he said.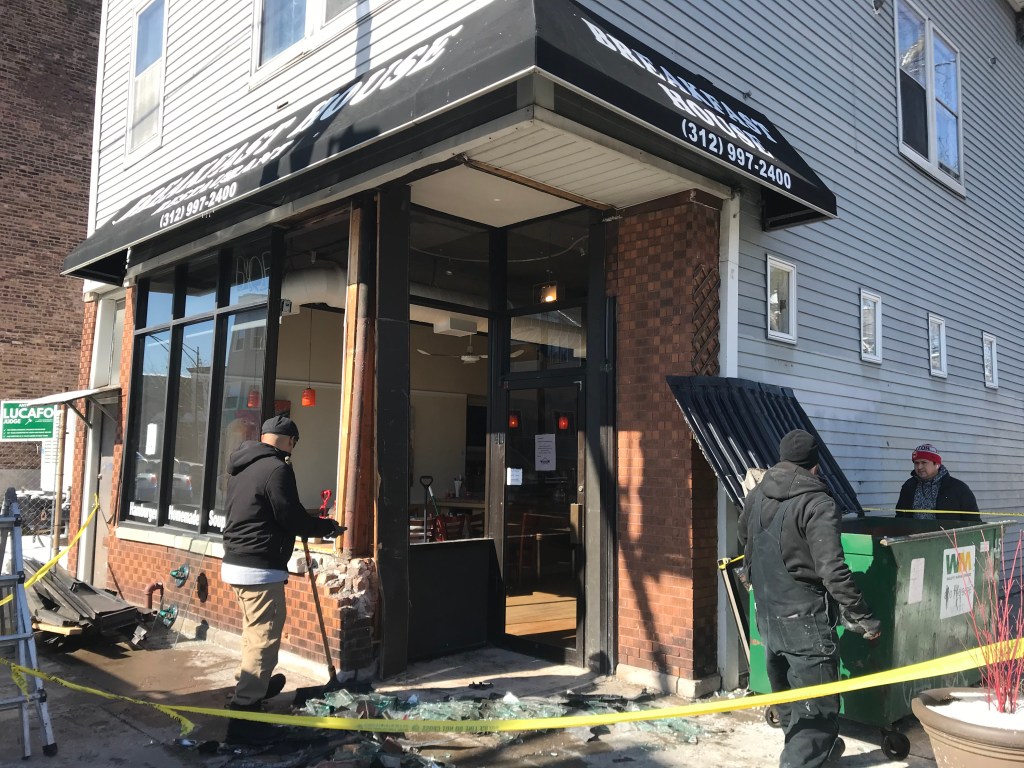 "[Twenty years ago], nobody drove down Wood," he said. "As the area developed and the West Side started growing, Wood became the escape route."
Around 6 a.m. and 5:30 p.m. each day Cyranski and his wife walk their dogs across Grand Avenue toward the neighborhood's industrial area, an area that is rapidly transforming into Chicago's brewery district.
"Every light someone runs that stop light," he said. "When we walk our dogs across, we wait three seconds, because somebody always runs that damn light."
Neighbor Kristin Miaso has said she, too, often sees drivers run red lights at the intersection. 
"I take Wood south all the time and there is always someone who goes through the red light at Grand. Terrible intersection," she said. "I always wondered if there's an issue with the light."
A red light camera could be helpful, but Miaso worried converting the intersection into a 4-way stop sign would be disastrous given Wood Street is a "major artery" for United Center-bound traffic.
She suggested officials test the lights to make sure one is not changing colors too quickly. An arrowed green turn light could help, too, she said.
Solie has lived in the neighborhood for about three and a half years. He currently lives on Ohio Street, between Wolcott and Wood streets, with his 2-year-old son.
He said he appreciated the recent addition of a stop sign at the intersection of Hoyne and Grand avenues. That's close to where Solie's previous church, The Painted Door Church, once met at 2219 W. Grand Ave.
"It's kind of nice when you're driving that Grand can be such a fast street, but for pedestrians, it's not always the safest," he said. "It's a street that's confused on whether it's four lanes or two lanes."
Cyranski was at Breakfast House the morning of the crash. He normally likes to sit by the window, but because that day was so cold, he requested a table farther from the door.
He wondered, what if the crash happened on a warmer day, when the window seats are full? Or during the summertime, when Breakfast House offers patio seating?
"I would hope it doesn't take a fatality to institute some change," he said.
At about 8 a.m. on the Saturday morning following the crash, Solie walked to the restaurant with his 2-year-old son.
Before arriving, Solie said he witnessed yet another crash at the intersection.
Do stories like this matter to you? Subscribe to Block Club Chicago. Every dime we make funds reporting from Chicago's neighborhoods.
Already subscribe? You can make a tax-deductible donation to support our nonprofit newsroom here.