NORTH LAWNDALE — West Siders are working with the city to make North Lawndale a safer, more vibrant place for pedestrians.
A team of Lawndale youth, residents and allies spent six months working on a walkability study, dubbed Walk-H, to see how North Lawndale can become more accessible for pedestrians. The team recently took its findings to a meeting at City Hall, where members explained what they learned.
Among their findings: There are stop signs where drivers zoom past without slowing down, spots were drivers routinely jump curbs, pedestrian-heavy areas without crosswalks and deteriorating sidewalks that make walking difficult, unsafe and unappealing for pedestrians.
Now, the Walk-H team is working with the city to fix these problems — and help neighborhood businesses benefit from a boost in foot traffic.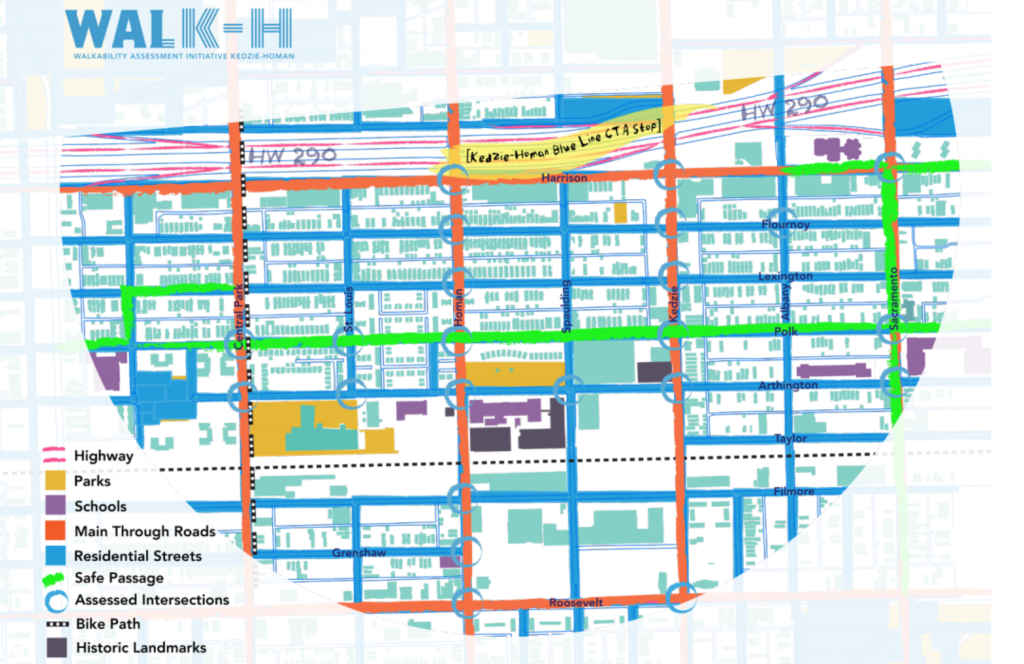 'A Deterrent To Pedestrian Activity'
The Walk-H team began the study with a number of goals, including reducing the high number of pedestrian injuries on West Side roads and improving commerce and public health by encouraging foot traffic in the neighborhood.
The study analyzed things like signage and driving patterns at 22 intersections around the Blue Line Kedzie-Homan Station, as well as the sidewalks and streetscapes in the surrounding area.
"That allowed us to identify what the barriers were and conditions where crossing a street or walking along the busy thoroughfare could be a deterrent to pedestrian activity," said Odile Compagnon, who guided the study and is an architecture professor at the Art Institute of Chicago.
The team also surveyed students, residents and CTA commuters to determine what they believed were major barriers to walkability in the area and to ask residents for solutions on how transportation infrastructure can be improved.
Since releasing the assessment, the Walk-H team has worked with the city's Department of Transportation to identify spots that could be fixed up to improve pedestrian safety.
In particular, the group highlighted a project to add lamp posts and planters along Kedzie Avenue and to make improvements along Homan Avenue at the 15th and 16th street intersections.
Those spots were picked because the areas have higher "crash concentrations," said Rochelle Jackson, who supported the study as chair of the transportation committee of the North Lawndale Community Coordinating Council.
Jackson also called upon the city and the Pedestrian Advisory Council to partner with Lawndale stakeholders to implement one of the highest-priority projects listed in the walkability study: redesigning an intersection just across from the Kedzie-Homan Blue Line station where cars routinely jump the curb and the most frequented foot route lacks a painted crosswalk.
"We'd like to have a rapid delivery project on Homan and Harrison. That includes curb reconstruction … paint posts, posts that say 'no parking' and 'no standing' right by the entrance of the Blue Line station," Jackson said. "Planters and art from local artists in the North Lawndale area [would] make those corners more attractive and … safer and more walkable."

Transportation Department spokesman Michael Claffey said in a statement CDOT is using the Walk-H assessment to evaluate where there are opportunities for improving roadway infrastructure. 
"We are grateful for all the work they have accomplished and we are in the process of carefully studying the assessment and identifying projects that can be delivered rapidly this year," Claffey said.
At the meeting, Transportation Commissioner Gia Biagi commended the Walk-H team for their work in crafting a study that articulates the improvements needed while grounding the solutions in the experiences of people living in the area.
"… This kind of grassroots thinking and planning the asset mapping that's done by people who live in the community and see it in a way that [a] planner from outside can't drop-in and possibly understand — it's very much appreciated and I hope you can also be a resource for other communities," Biagi said.
Pascal Sabino is a Report for America corps member covering Austin, North Lawndale and Garfield Park for Block Club Chicago.
Do stories like this matter to you? Subscribe to Block Club Chicago. Every dime we make funds reporting from Chicago's neighborhoods.