WEST LOOP — New residential parking restrictions in the West Loop set to go into effect this week won't be enforced yet.
Enforcement of the new rules is now being delayed as local aldermen work to assuage neighbors' concerns about the plan's rollout. On Friday, Ald. Walter Burnett Jr. (27th) said he plans to introduce a new ordinance as early as this week that would make more West Loop blocks eligible for residential parking permits.
In response to concerns neighbors raised a meeting last week, the new proposed ordinance will include residential areas not included in the original ordinance passed in December. Burnett didn't immediately know what streets would be added to the permit parking plan.
Under the recently approved ordinance, drivers are required to have residential permits to park from 7-9 a.m. on some West Loop streets. Burnett and fellow West Loop aldermen Byron Sigcho-Lopez (25th) and Jason Ervin (28th) will work with the city's Department of Finance and Near West (12th) Police District officers to ensure no tickets are issued on the newly designated streets for now.
If all goes well, the expanded ordinance could be approved in March, Burnett told Block Club.
Last November, City Council approved an ordinance that transformed the West Loop's parking landscape by replacing free parking spots with metered parking on a majority of streets from Carroll Avenue to Madison Street and Ogden Avenue and Halsted Street.  
A second ordinance was passed in December to add residential permit parking restrictions along several streets in the neighborhood. Before that, there were only about 240 permit parking spots in the neighborhood, according to a study the West Central Association commission in 2016.
The residential parking restrictions are part of a larger parking plan that has angered some residents.
RELATED: Free West Loop Parking Spots Will Vanish In 2020 — And Parking Prices Will Rise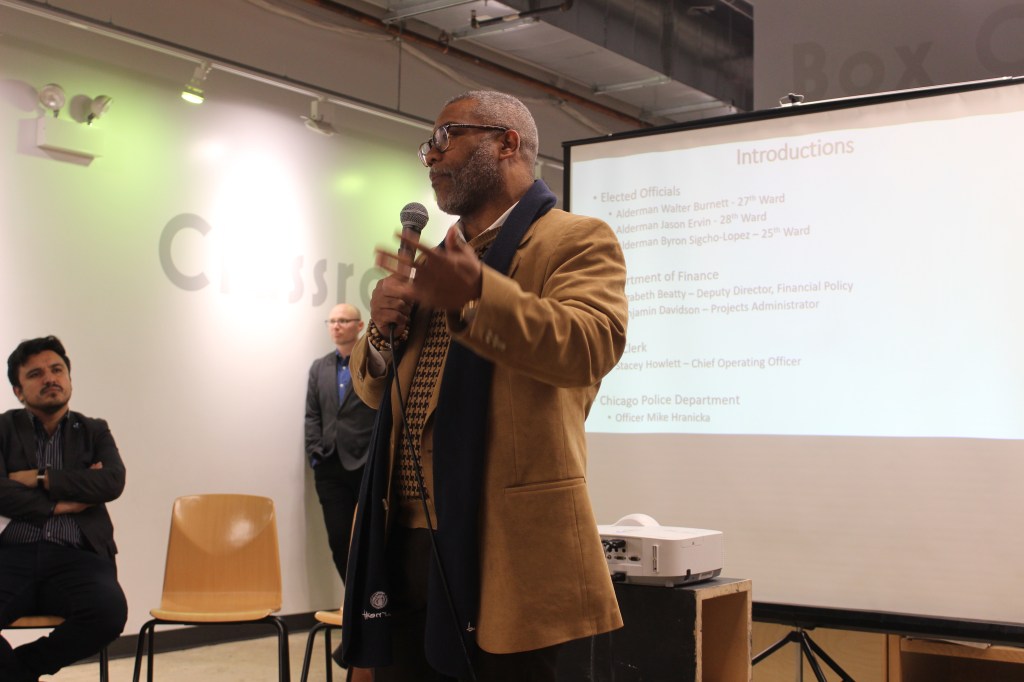 New parking plan
At a community meeting Thursday, Burnett, Sigcho-Lopez, Ervin and officials from the city's Department of Finance and City Clerk's office gathered to answer questions on the new plan and its rollout.
Burnett told residents a West Loop parking plan was in the works for more than a decade. The longtime alderman said he and the West Central Association, the local chamber of commerce, have been working on ways to curb daytrippers from taking up spots in the neighborhood.
An opportunity to enact new permit parking restrictions came after the city approached him about adding meters in the neighborhood, Burnett said.
The new ordinance comes nearly three years after the chamber and Burnett aimed to stop people from leaving their cars parked in the neighborhood while they commuted and worked in the Loop.
The new morning parking ban comes after neighborhood groups pushed to end a midday parking ban in the West Loop in 2014.  
From July-December 2013, drivers were prohibited from parking along select neighborhood streets from 1:30-3:30 p.m. weekdays. The midday parking ban in the West Loop was ended in 2014 following pushback.
Armando Chacon, president of the West Central Association, said the chamber had been working to address "increased strains on parking" as the West Loop continued to grow and evolve.   
"There will not be enough parking to meet current and growing demands in the West Loop…The parking policy will be fluid and will evolve if necessary," Chacon said.
Chacon said the plan was not final.
"This isn't the end. As the neighborhood evolves, we will reconsider and make some changes….Any changes will be subject to aldermanic approval," Chacon said.
Metered parking
The West Loop parking changes come as a result of the city's Transportation Network Providers' study released in October 2019. The plan aims to tackle congestion in the central area district, said Beth Beatty, the city's deputy director of financial policy.
In the West Loop, prices for metered parking increased from $2 to $4.50 per hour from 8 a.m. to midnight at existing meters.
New meter boxes were also set to be added to a majority of streets from Carroll Avenue to Madison Street and Ogden Avenue and Halsted Street.
The first phase will include work from Halsted to Morgan streets. Work has yet to be completed and is weather dependent. A second phase of meters will be installed later from Morgan Street to Ogden Avenue, Beatty said.
Asked about changes to the parking plan in regards to metered areas, Burnett said it's difficult but it is possible. 
The three aldermen agreed to meet in six months to re-evaluate the parking plan.
Transit-oriented developments and permit parking
During Thursday's meeting at the Chicago Children's Theatre in the West Loop, some residents asked why their feedback didn't help shape the parking plan that was passed in December.
Others asked what the city was doing to add more parking to area, noting that more developments will attract more tourists, workers and residents to the area. Several residents called for the city to require developers to provide off-street parking for construction workers and "adequate parking" in all new developments.
One resident said the Salvation Army redevelopment will add to the problem. The transit-oriented development planned for 1515 W. Monroe St. has 260 apartments and nine on-site parking spaces, she said.
RELATED: Apartment Plan For Old Salvation Army Site Needs More Parking, West Loop Residents Say
Developers are pitching transit-oriented developments near 'L' train and bus lines, but some residents who choose to live there still have cars and a need for parking, she argued.
The resident urged Ervin, whose ward includes the Salvation Army development, to block any tenants of the Salvation Army apartments from being eligible for permit parking.
Ervin said he wouldn't commit to that.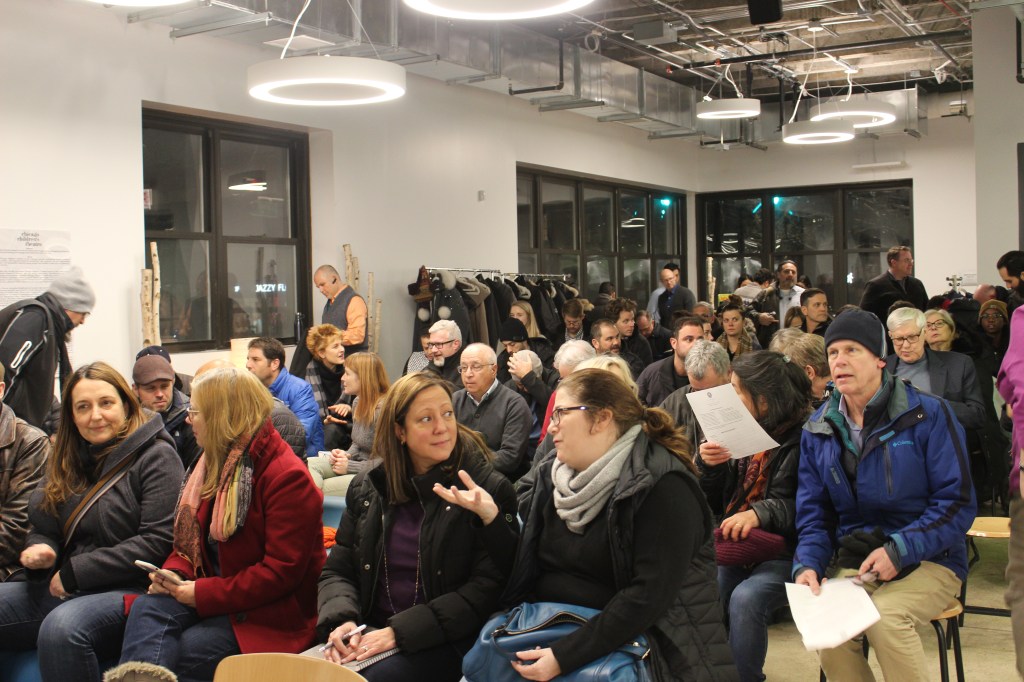 "To exclude them would be unfair to those residents that are there," Ervin said. "If you live on that block, you have just as many rights as someone else who lives on the block."
During the exchange, Neighbors of West Loop President Matt Letourneau said residents were not suggesting newcomers not be allowed to have street parking options.
"We are saying transit oriented-developments projects, which by city policy do not require parking, should not have the ability to get permit parking. If by definition, the residents have said… we are in a TOD-designed building — we don't need a car, we don't have a car — they shouldn't have the option," he said. 
Do stories like this matter to you? Subscribe to Block Club Chicago. Every dime we make funds reporting from Chicago's neighborhoods.
Already subscribe? Click here to support Block Club with a tax-deductible donation.