This story has been updated.
HUMBOLDT PARK — One of Western Avenue's most iconic used car lots will be demolished, but its beloved neon sign will be saved from the scrapyard.
Car Town, 848-850 N. Western Ave., received a demolition permit last week, according to Chicago Cityscape. Its owner, Volo Development, intends to replace the car lot with condos.
For decades, a massive sign reading, "Car Town … Fine Automobiles … OK'd Cars" has towered over Western Avenue, at the border of Humboldt Park and Ukrainian Village.
The property's garage dates back to 1954, Cook County records show. The idea of marketing used cars as "OK" dates back to the '50s and '60s.
While some property owners scrap old neon signs, Car Town's new owners sold the vintage sign. At first, the realtor told Block Club the sign was being sold to a company in California, but its buyer corrected the record as the sign came down Tuesday afternoon. The sign will stay in the Chicago area.
Nathan Lippe, who lives in the western suburbs, is a collector of vintage neon signs and Car Town is his latest acquisition.
"I've collected signs for a long time," Lippe said. "About 7 years ago I really got the neon bug."
Lippe reached out to Car Town's owners when he heard the property might be demolished and was able to save the sign. He urged people who are worried about the fate of signs in their neighborhoods to contact him on Instagram @AdvertisingCollector.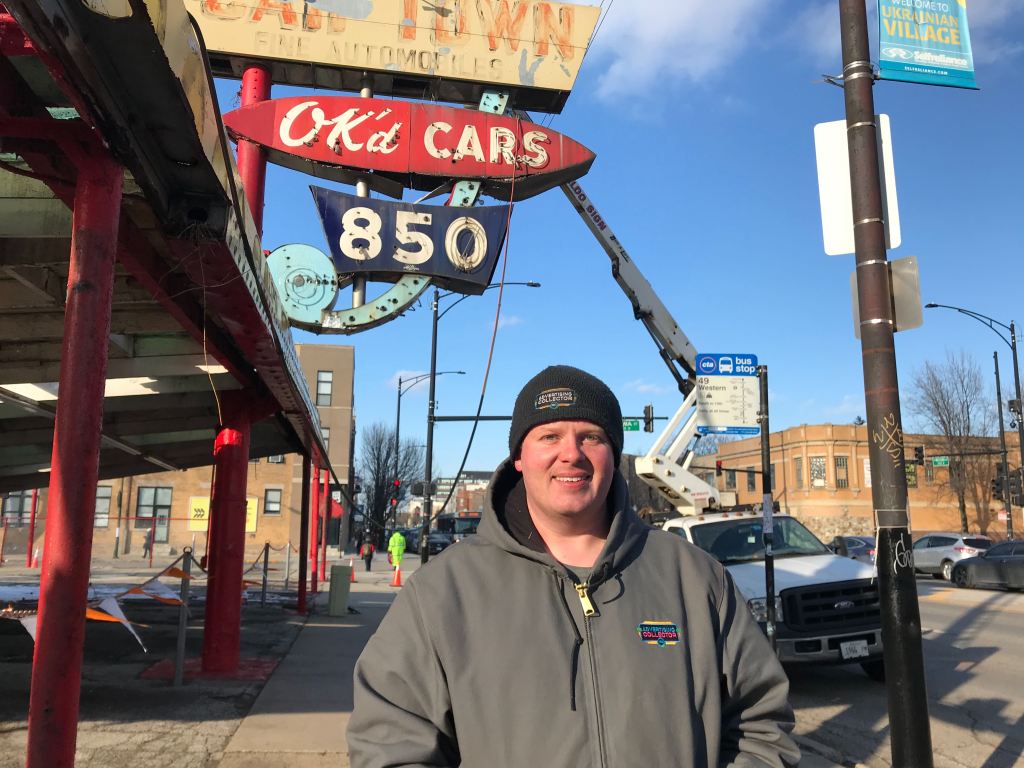 Real estate agent Karen Biazar of North Clybourn Group said the cost of removing the sign is estimated at $5,000 and the sign itself sold for $7,500.
Neighbors will be relieved to hear the sign won't go to the scrapyard.
"I remember years ago walking by there and the lot was full of cars and people bustling around them," said neighbor Mary Ann Sochaki, who grew up in the neighborhood during the '60s and '70s. "Then year after year you would start to see the decline in cars on the lot along with the people."
Danylo Kovalsky grew up in Ukrainian Village during the '80s. He remembers a time when used car lots were a common sight along Western Avenue.
"It felt like car boulevard," he said.
As business slowed, he wondered if Car Town would be replaced by a restaurant with a large patio, similar to Parson's or Big Star. Though that isn't happening, he was glad to hear the sign would be saved.
"They don't make stuff like that anymore," he said. "It's just a cool piece of history. It reminds me of once upon a time."
Set to open in spring 2021, the new building on the Car Town lot will include 4,500 square feet of ground-floor retail and 17 condos, each with a balcony and two garage parking spaces.
Condo pricing will begin in the mid-$500,000s, Biazar said.
The property is in Ald. Roberto Maldonado's 26th Ward. He did not respond to a request for comment.
Mykhaylo "Michael" Volochiy, of Volo Development, is a prolific local builder whose properties are often sold through Wicker Park's North Clybourn Group.
In 2017, Volo demolished a Wilco recording studio at 2116 W. Chicago Ave. and an 1890s red worker's cottage at 912 N. Wolcott Ave.
In both cases, luxury condos replaced the buildings.
Chicago's 'Endangered' Neon
There is no law on the books protecting signs like these from destruction, but groups like Preservation Chicago and Landmarks Illinois are fighting to save what's left from the scrapyard.
Preservation Chicago included neon signs in its 2015 Most Endangered list, writing, "Once a popular form or advertising from the 1930s to the 1960s, the neon sign graced such buildings as The Drake Hotel, the Marshall Field & Company Store, Santa Fe Building, restaurants and all sorts of businesses.
"… However the cost of maintaining them, coupled with regulations and regular inspections of these signs, have sometimes resulted in their loss and replacement with other less vibrant forms advertisements."
Landmarks Illinois included "vanishing neon" in its 2008 Chicagoland Watch List, said Advocacy Director Lisa DiChiera.
In its 2008 report, the group wrote some communities have given landmark protection or restoration grants to their neon.
For example, Aurora moved to protect its 1965 Northgate Shopping Center sign from demolition.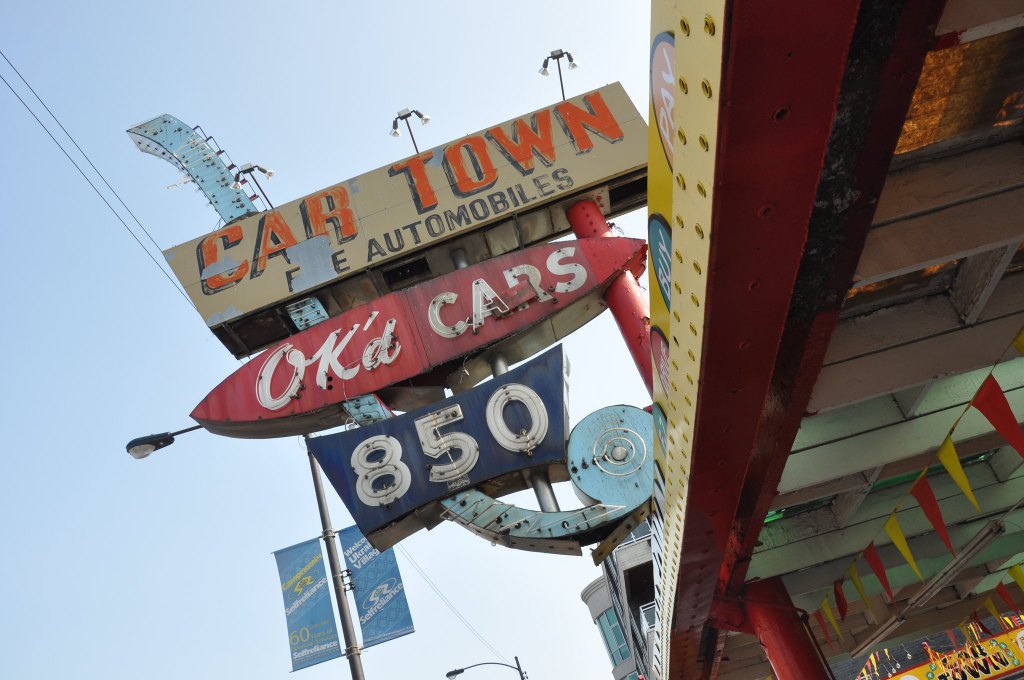 And last year, the 1997 rainbow pylons and bronze Legacy Project plaques along Halsted Street in Boystown were on track to receive landmark status, Curbed reported.
Chicago's Commission on Landmarks does not outright protect neon signs even when they are affixed to buildings with landmark protection.
Last summer, Wicker Parkers were stunned as the '50s Double Door Liquors sign was removed from its longtime home on Milwaukee and Damen avenues.
In that case, the building possessed landmark status. The building's owner, CA Ventures, has said the sign is safely in storage. It has refused to disclose plans for it.
RELATED: The Double Door Sign Is Safe For Now — And This Is Why Officials Say It Was Taken Down
It's unclear how long Car Town had been in business, but Cook County Assessor's Office records date the car lot's garage structure at 66 years of age, placing the business' origins around 1954.
The property's signage also offers considerable insight into the history of the business.
Today, used-car lots market their products with phrases like "luxury used" or "certified pre-owned." Back in the '50s and '60s, however, a different catchphrase was used: "OK."
Robert Tate, an automotive historian and researcher, described the history of "OK" cars in an article for MotorCities. The phrase, popular among Chevrolet car lots, meant the cars were literally "OK," or safe to drive, Tate said.
Cars at lots with an "OK" sign were were guaranteed to have had a safety inspection, drain and flush of the cooling system, complete lubrication and tire rotation.
Tate said the concept may date back to 1928, when a newspaper ad defined "OK" as confirmation of what parts of a vehicle had been checked and reconditioned prior to placing the car on the sales lot. 
Do stories like this matter to you? Subscribe to Block Club Chicago. Every dime we make funds reporting from Chicago's neighborhoods.
Already subscribe? Click here to support Block Club with a tax-deductible donation.