WICKER PARK — On Wednesday, Wicker Parkers were stunned as the 1950s-era Double Door Liquors sign was removed from its longtime home on Milwaukee and Damen avenues.
Unlike some neon signs, which end up in a scrapyard, the beloved Double Door sign is safe and sound, according to a spokesperson for CA Ventures, the company that removed the sign and owns the building.
"The sign is being safely stored until its future use is determined," the spokesperson said.
The company would not elaborate on where, exactly, the sign is being stored or their plans for it. But they're moving forward with plans for the former Double Door spot, which will soon become one of Yeti's flagship stores. The Texas-based company sells high-end coolers and camping gear.
Despite Yeti's efforts to keep the sign, their zoning attorney Sara Barnes said the city forced CA Ventures to decide between pursuing landmark status and delaying work on the building.
"They don't want to keep the site vacant for that long," she said. "Believe it or not, that sign alone would have held up permits for the building."
Already, however, community leaders are calling for its return to the neighborhood.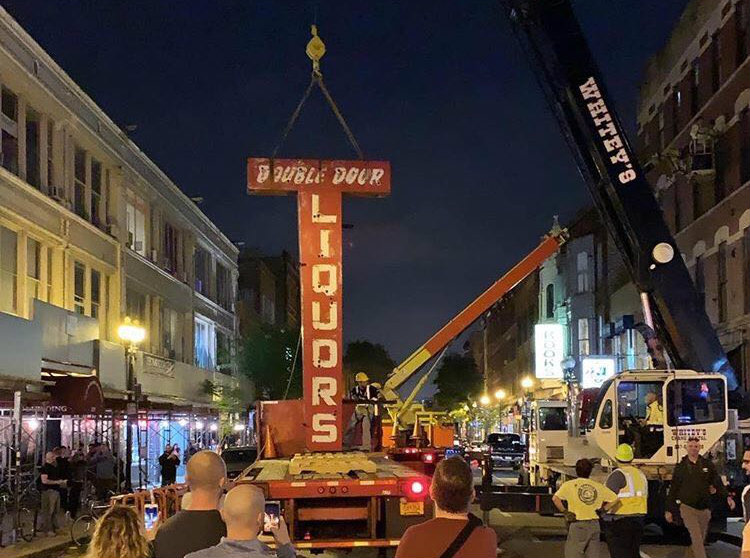 A 'Gut Punch'
Ald. Daniel La Spata (1st) was caught off guard by the sign's removal, and said he wants to figure out a way to preserve it and return it to Wicker Park.
"We're going to keep that conversation moving forward with the city," he said.
Related: Wicker Park's Famed Double Door Sign Is Gone After 70+ Years: 'It Was A Tombstone That Honored Our Cultural Past'
In an email to La Spata and Ald. Scott Waguespack (32nd), Wicker Park resident Brad Schuth pleaded for the sign's protection. He told the elected officials it was a "gut punch" to see the Double Door club leave in the first place.
"The removal of the sign only makes it worse," Schuth wrote. "It's another horrible yet preventable step in making Wicker Park just like everywhere else. Why on earth do we let that happen? Over bureaucratic technicalities?"
Alma Wieser — co-owner and director of Heaven Gallery, 1550 N. Milwaukee Ave. — had been meeting with La Spata and other neighborhood leaders discussing the sign Wednesday when she found out it had already been removed.
After the meeting, Wieser said she cried when she learned the sign had come down.
"I walked past that sign everyday. It was so meaningful because it reminded us what this neighborhood was," Wieser said. "That sign was not only a landmark of Milwaukee, North and Damen but it was a tombstone that honored our cultural past."
'Abandoned' and Not Up To Code
To better understand how and why the sign was removed, Block Club Chicago interviewed a spokesperson with the Department of Planning and Development and reviewed relevant sections of the city code.
Two months ago, when CA Ventures applied for building permits at 1572 N. Milwaukee Ave. to get the Yeti store ready to open, they were told the permits could not be issued because the building featured a "non-conforming" sign.
According to city code, the Double Door sign was considered both "abandoned" and "off-premises."
Since the sign is in the public way, with pedestrians walking beneath it, it needs a regularly issued permit. After 12 months of unpaid permit fees, a sign is considered abandoned. Since no one has taken responsibility for the sign in more than a year, the city considered it abandoned.
The Double Door sign also advertised a business, service or product — liquor — that is no longer sold there. The city says that's a violation of code because it's on a street that has a Pedestrian (P) designation, which applies to 1572 N. Milwaukee Ave. and the adjacent portions of Milwaukee, North and Damen avenues.
At the end of the day, the city's spokesperson said, CA Ventures would have had to either stall their building permit to get the sign in good legal standing or get rid of it, which is ultimately what they did.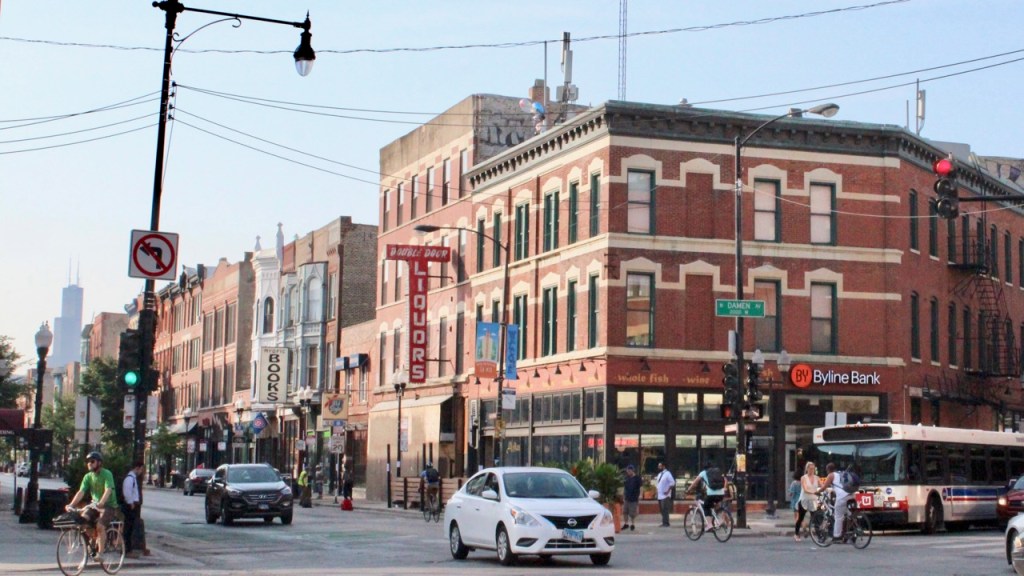 Can The Sign Be Saved?
Had CA Ventures gone the route of trying to save the sign, the group would have been faced with a formidable challenge.
While there's no question the sign itself and its verbiage — "Double Door Liquors" — possesses deep cultural significance in Wicker Park, the sign does not fit the technical requirements of landmark status.
The Milwaukee Avenue Historic District, established in 2008, protects significant landmarks between Wood Street and North Avenue.
The "period of significance" observed by the district, however, only lasts from 1877 to 1929.
Related: From 'Crazy Hillbillies' To The Rolling Stones: The History Of Wicker Park's Iconic Double Door Sign
Other signs considered culturally significant or historical to modern-day Wicker Park residents have fallen victim to a similar fate.
The Hollywood Cleaners sign, for example, was established in 1947. There's no doubt the family-owned business holds a special place in the hearts of local historians, but the business was established nearly two decades after 1929.
Many neon signs considered historic by the general public are considered too young by the historic district.
Ward Miller, executive director of Preservation Chicago, said he believes there's a fighting chance for CA Ventures to return the sign because it lies within an official historic district.
CA Ventures, La Spata, the Department of Planning and Development and neighborhood leaders could, theoretically, put their heads together and figure out a compromise that involves repairing the sign and paying necessary permit fees. A special hearing with the Landmarks Commission would likely follow.
"It would be an exception, there's no doubt," he said. "But I think in landmark districts this is something that should be considered."
But that's on CA Ventures to come forward, he said.
"We should really get serious about landmarking these features that give people a sense of place and retain a certain spirit and character to the neighborhood," Miller said. "These signs do that."
Related: Do You Love Wicker Park's Hollywood Cleaners Sign? Good News — It's For Sale
The building itself at 1572 N. Milwaukee Ave. is 100 years old, and is therefore automatically protected from demolition.
The sign, which dates back to the 1950s, is not.
There are many structures within the district that are not considered "contributing buildings."
So while the sign was located within the district, that didn't automatically make it a contributing feature to a landmark district or a landmark itself.
Is The Double Door Coming To Uptown?
Many Wicker Park residents were hoping the Double Door's iconic sign would remain in the neighborhood.
But when it came down with absolutely no warning, residents speculated the sign would be heading to Uptown.
Back in December, Ald. James Cappleman (46th) announced that the venue would open in the Wilson Theater building, 1050 N. Wilson Ave. This week, his office said the alderman is optimistic that the Double Door will come to Uptown, but the club's owners Double Door's owners Sean Mulroney and Joe Shanahan have been silent on the matter.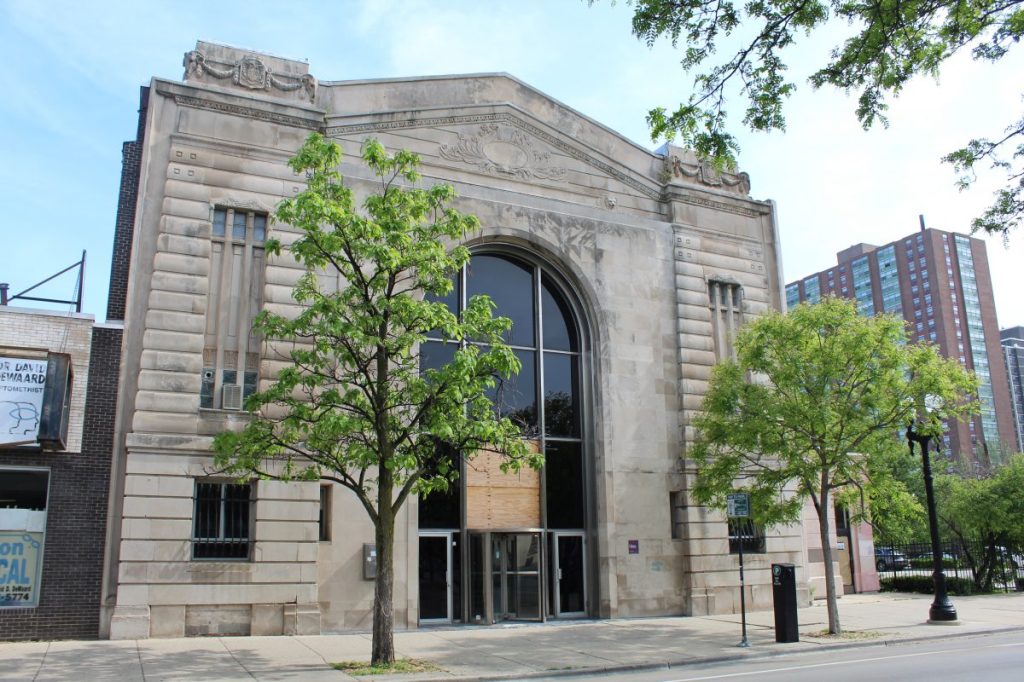 As for the old Double Door building in Wicker Park, work is already under way. Yeti's vice president of retail operations, Doug Schmidt, dropped off a box of Stan's Donuts to a construction crew working at 1572 N. Milwaukee Ave. Thursday morning.
The night before, during a meeting with neighborhood stakeholders, Schmidt released renderings that show one floor of retail space and a small bar where shoppers can grab a beer or wine.
Yeti is a "natural fit" in Wicker Park, Schmidt said.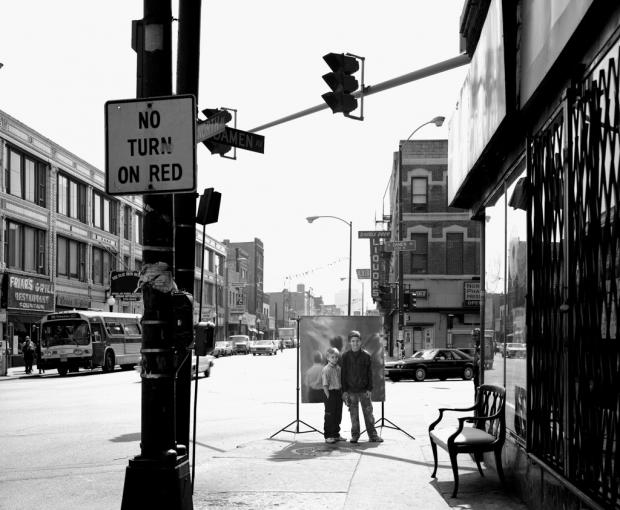 Barnes, the zoning attorney who has been working with Yeti and CA Ventures, said on Thursday she was stunned by the removal of the sign.
She said she ran to 1572 N. Milwaukee Ave. Wednesday night as soon as she heard the news.
She said she and Yeti had spent the last two months trying to work out a compromise.
Yeti even proposed altering the sign to say "Yeti Liquors" to avoid a city code issue, but officials told Barnes that wouldn't fly because Yeti did not plan on selling packaged liquors.
What's next for the sign is a mystery, but neighbors are ready to step up and help bring it back to Wicker Park.
"This sign was the signature piece and visual heart and soul of the neighborhood for decades," Schuth wrote. "If it came to needing a GoFundMe campaign to pay for it, I'm sure more than enough funds could be raised. Please help return this sign to our neighborhood."
Miller also urged all those involved to look at the sign as a piece of neighborhood history that needs preservation.
"I would encourage the commissioner in Landmarks, the owners, neighbors and the alderman to come together and find a good resolution," he said. "If it fits all the city codes and is restored, that would be a benefit to the community."
Do stories like this matter to you? Subscribe to Block Club Chicago. Every dime we make funds reporting from Chicago's neighborhoods.
RELATED
Is The Double Door Actually Coming To Uptown? Cappleman 'Confident' It Will Work Out, But Owners Remain Silent
Cooler Maker Yeti Unveils Early Plans For New Store In Now-Signless Former Double Door Spot
Yeti Moving Into Former Double Door Building, Cooler Maker Confirms
Double Door Expected To Open In Uptown In August
Double Door Reopening In Uptown's Wilson's Theatre Building
Yeti Moving Into Former Double Door Building, Cooler Maker Confirms