ANDERSONVILLE — Dispensaries aren't the only ones cashing in on cannabis legalization in Illinois: A wise Girl Scout troop set up shop outside an Andersonville dispensary this weekend, delighting customers and employees of the weed shop.
The local Girl Scout troop reached out to Dispensary33, 5001 N. Clark St., to see if it could sell outside the dispensary's doors Sunday morning, and the business happily obliged, said Abigail Watkins, marketing and outreach manager for the dispensary.
The troop was one of a few local troops to reach out to the dispensary, which plans to have different troops selling cookies on upcoming weekends, Watkins said. In a tweet posted Monday night, the dispensary said it will have troops selling cookies outside the store every weekend through February. 
"The cookies they're selling and our clientele, it's a great match," she said. "As a former Girl Scout, I admire the hustle."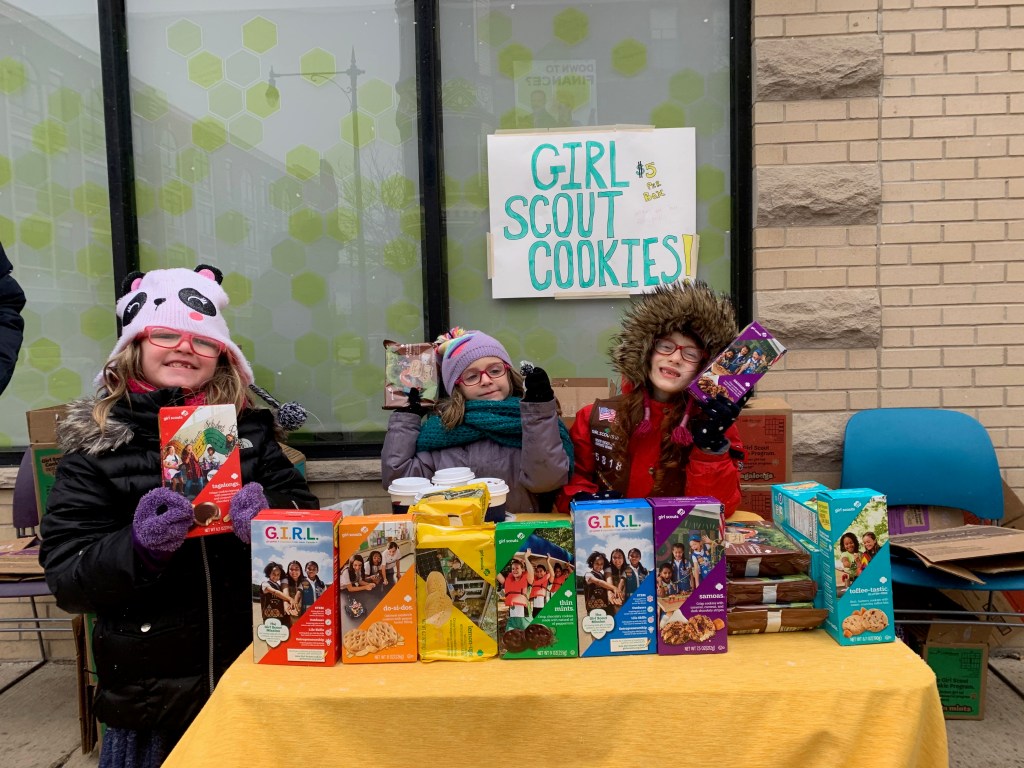 Melissa Soukup, a leader of a Andersonville-area Brownie Girl Scout troop, said she got the idea to open a booth outside the dispensary from a police officer. Last year, the officer visited her troop's cookie booth at a Pet Supplies Plus, when he said the group could make a killing outside to-be-legalized dispensaries. 
The suggestion popped back into her head this year, when a lot of Andersonville businesses were already booked up by competing troops, Soukup said. 
"We try to meet goals so the girls can win prizes," she said. "We're always looking for opportunities, places that have walking traffic. I was looking for places that weren't taken, and I thought of this."
On Sunday, Soukup brought her daughter and two other Brownies (ages 6 and 7) up to Dispensary33. Security at the dispensary helped the troop set up their booth, where they sold 230 boxes over four hours. The troop's record is selling about 450 boxes in an afternoon, but that was inside a Mariano's and for a longer duration, Soukup said.
"They were super supportive," she said of the dispensary. "It was a pretty good sale, probably one of the better ones."
A photo showing three girls and two adults selling cookies outside the dispensary has gone viral, with hundreds of shares on Facebook and Reddit. The photo shows the girls bundled up and standing next to a table that has at least seven cookie types for sale.
"Remember when the idea was we protected kids from 'the malign influence of potheads'?" one commenter said. "And now we need to protect potheads from exploitation by small children."
"This is predatory in the best possible way," another commenter said.
Dispensary33's customers enjoyed having the option to buy Girl Scout cookies, Watkins said. The dispensary's staff also patronized the cookie selling booth on breaks.
"People were having fun," Watkins said. "Everyone loves Girl Scout cookies. They were undeniably cute."
The Girl Scouts of Chicago allow for members to conduct "booth sales" outside legally owned businesses, including dispensaries, said Britney Bouie, spokeswoman for the local Girl Scouts group.
The troop that set up outside Dispensary33 received prior approval from the business and the Girl Scouts organization, she said. The issue of selling cookies outside dispensaries has been an issue elsewhere. In Colorado, the local Girl Scout organization banned the practice before overturning the ban. 
Selling cookies outside dispensaries is new territory for the Girl Scouts of Chicago, where recreational marijuana has only been legal for less than two months. But it's something the organization expects to continue to happen, Bouie said.
"We're just really happy these girls are having an entrepreneurial experience and are getting the cookies in front of the customer," Bouie said.
Dispensary33 was one of the first medical cannabis dispensaries in the city to receive a recreational sales license. It has partnered with Andersonville businesses before, coordinating a neighborhood-wide celebration for the first day of legal pot sales that included Dark Matter Coffee, Sofo Tap and a "brunch & blaze" at Hutch American Kitchen + Bar.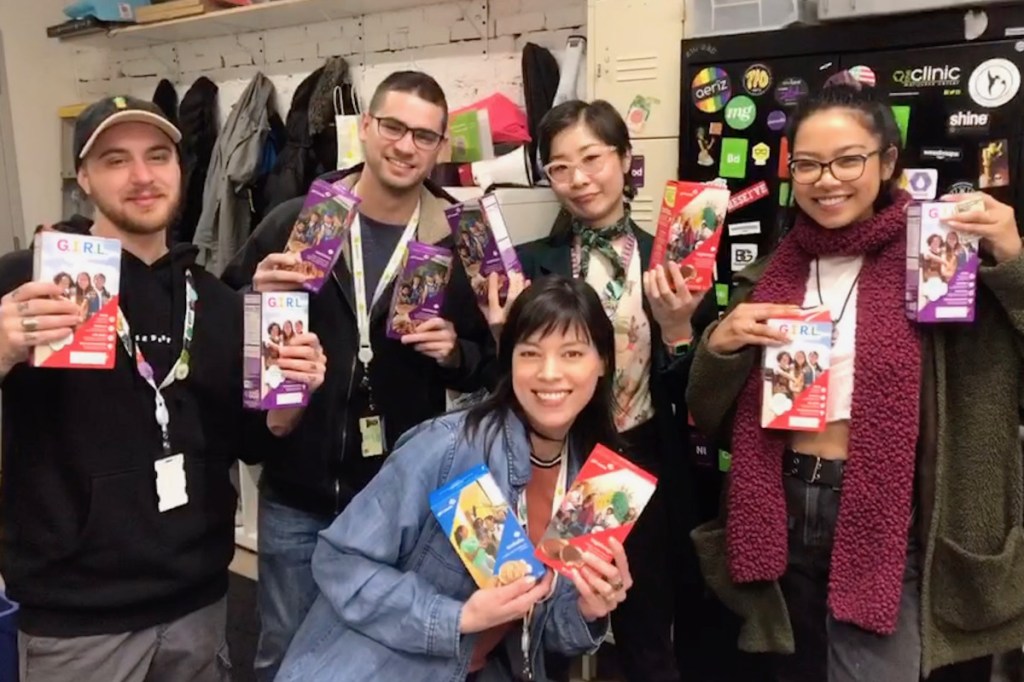 Girl Scouts of the United States of America has been selling cookies as an annual fundraiser since the 1910s.
In 1922, selling of Girl Scout cookies became more widespread when a Chicago-based Girl Scout organizer published an article and recipe on how local troops could sell the cookies as a way of fundraising. (Check out the original cookie recipe, from Chicagoan Florence E. Neil, here.) Today, funds raised by cookie sales provide local troops with programming and events.
Soukup said she's happy her troop could start a new trend in Chicago Girl Scout cookie tradition if it means more funds can be raised for the organization. 
"We started a trend," she said with a laugh. "We didn't intend to make this a big deal. We just wanted a place that wasn't already booked." 
Do stories like this matter to you? Subscribe to Block Club Chicago. Every dime we make funds reporting from Chicago's neighborhoods.
Already subscribe? Click here to support Block Club with a tax-deductible donation.