IRVING PARK — Someone apparently frustrated with the city for not maintaining the bike lanes on Milwaukee Avenue near the Grayland Metra stop has taken matters into their own hands.
Cyclists traveling along the 3800 block of North Milwaukee Avenue on Tuesday noticed a newly touched-up bike lane created with what appears to be white spray paint. Within the retouched bike lane are hearts drawn with sidewalk chalk.
The bike lanes and hearts were painted near Milwaukee and Kilbourn avenues, where a truck driver fatally hit cyclist Carla Aiello last year.
For years, cyclists have complained the city has neglected to maintain the bike lanes in the 3800 block of North Milwaukee Avenue.
The paint had become so faded that in 2014 cyclists asked the city to install protected bike lanes on the block, but neighbors rejected the plan.
City officials were not immediately available for comment on the newly painted bike lane that appeared Tuesday.
Last month, a Chicago Dept. of Transportation spokeswoman told Block Club the city would bring in an outside contractor to repaint the bike lane striping once the weather warms up.
"We can't do anything to remark the pavement right now because it's January. The companies aren't geared up to work in January. We can't do it in-house, it's special markings," the spokeswoman said.
Aiello, 37, was riding her bicycle at that corner on Nov. 6 when she was hit by a truck driver. She was a counselor at Josephinum Academy of the Sacred Heart, an all-girls high school in Wicker Park, and lived in Norwood Park.
Next to where Aiello was killed a "ghost bike" with the date of her death has been attached to a wooden street pole memorializing her.
The pole has been decorated with cut out hearts on strings, a heart wreath, the word love spelled out with decorations and two candles featuring Jesus and the Virgin Mary.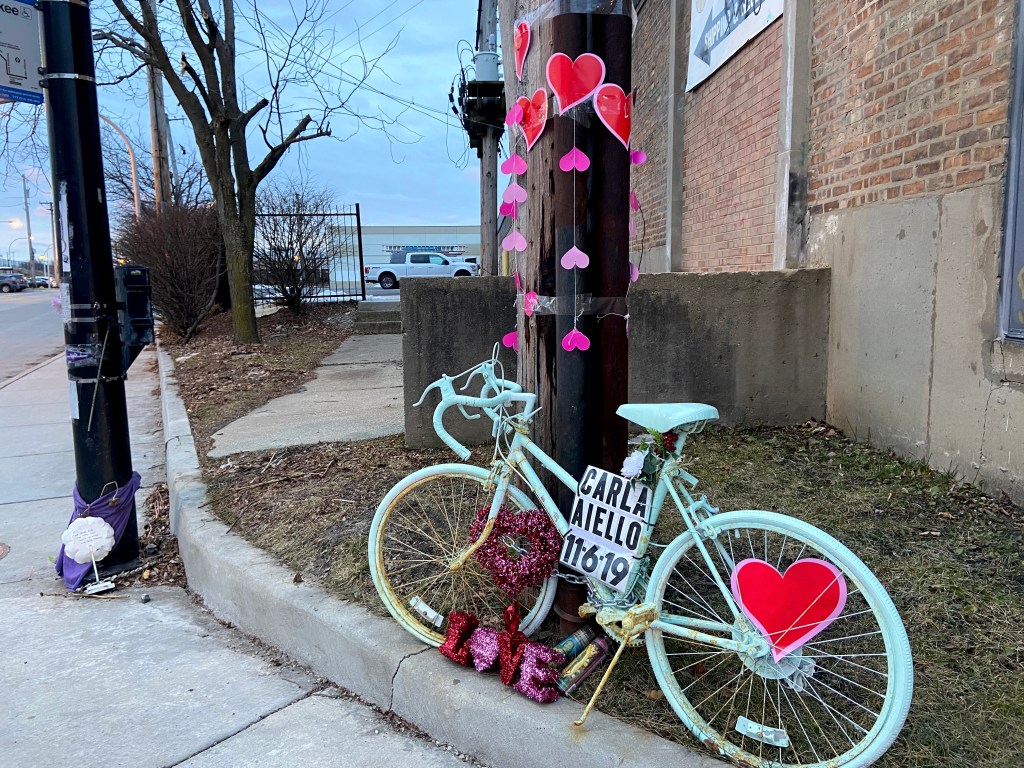 The pole next to the ghost bike also has a sticker from Josephinum Academy attached to it along with two handwritten letters. At the base of the streetlight pole is a clay flower that says, "We shall find our little ones again up above. -St. Zelie Martin."
One of the letters is illegible due to water damage. The other is from a former student of Aiello's named Jocelyn.
"You were very kind and was always there for me even when my problems were very small you treated them like they were very important," said the letter from Jocelyn, in part. "It's sad to me to see you go so soon. I wished we talked more. Why do gifts from heaven have to go away so soon. You put your time and effort into all of us students."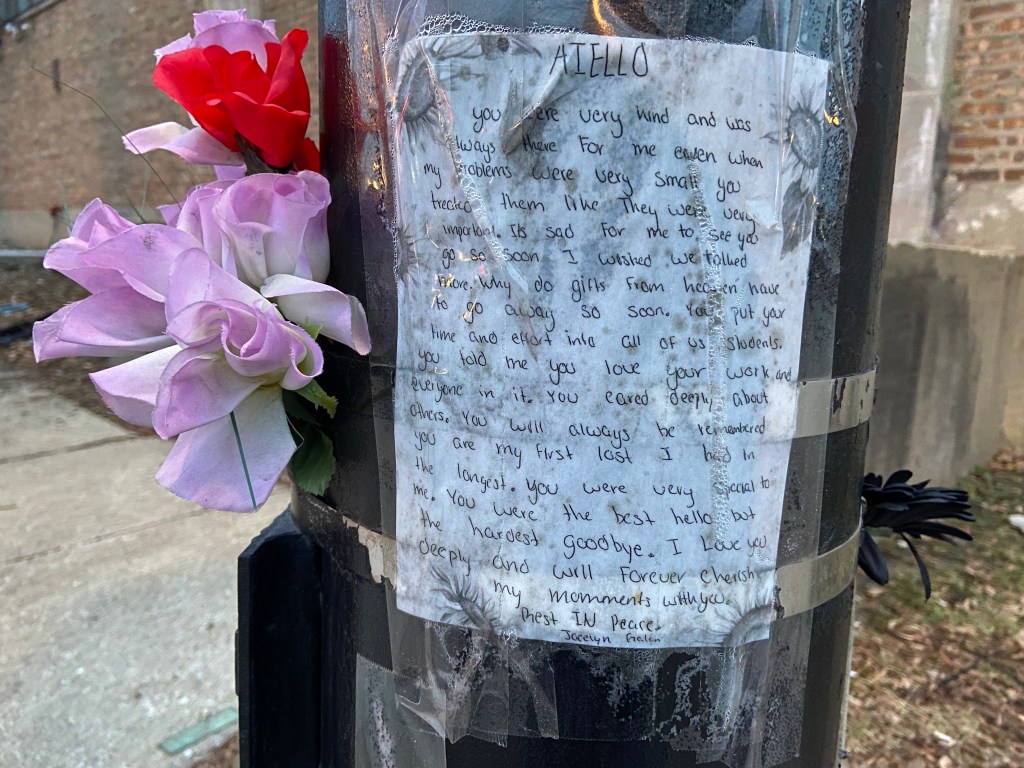 Do stories like this matter to you? Subscribe to Block Club Chicago. Every dime we make funds reporting from Chicago's neighborhoods.
Already subscribe? Click here to support Block Club with a tax-deductible donation.