IRVING PARK — The 3900 block of West Eddy Street in Irving Park is lined with massive trees and large single-family homes, most with charming front porches and neatly-kept lawns.
But a sprawling stucco home at 3917-21 W. Eddy St. stands out. The rundown, 105-year-old home sits next door to a vacant lot, and while neighbors know the house needs work, they don't love a developer's plan to replace it with condos.
During a Thursday night meeting at La Villa Restaurant, 3632 N. Pulaski Road, developer R&S Enterprises told a group of neighbors their plans to tear down the home and replace it with three new condo buildings on the 10,937 square-foot lot. 
Neighbors say condos would ruin the block's character.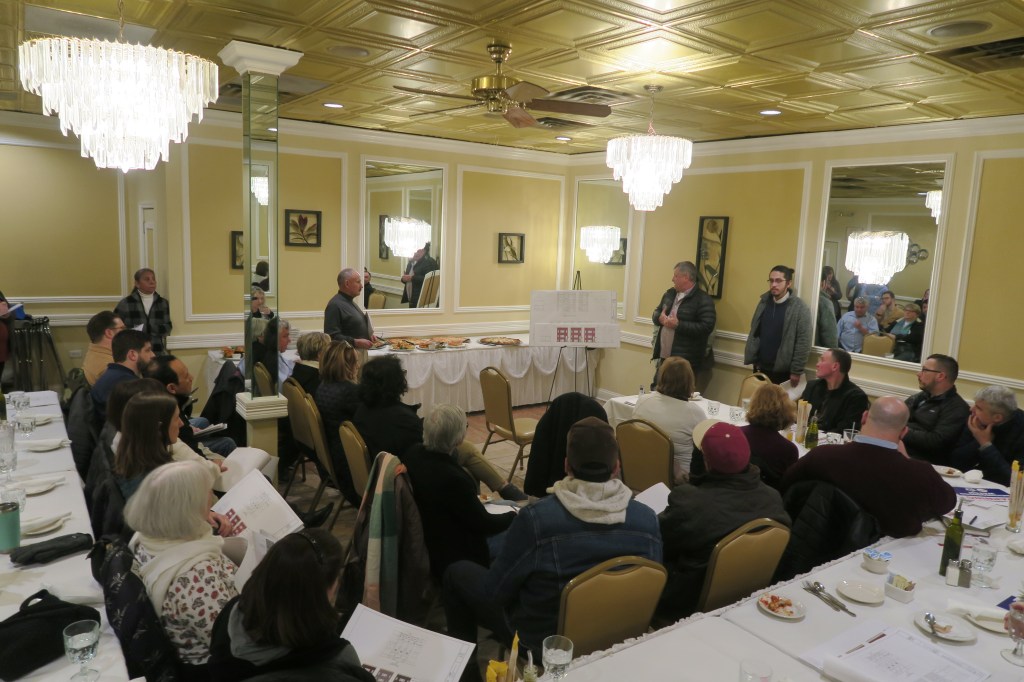 "That's the biggest single lot on the block," said Sean Maloney, who lives on Eddy Street. "If you're going to grant a zoning exception for that lot you might as well do it for the whole block. Because this is the first domino and it will change the entire block."
More than 40 people attended Thursday's meeting, with most opposed to the condo development. The group hoped showing up would convince Ald. Ariel Reboyras (30th) to reject a zoning change developers would need to build on the block.
Maloney said he bought a home in the neighborhood seven years ago because of Eddy Street's aesthetics — big green yards and single family homes. Blocks like these are rare in a big city like Chicago.
"Single family homes on double sized lots are becoming increasingly rare in the city," he said. "That's why people are moving to the suburbs. In the city there's no room for kids to play."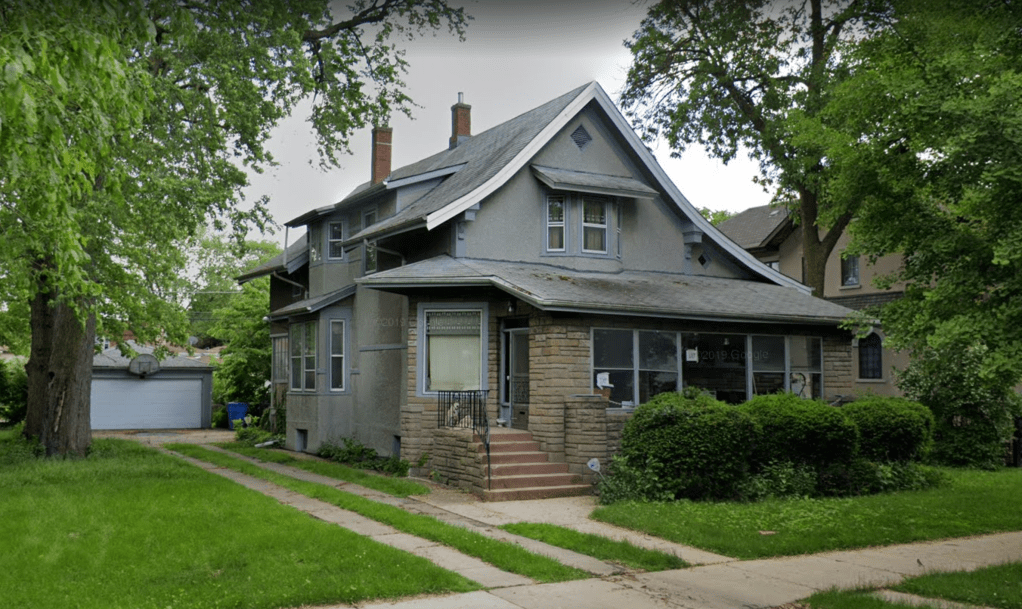 Ahead of the meeting, neighbors speculated on social media that the development-friendly Reboyras would likely approve the change. But at the meeting Thursday, the alderman said he'll make a decision by the end of the month so he can hear from more neighbors.
In total, the new construction would replace the home, garage and driveway with nine condos and nine parking spaces across the three buildings. Each new building would have three condos and a three-car garage.
Neighbors took issue with the building's height, the developer's choice of brick, a lack of green space and garage crowding. But Reboyras said the developer has already brought the height down to appease residents.
"Prior to this version of the plans, the buildings were three-stories tall," Reboyras said. "Based on calls to my office saying it was too tall we told the developer they had to change their design so it wasn't taller than a single-family home on that block."
Mark J. Kupiec, an attorney for the developer, said they would be open to changing things like the roof design, garage width and building facade based on neighborhood feedback.
"We'd like to design the new buildings to try and fit the existing buildings on the street," said Rafael Szymanski, principal at R&S Enterprises. "There will be three families that can live in each unit and we're doing it this way to try and address the affordability issues in the city."
In the current plans, each condo would have two-bedrooms, two-baths and be 1,200 square feet. The developer plans to list the condos for about $300,000 each. Because the project only has nine new units it isn't required to add a minimum of 10 percent affordable housing units, according to the city's rules.
While there won't be any designated affordable housing units, the cost of one condo will be significantly cheaper than any new or rehabbed single family home in the area, Szymanski said.
While most of the people at the meeting were opposed, neighbor Alexander Sandoval said condos would allow working-class people to live on the otherwise pricey block.
"I know the popular thing is to bash the project, but I think this project could be a really good thing," Sandoval said. "I think a $300,000 price is good to keep the tax bracket a bit low. And it'll bring in good, working-class people to keep the community diverse."
Leila Whittey, a neighbor who currently lives in a condo in the neighborhood, agreed.
"I am one of the people who would look at this price point," she said. "I love this neighborhood and the single family homes here, but I think building a new single family home that is a million dollars is going to change the neighborhood significantly more than a bunch of condo units that are at a price point that will keep the neighborhood character, the diversity, that we know so well."
Reboyras urged those with comments or suggestions on the development to contact his office before he makes a decision on Jan. 30.
Check out renderings of the proposed buildings: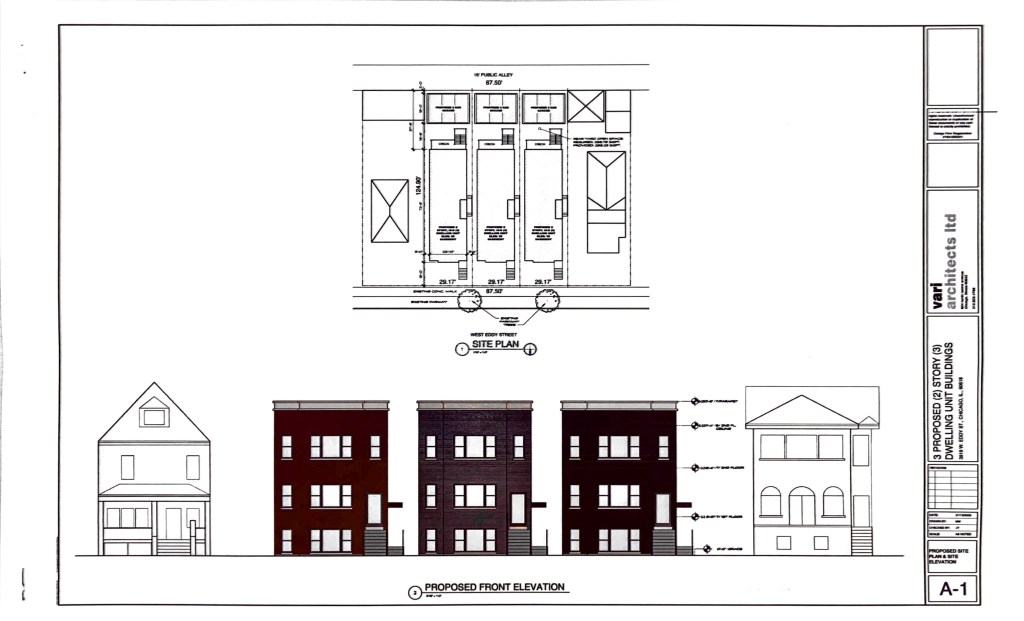 Do stories like this matter to you? Subscribe to Block Club Chicago. Every dime we make funds reporting from Chicago's neighborhoods.
Already subscribe? Click here to support Block Club with a tax-deductible donation.