NORTH LAWNDALE — A collection of community-driven projects planned for North Lawndale have been selected as finalists for the Pritzker Traubert Foundation's $10 million Chicago Prize.
North Lawndale's entry, called "Advancing North Lawndale Together," builds from the award-winning North Lawndale Quality of Life Plan that launched in November 2018, and focuses on investment-ready capital projects address resident's needs for jobs, housing, and infrastructure.
"Chicago Prize is a validation of the creative and collaborative work that's been happening on the South and West side of the city. And we know that these communities have long suffered disinvestment," said Deborah Bennet, a reviewer for the Chicago Prize who helped select finalists for the award.
Bennett said entries for the Chicago Prize were judged based on their chances of creating major change in a neighborhood. Community engagement was also prioritized, so development would reflect the needs and desires of people who actually live in the neighborhood.
Reviewers also kept an eye out for projects that had already aligned the partners needed to develop a tangible business plan for completing the ambitious construction projects.
Bennett said the selection team was drawn to interesting projects with a clear vision and potential collaborators.
"There also had to be, you know, an aspect of reality," she said. "A combination of the vision and the skills of the development team."
The initiative is spearheaded by the North Lawndale Community Coordinating Council, which already brings together the neighborhood's key businesses, organizations, employers, service providers and community leaders to make advances in employment, housing, infrastructure, transportation, education, the arts and public safety.
Other partners helping to build out technical plans for the project are Lawndale Christian Development Corporation, Lawndale Christian Legal Center, New Covenant Community Development Corporation, North Lawndale Community Coordinating Council, North Lawndale Employment Network, Sinai Community Institute, Sinai Health System and neighborhood arts collaborative Under the Grid.
There are six key projects that fall under the "Advancing North Lawndale Together" initiative.
Affordable Housing
The development and preservation of affordable housing is a key priority, with Lawndale Christian Development Corporation taking the lead. The Canaan Homes project would see 16 single-family homes built on vacant lots. The homes would be built around a construction model that prioritizes affordability so that local families can continue to stay in the neighborhood for generations.
Another project would renovate the Lazarus Apartments, a building that would return 48 vacant apartments back into the affordable housing stock and preserve them at low rates for 30 years. Fifteen units in the building would be set aside for formerly incarcerated residents and their families.
Residential Center for Youth
Lawndale Christian Legal Center will take the lead on a plan to transform a vacant building into a 28-bed transitional housing center for at-risk youth, and would also house workforce programming for young people working with the legal center.
Workforce Development Center
To improve job opportunities in the area, a portion of the prize would help the North Lawndale Employment Network to renovate a 20,000-square-foot vacant building into a workforce development center that will be the new headquarters for the organization at 1111 S. Homan Ave. The hub would serve over 5,000 job seekers with workforce opportunities like the U-Turn Permitted program that offers career pathways for people returning from incarceration.
The center would also house a pop-up retail space for local entrepreneurs, a peace garden, a community event space and a Wintrust Bank branch to help provide more access to financing for neighborhood residents.
And since there are so few co-working spaces and cafes in the neighborhood, the facility would also include the Worker Bee Café, a much-needed place for residents to stop in for a cup of coffee, a healthy meal. The organization's social enterprise, Sweet Beginnings, will also relocate its beehives and honey product production houses to the center, which will allow the café to offer fresh, locally produced honey.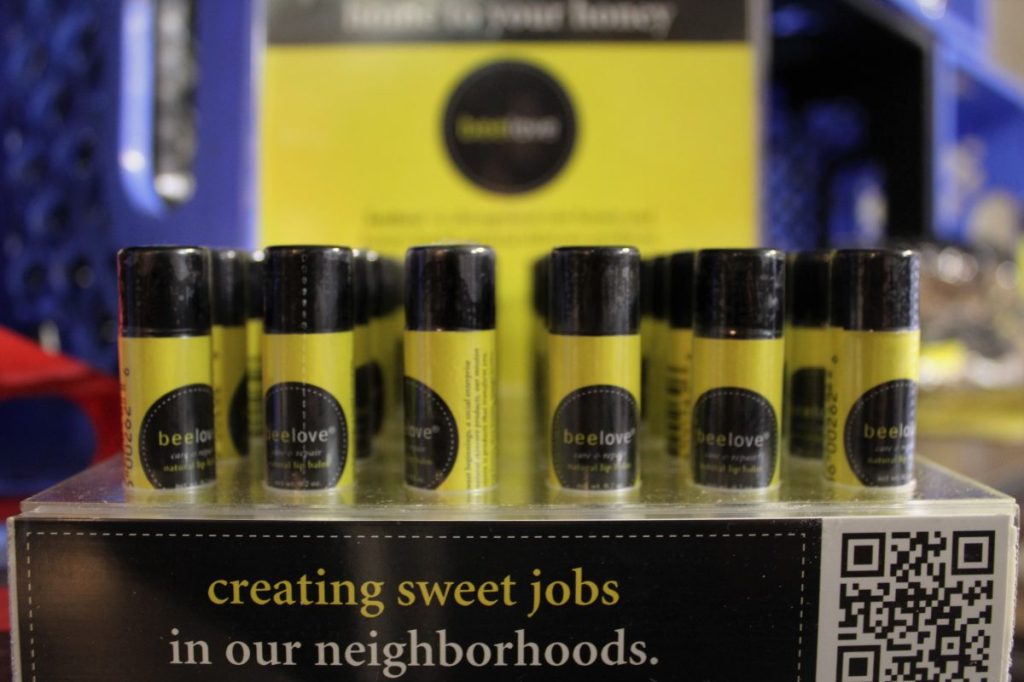 Construction on the building began in the fall, which positions it as a project that is already set for additional investment to close the funding gap.
Ogden Commons
Another project already in motion that the collaborative team included in their plan for the prize is the Ogden Commons development on mostly vacant land on the 2600-2700 blocks of West Ogden Avenue.
Ogden Commons will be a mixed-use development that will combine affordable housing, restaurants, retail space and an ambulatory surgical center.
"We're looking at a surgery center, and outpatient because healthcare is changing and so that our community will have access," said Sinai Community Institute President Debra Wesley.
The $200 million Ogden Commons project is a joint venture of The Habitat Company, Cinespace Chicago Film Studios and Sinai Health System. Ogden Commons is being developed in part on property owned by the Chicago Housing Authority that was formerly the site of several public housing buildings.
The building will offer 332 units, of which 80 percent will be reserved for affordable housing.
"This is land that used to be owned by CHA where Ogden Courts was. So we want to make sure we have a viable place for those individuals who formerly lived there," Wesley said. 
Under The Grid
The last part of the North Lawndale Community Coordinating Council plan is an arts and culture project called Under the Grid, which is led by local artist Haman Cross in collaboration with the School of the Art Institute and the Trust for Public Land. The project would incorporate public art into 15 blocks underneath the Pink Line that runs through Lawndale between the Pulaski and Kedzie stations.
According to Cross, the project would activate vacant properties, many of which are currently owned by the Chicago Transit Authority, and turn them into exhibits, installations and pop-ups that are responsive to the interests and needs of the surrounding community.
Cross envisions Under the Grid as a project that would constantly be evolving as Lawndale residents also grow and change over time with installations that would explore architecture, urban planning and design. Some prospective projects that the Chicago Prize might fund include a decommissioned train car that would be converted into a pop-up shop or museum, a rock and sculpture garden and a graffiti art park.
The partners behind the Lawndale initiative and the other five finalists for the Chicago Prize were all awarded $100,000 to refine each proposal down to the nuts and bolts of how the projects will be executed.
According to one of the partners on the Lawndale initiative Rodney Brown, the president of New Covenant Community Development Corporation, collaborating organizations will be spending the next few months digging into the individual roles that each partner will play in creating an airtight business plan for each project.
"They want to make sure that the money they're investing is going to be money that is going to manifest into the plans we have," Brown said.
But Brown said that Lawndale's entry for the Chicago Prize is at an advantage since it is based on the Quality of Life Plan that has been community-driven and in the works for years. The Quality of Life Plan maps out neighborhood resources and how they would be leveraged to accomplish the goals of Lawndale residents, so much of the work is already done.
"What's impressive to me is that the plan we put together uses resources that are here in North Lawndale," Brown said. "We were able to pull from the brain power that exists here in North Lawndale to craft this plan."
Rodney Brown said that even if North Lawndale doesn't win the prize, their participation raises the visibility of the projects and makes the Quality of Life Plan all the more competitive for grants, prizes and investments in the future. For them, the $100,000 in funding that they received as finalists to refine their plan will not only help them prepare for the Chicago Prize, but will also lay the groundwork to level-up all grant applications to come.
"If we are not the recipient of the $10 million, we're going to have an application for grants that is so powerful, that we can take it to other folks. … If we didn't get the $10 million, we would still get funded. And so that's been a catalyst for us in terms of moving forward," Brown said.
The winner of the Chicago Prize is expected to be announced this spring or summer.
Pascal Sabino is a Report for America corps member covering Austin, North Lawndale and Garfield Park for Block Club Chicago.
Do stories like this matter to you? Subscribe to Block Club Chicago. Every dime we make funds reporting from Chicago's neighborhoods.