AUBURN GRESHAM — Three days before its scheduled closing and flanked by frustrated residents, Ald. David Moore (17th) held a press conference Tuesday morning in front of the neighborhood's CVS Pharmacy, demanding answers.
The location at 79th and Halsted streets wasn't on the original list of planned closures, which made the last-minute decision to shut it down all the more puzzling for regular customers.
"I've reached out to CVS several times and have received only one response," Moore told Block Club. "I asked for a community meeting. They said they don't do community meetings. They won't give us any answers as to why they're doing this."
This is the third business to close its doors on the 79th Street retail corridor recently. A Bank of America branch — directly across the street from CVS — and BJ's Market and Bakery closed within a year of one another.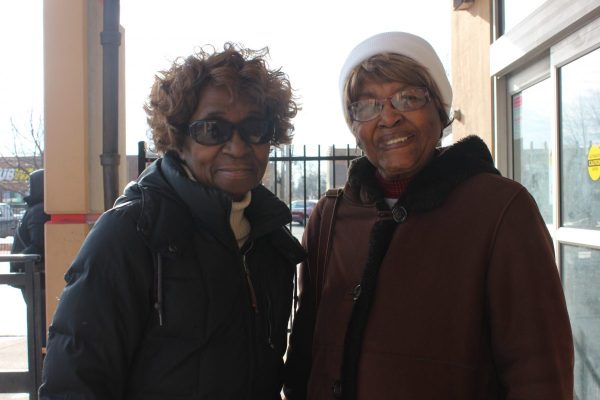 "It is unfortunate that companies can come to our
community, make money and leave without any explanation to customers," Moore said.
In May, CVS announced the closing of 46 stores nationwide due to "underperformance." At the time, the Auburn Gresham location was not one listed by the pharmacy giant. Moore said he learned of the store's closing from residents.
Juanita Love, a neighbor who told Moore about the store's closing, said she'd heard it from a friend who had stopped by the pharmacy to get a prescription filled only to be turned away. That's when she and longtime friend and neighbor Betty Jo Swanson sprang into action, alerting other residents in hopes of getting answers.
"Word of mouth was going around but there was nothing was told to us officially," Swanson said.
"When we find out something, we don't hold nothing. When we see something we're like neighborhood watch," Moore said.
Both women have been regular customers since the drugstore opened in the mid-aughts and knew the staff by name. Love said she knew something was amiss when the staff started disappearing.
"They started getting rid of people, starting firing people we knew, people who had worked there from the beginning," Love said. "And still, they wouldn't tell us anything. CVS came in, built up, got that TIF [Tax Increment Financing] money, and left."
According to Swanson, there are four senior buildings within walking distance of the CVS. The closure will make it more difficult for people living there to get their prescriptions filled.
"We really need this store here," said Swanson, who has lived in Auburn Gresham since 1961. "They could've given us a chance to negotiate, but they didn't."
Amy Thibault, senior communications manager for the chain, said the decision to close the Auburn Gresham location — and the store on the Northwest Side at 4777 N. Milwaukee Ave. — was a "difficult" one. Moore and the mayor's office were informed of the closures in November and December, she added.
"As part of the regular course of business, we review all of our stores' financial performance before making such a decision. The closure of these stores is not a reflection of the hard work and dedication of our employees who work there. In fact, every effort will be made to help place them into comparable roles at other CVS locations in Chicago, where we continue to operate more than 50 stores,"  Thibault said in a statement to Block Club.
Thibault said to ensure pharmacy customers continue to have uninterrupted access to service, the chain will transfer all prescriptions from the 7858 S. Halsted St. location to the one 2 miles away at 7855 S. Western Ave. Patrons of the North Milwaukee Avenue location will have their prescriptions filled at 4801 N. Central Ave., a half-mile away.
"We understand the disappointment of our closing stores' neighbors and customers. We remain committed to Chicago and we will continue to provide the community with outstanding pharmacy service at our other locations in Chicago," Thibault said.
Moore said he's been in talks with the city's Department of Planning and Development to find another retailer, and he is open to talking to big-box stores like Walmart or Target.
"Another store would be great, but we really need a pharmacy," Moore said.
Do stories like this matter to you? Subscribe to Block Club Chicago. Every dime we make funds reporting from Chicago's neighborhoods.
Already subscribe? Click here to support Block Club with a tax-deductible donation.