BUCKTOWN — In an effort to ease the gridlock for commuters, a stretch of Western Avenue now has designated bus lanes.
The red-painted lanes printed "CTA buses only" on Western are part of the city's $20 million Bus Priority Zone Program, a project that aims to eliminate bus slow zones caused by bottlenecks along the city's most heavily trafficked roads.
Initially created in April with a $5 million budget under Mayor Rahm Emanuel, the new lanes targeted two parts of Western Avenue — between McLean Avenue and Moffat Street near the CTA Blue Line and near Diversey between George Street and Logan Boulevard.
The initial program also included work along 79th Street, in two areas of Chicago Avenue and on two Wacker Drive intersections in the Loop, Chicago Streetsblog reported.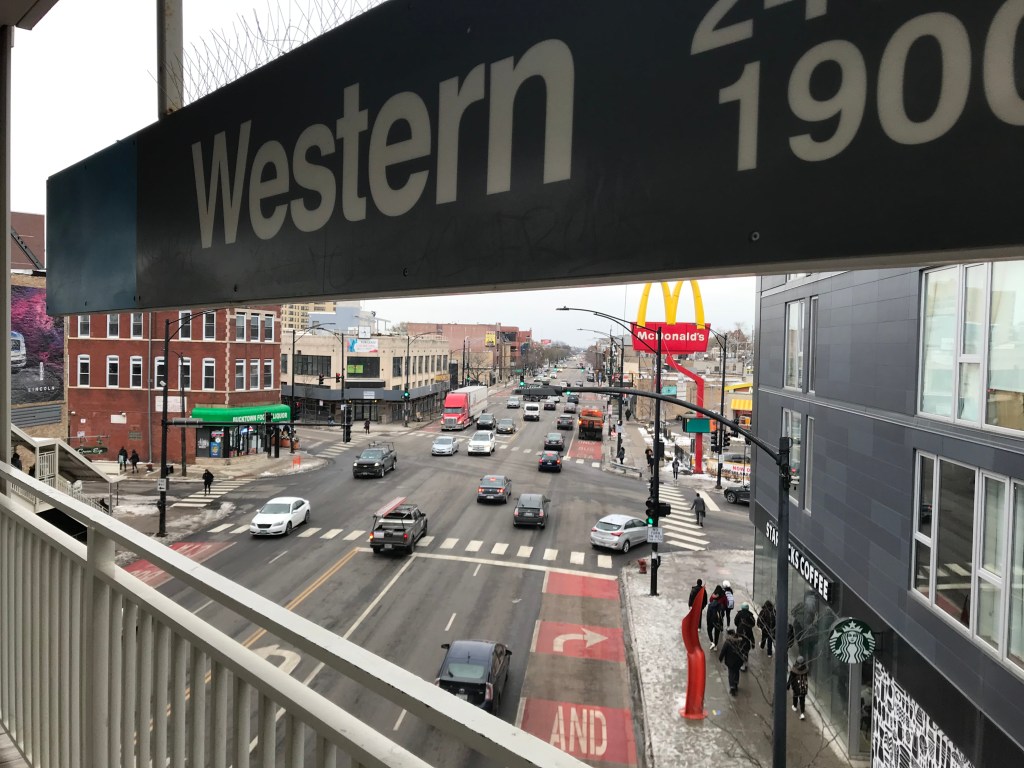 And the program is about to get a lot bigger.
After proposing a fee for ride-hailing companies such as Uber and Lyft, Mayor Lori Lightfoot quadrupled the bus program budget to $20 million.
The increase in ride-share use has been tied to a decrease in bus ridership, which has fallen 21 percent between 2012 and 2017, according to the Tribune.
"By making these targeted investments, our goal is to speed up bus service, improve reliability, increase ridership and customer satisfaction and lower costs for the CTA," acting CDOT Commissioner Thomas Carney said at the time. "By doing a better job of organizing the street for bus movements, we can also improve pedestrian safety and the overall traffic flows on a number of key multimodal roadways."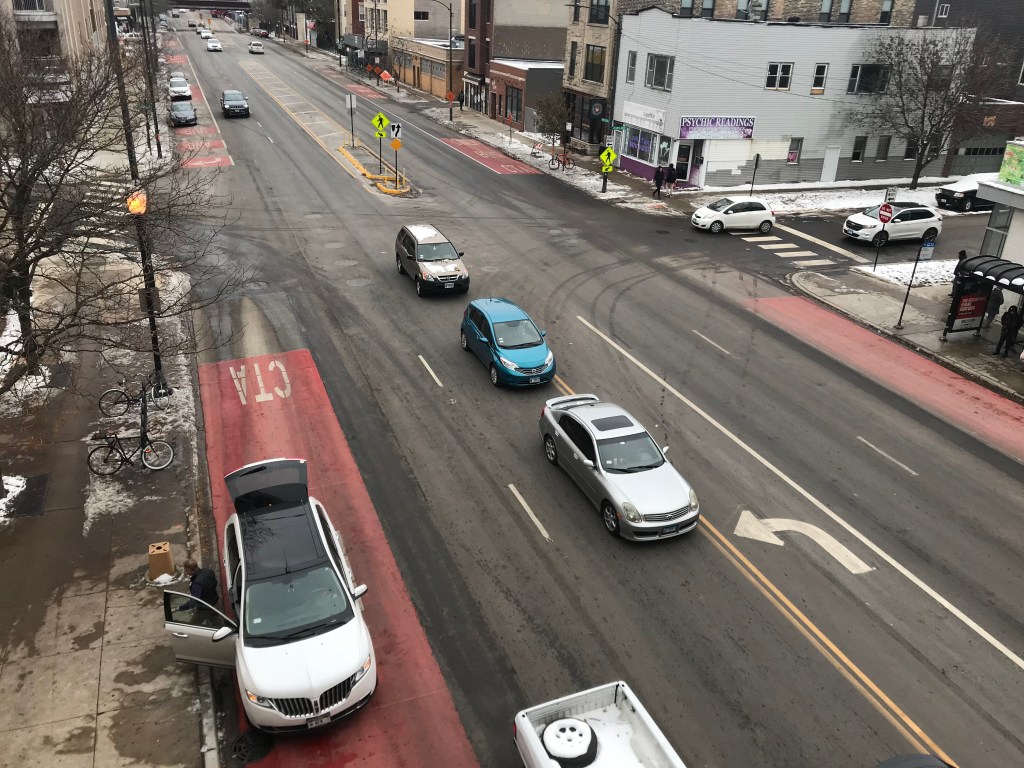 Now, with an extra $15 million, CDOT and CTA are considering the following bus routes for upgrades: Halsted Street (No. 8), Pulaski Road (No. 53), 63rd Street (No. 63) and Belmont Avenue (No. 77).
CDOT and CTA are also considering planning additional work on Western and Avenue (No. 49), Chicago Avenue (No. 66) and 79th Street (No. 79).
CDOT and CTA will plan additional improvements into early 2020, and anticipate construction work to begin as early as 2021.
At this time, CDOT and the CTA do not plan to eliminate any more stops from the Western Avenue route, nor do the agencies plan to add additional buses, CDOT spokesperson Susan Hofer said.
RELATED: CTA Aims To Speed Up Western Bus, But Some Stops Must Go
In addition to the red lanes, here's what commuters and drivers can expect to see along Western Avenue:
Part-time parking restrictions — enforced by the Chicago Police Department — to allow buses to utilize the curb lane during peak hours/directions
A pedestrian "refuge island" at Winnebago/Cortland to facilitate safer street crossings
A curb extension at Wilmot/Armitage to shorten pedestrian crossing distance and facilitate a bus stop relocation
Improved sidewalk curb ramps
Concrete pads at bus stops to preserve pavement condition
Overhead signs designating the curb lane as a bus lane; this is planned for January 2020
In 2013, the CTA proposed a Bus Rapid Transit plan for the 16-mile Ashland Avenue corridor. Neighbors fought the plan, arguing it would eliminate too many left turns.
RELATED: Ashland Express Bus: Group Warns Most Left Turns Will Be Eliminated
Hofer said the CDOT and CTA will continue to research "tactical solutions" for Ashland Avenue.
"We think a targeted approach … is the right way to roll out new types of street investments to gather more information about what works and doesn't work, as well as build support with bus riders and the community," she said. "As part of the BPZ program, we are going to be researching and designing tactical solutions to help the Ashland buses and other high capacity routes, as we have been doing this year on Western, Chicago and 79th Streets."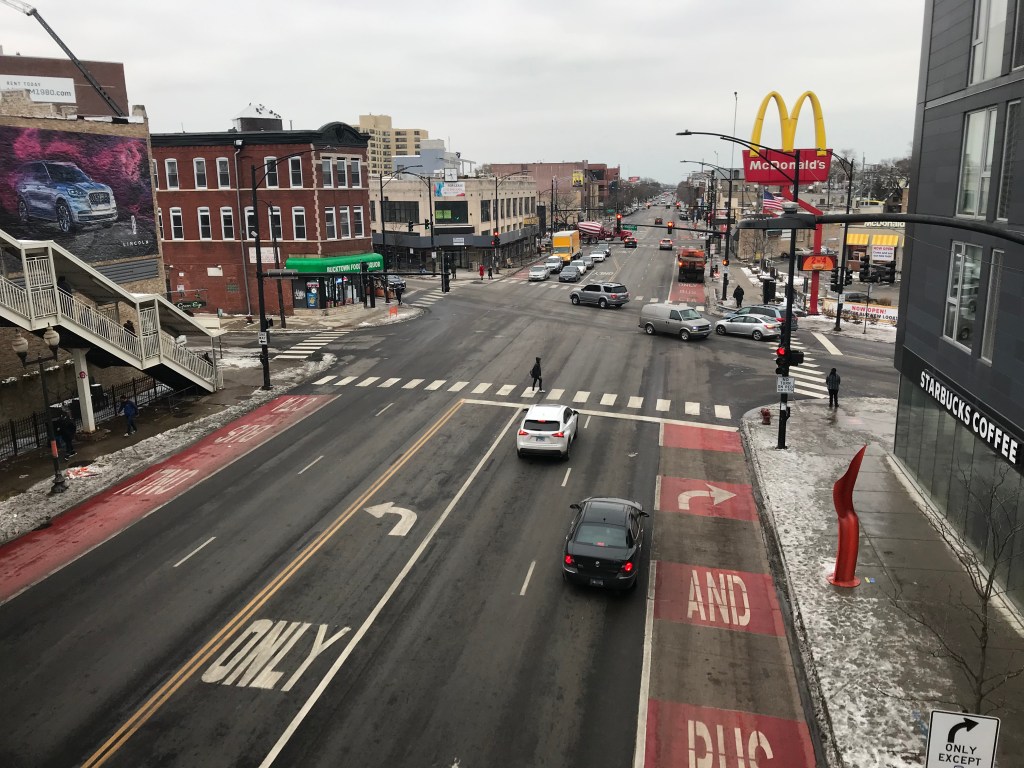 Do stories like this matter to you? Subscribe to Block Club Chicago. Every dime we make funds reporting from Chicago's neighborhoods.
Want to support Block Club with a tax-deductible donation? Thanks to NewsMatch 2019, your donation will be doubled through Dec. 31. Donate here.