WOODLAWN — A bicyclist riding on Stony Island Avenue early Sunday died after getting hit by an allegedly unlicensed and uninsured driver, a collision that highlights a stretch that's been dangerous to riders.
Lee Luellen, 40, is the second casualty in two years along a stretch of road where local aldermen have resisted plans for protected bike lanes. The West Garfield Park resident was riding near the intersection of Stony Island and 67th Street at 1 a.m. Sunday when Sabrinia Williams struck him, according to police.
Luellen was pronounced dead at nearby Jackson Park Hospital.
Williams, 42, faces two misdemeanor counts of driving on a suspended license and operating a vehicle while uninsured causing bodily harm. She was also cited for failure to reduce speed. Williams is scheduled to appear in court Dec. 5.
Luellen's death comes a year after 58-year-old cyclist Luster Jackson was killed on the 7200 block of Stony Island. Jackson was hit as he swerved to avoid another driver who opened their door in his path.
Stony Island is well-known to city officials as a "high-crash corridor," yet they refuse to take action to protect cyclists, said Christina Whitehouse, founder of Bike Lane Uprising.
As far back as 2010, the Chicago Department of Transportation identified Stony Island as a "logical location for a north-south bicycle corridor" if safety measures like painted or physical barriers were implemented.
Federal grants would've funded 80 percent of the project. But plans for protected bike lanes along Stony Island stalled in 2016 after local aldermen voiced their disapproval, citing resident feedback.
Ald. Leslie Hairston (5th) said Monday afternoon that to her understanding, a bike lane "would not have made a difference" in preventing Luellen's "tragic accident."
"I'm not sure whether a bike lane would have prevented this accident, because it was an accident," Hairston said. "We're looking at all types of safety measures … as we move forward."
Hairston reiterated that the community "has not wanted to see [bike lanes] on Stony" in the past. She has not spoken with Alds. Greg Mitchell (7th) and Michelle Harris (8th) about other ways to improve cyclist safety along the corridor since Luellen's death, she said.
Mitchell and Harris did not respond to requests for comment.
Stony Island from 67th to 79th Streets — where Luellen and Jackson were killed and where bike lane plans were centered — runs through all three wards, so a coalition of the aldermen would be necessary to adjust the road.
With no bike lanes, riding in the street is the only legal option for cyclists along Stony Island.
So it's troubling that the police department decided to publicize without further detail that Luellen "may have been traveling in the middle of the street" when he was killed, Whitehouse said.
Police target those who ride on the sidewalk even if riders are doing so for their own safety, particularly in majority-minority neighborhoods like Woodlawn and South Shore, she said.
"You would be subject to a fine if you weren't in the street," Whitehouse said. "I don't feel that the Chicago Police Department is that educated when it comes to biking laws, nor are they good advocates of cyclist safety."
Luellen is the third cyclist to die on Chicago's streets this fall. Both previous fatal crashes occurred in Irving Park.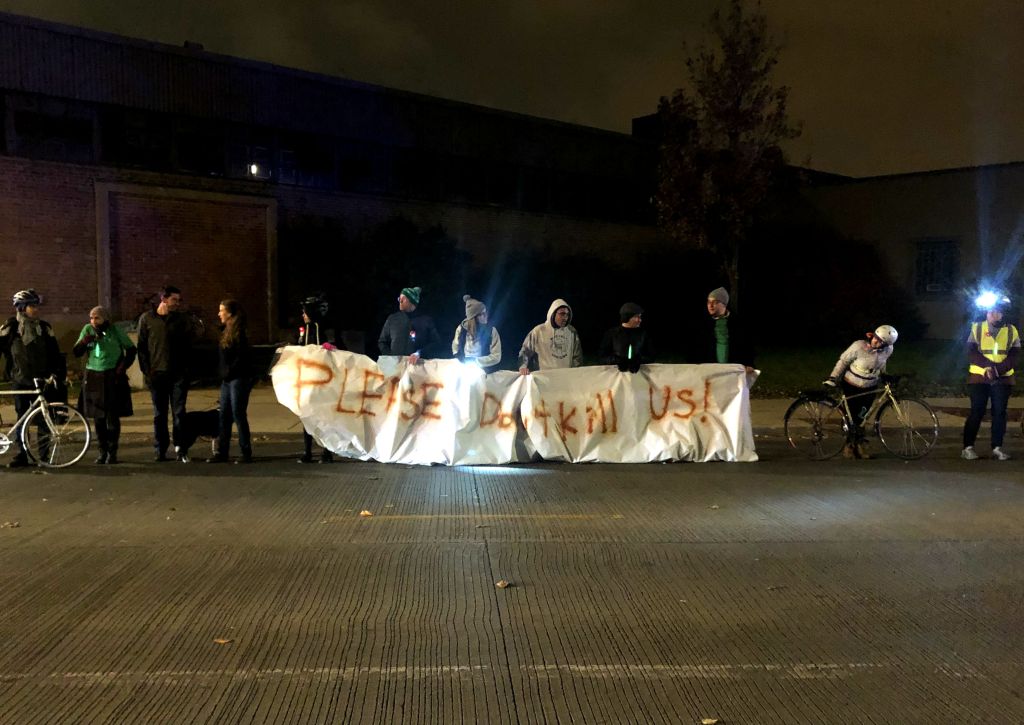 Vincent Tran, 26, was hit Oct. 20 and died of a head injury Oct. 28. The driver of a black Honda, Hyundai or Toyota fled the scene after hitting Tran.
Police initially suspended their search for the driver ten days after the crash, before releasing a photo of the car in question Nov. 7.
Carla Aiello, 37, died in a faded Milwaukee Avenue bike lane Nov. 6 after police said dump truck driver Juan Gonzalez turned into Aiello's path. Gonzalez was cited for negligent driving and making an improper right turn.
Bike Lane Uprising organized a vigil the day Aiello was killed. Cyclists formed a human-protected bike lane. In 2014, residents rejected a plan to install protected bike lanes along the stretch of Milwaukee Avenue north of where Aiello was killed.
The rate at which Chicago cyclists are being killed feels like "some kind of sick joke," Whitehouse said — and it's impacting members of the cycling community beyond their energy for activism.
Even "avid cyclists" are beginning to shy away from everyday rides due to deteriorating bike lane conditions and the city's lack of action to protect riders, she said.
"The emotions [around Luellen's death are] pretty deep," Whitehouse said. "There's quite a bit of a lack of hope."
Do stories like this matter to you? Subscribe to Block Club Chicago. Every dime we make funds reporting from Chicago's neighborhoods.
Want to support Block Club with a tax-deductible donation? Thanks to NewsMatch 2019, your donation will be doubled through Dec. 31. Donate here.